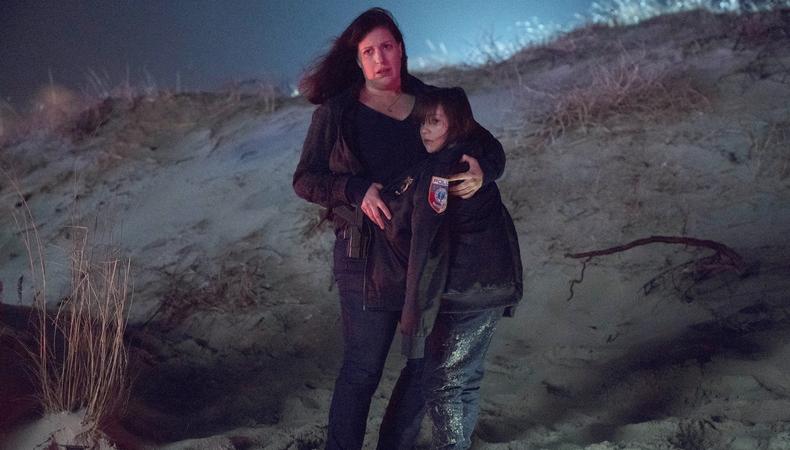 "Emergence" is a mystery thriller from creators Michele Fazekas and Tara Butters that premieres Sept. 24 on ABC. The show centers around a young girl who is found by the police chief, Jo, but it goes much deeper than a story about solving the mystery of a child found near an accident—it's about relationships as well. "We wanted to make sure there was a mystery that could sustain for several seasons but could keep surprising you, that you couldn't figure out in the first five seconds," Butters says. But don't worry, they promise you won't have to wait too long for some answers. Casting Allison Tolman as Jo was one of the easier decisions. Butters knew Tolman from "Fargo" and thought of her for the lead. "I just love how down to earth she is, and how you really engage with her. She's great at humor, she can do anything," Butters says. But Fakezas hadn't met her. "We met with her and the first thing she said was, 'Am I going to have to wear a uniform?' And we said 'No, you're the captain, you can wear whatever you want,' and she said, 'Great.' We sort of clicked right away," Fakezas says.
READ: How to Become a TV Actor
The unexpected part in the casting process was Donald Faison, who plays Alex, Jo's ex. Fazekas says, "[It] was a nice surprise. You sort of think, Oh, he's the guy from 'Scrubs'—I don't think he's right for this role. And then, in under 10 minutes of auditioning, you're just like, Oh, he just got the job. I love that in that short amount of time he changed everyone's mind." Faison was also surprised he got the role. "I went in for the audition, and I remember I studied with my wife, and before the audition, I was like, 'I'm going to go in and see what happens,' and she's like, 'All right, we'll see.' So I went in and I auditioned and then I met up with my wife at our kids' soccer game, and I told her, 'You know, I'm gonna tell you the honest-to-goodness truth, baby. I think they only saw Turk when I walked in.' And she goes, 'Well, you know, at least you went out on it.' And then I got the part."
Ashley Aufderheide and Alexa Swinton both started their casting off with self-tapes, but the process moved quickly. Aufderheide says 12 hours after submitting her tape, she was asked to fly to Los Angeles for her screen test, where she met Alexa. She then met with the director and auditioned again and finally got the part of Bree. "It was so exciting, and it was a long audition process because there [were] a lot of steps to it, but it kind of happened very quickly, which was great," Aufderheide says. Swinton jokes that Tolman had it easy meeting with Butters and Fazekas while she had to work for the role of Piper. "I worked for 10 hours before [the first audition] because that's how long I usually put in for an audition. Then for about [a month or six weeks], they told me nothing. Then one day it was like, 'You're getting a callback for this.' The day of the callback they said I was not going to do the callback—I was going straight to a screen test, and the flight was the next day. And it was a different scene, too, and we were nervous." When she did the chemistry test with Tolman, it was for a scene that was written just for the audition and wasn't even in the pilot, which can happen a lot these days, especially with confidentiality.
READ: Everything You Need to Know About Booking a Pilot
So actors take note: you might not find your sides in a scene you perform, and even well-known actors question if they are right for a part. Take the audition, do your best work, and you never know, you could land the part.