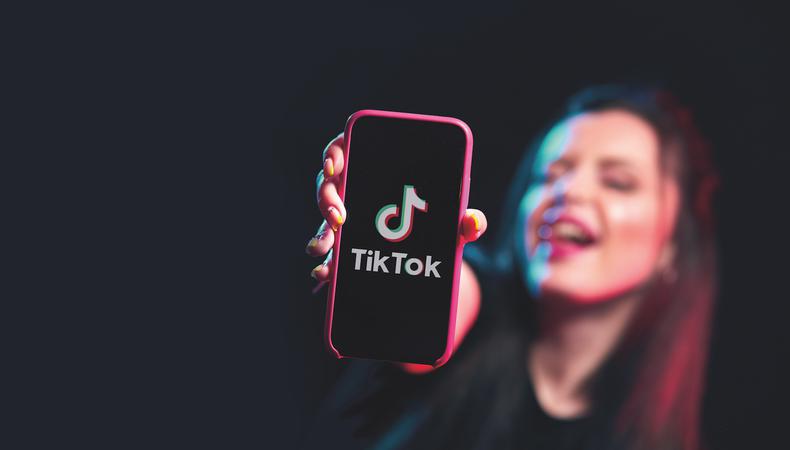 Going viral initially cost Brittany Tomlinson her job. A recent college grad working at a Texas bank, she'd started posting videos to TikTok in July 2019; a month later, she put out a 21-second clip of herself trying kombucha for the first time. Her reaction, seesawing rapidly between disgust and hesitant approval, became an instant meme. Other popular TikToks followed, and the bank decided her growing online celebrity was a liability—an opinion that was decidedly not shared by United Talent Agency, which signed Tomlinson a few months later. She was the first person to be represented by UTA based specifically on her TikToks. She was joined in January by dancer Charli D'Amelio, who, with 98.6 million followers, is the most popular creator on the platform.
"My life completely turned upside down because of what I was doing online," Tomlinson says. "I know what it's like to work at a bullshit job that you hate. And then, to be doing what I love now, making the money that I do—I literally could never have predicted that this is where I'd be."
"Instead of waiting for a part that's right for you, you get to just do the thing that you do best—or the thing you enjoy doing most."

—Alyssa Limperis
UTA's growing interest in TikTok stars is not unique. Increasingly, talent agencies are signing actors and other creators straight from the wildly popular video-sharing platform. Sometimes, it leads to more traditional projects: Addison Rae Easterling, a TikTok star with 69 million followers, signed with WME early this year and is now set to star in a gender-swapped remake of the 1999 movie "She's All That"; dancer Casey Frey, whose early success on Vine has been replicated on TikTok, appeared in this year's Gia Coppola movie, "Mainstream." Tomlinson herself is looking to transition to voice acting.
But TikTokers are also forging new career paths—with their agents' help. For instance, Greg Goodfried, the co-head of UTA's digital division, left the agency in October to represent the entire D'Amelio family, who seem to be positioning themselves to step in where the Kardashians left off. Others are using their online influence to establish brand partnerships, podcasts, coffee companies, and more.
TikTok certainly isn't the first social media platform to impact the path to representation. Jade Sherman, a partner at A3 Artists Agency, recalls an influx of talent to social media platforms in 2008 and 2009, when a global recession decimated the job market. But at that time, she says, creators were making online content as a creative outlet or to connect with casting directors, "not in any anticipation of a full-time job or any sort of monetization."
A decade later, that could not be further from the case. The influencer business is thriving, up from $8 billion in 2019 to an estimated $15 billion by 2022, according to Business Insider Intelligence. Having lots of followers—on TikTok or elsewhere—can be a lucrative career all on its own. "In general, I would say talent are probably less interested in being an actor or an actress" than they were in 2009, Sherman notes. "Now the endgame is, 'I want to be an influencer.' "
But even for aspiring actors, TikTok has changed the rules of the game—and fast. With some 100 million monthly users in the U.S. as of August (up from 27 million at the beginning of 2020), the platform's rise, as Sherman notes, has been "pretty frickin' quick." The platform's built-in video editing tools have made it significantly easier for anyone with a good idea to become a one-person production company.
Actor and comedian Alyssa Limperis, whose path to representation involved a 2017 viral video in which she impersonates her mom, has seen her characters resonate with a new audience on TikTok. "Social media is removing the gatekeeper," says Limperis, who this year is appearing in a new Netflix sketch series and starring in an indie feature alongside Fred Armisen. "If you're on here doing your thing and you're showing the world who you are and the world is responding, then the industry will respond."
UTA talent agent Pranav Mandavia agrees. "I really like how it's leveled the playing field so that anyone can start and create this whole brand for themselves," he says. TikTok serves as a sort of living demo reel for performers, making it a more organic way for agents to discover new talent. "I think the beauty of the [digital] department," Mandavia continues, "is that we get to scroll on social media and, as fans, figure out: Hey, I really like this person who's creating these funny TikToks. Maybe there's something there. And then it gets my wheels turning, and we can reach out just directly from seeing a video on our 'For You' page, which is really exciting." The people who stand out to him are often multihyphenates, he says, people who have a knack for storytelling—like Tomlinson, whom he helped sign.
TikTok's direct connection to an audience can feel transformative from the actor's point of view, as well. "I've seen this world without real access to being able to put out your own content," says Limperis, who began her comedy career before Twitter and Instagram even supported video posts. "In this business, there's a lot of waiting for an opportunity and a lot of hoping that you're right for something, and that can lead to a lot of anxiety." But social media provides another path: "Instead of waiting for a part that's right for you, you get to just do the thing that you do best—or the thing you enjoy doing most."
This story originally appeared in the Nov. 26 issue of Backstage Magazine. Subscribe here.
Looking for remote work? Backstage has got you covered! Click here for auditions you can do from home!