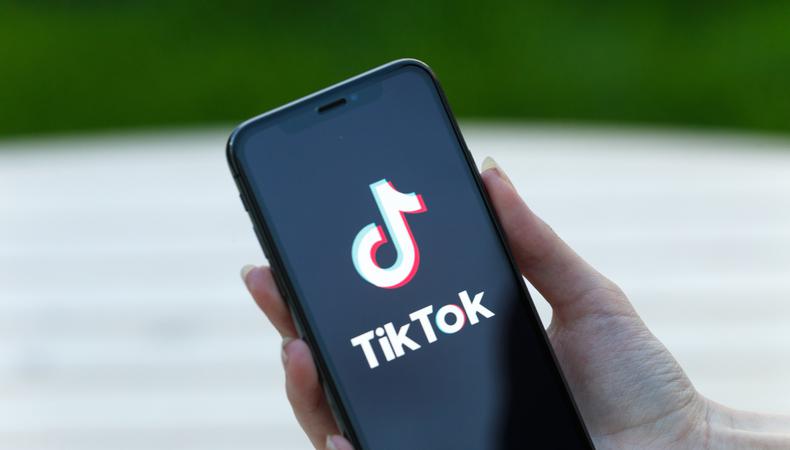 Now, more than ever, your big break might just be resting in the palm of your hand. The social media revolution has created numerous new entry points into the Hollywood talent pipeline. One-time YouTube performers like Troye Sivan, Bo Burnham, and Florence Pugh charted a path from their laptops to red carpets. TikTok, with its manic energy and global ubiquity, has become a formidable starmaker.
Built upon elements of earlier social networks and short-form video apps, the addictive silliness of TikTok's lip-sync karaoke is arguably the key to its virality. Yet, what began as a hybridized curio favored by teenagers and cringe-posting adults evolved into a cultural behemoth. As the most downloaded nongaming app worldwide in 2019, TikTok is now a powerful platform for aspiring artists and influencers. Backstage spoke with TikTok artists to learn how the app has presented them with new audiences and opportunities, and to collect their best advice on how to make the same happen for you.
"You could have just downloaded it, have zero followers, and go viral on your first post. "
No better proof exists of TikTok's ability to launch a song to worldwide fame than Lil Nas X's "Old Town Road." The country-rap smash went from SoundCloud meme track to the longest-running No. 1 hit in history. Credited with discovering the future earworm was then-21-year-old Michael Pelchat. After coming across the song on Twitter, Pelchat reached out to Lil Nas X for permission to rip it from SoundCloud and add it to the TikTok audio library. Under his handle @NiceMichael, he used in-app editing tools to sync the track to the rhythms of a goofy cowboy-quick-change vid that spawned millions of imitators. Soon thereafter, TikTok reached out to Pelchat to become part of its Next Level Program (then called the Creator Program), which links promising TikTok users with a coach or "creator partner manager" tasked with helping them hone their craft and maximize their reach. Pelchat now makes money from brand partnership deals and promoting musicians' work to his 1.7 million followers. Reaching that point was due, in part, to the way TikTok pushes content.
"You don't need followers to get likes, and that's amazing," Pelchat tells Backstage. The TikTok algorithm doesn't simply feed users content from popular accounts. Instead, it searches for new posts from all levels of users. If a post starts to get a high ratio of engagement (shares, likes, downloads) relative to views, it will be shown to more and more accounts. This egalitarian, bottom-up approach means even new and low-follower accounts can get a spin on the viral roulette wheel.
Nick Tangorra (@NickTangorra) saw this effect firsthand. The New York–based singer and stage performer had used Twitter, Instagram, and YouTube to share covers and original music, but had not reached the level of success he sought. During his first week on TikTok in February 2018, Tangorra posted a cover of Camila Cabello's "Havana." The next morning, he woke up to nearly a million views; by Valentine's Day, another of his videos topped 1 million likes. Months later, TikTok contacted Tangorra to help create behind-the-scenes content for Beautycon NYC 2018, and a close partnership followed.
"My experience with TikTok is that it truly is a platform for growth," Tangorra tells Backstage. "You could have just downloaded it, have zero followers, and go viral on your first post."
Going viral will always rely somewhat on luck. But Tangorra found that his creative partnership with TikTok and Creator Partner Manager Jeff Peters amplified his efforts. One such example was a challenge pegged to his original single, "Break Your Phone." Marked with the hashtag #WillItBreak, the simple challenge involves attempting to break an object to the tune of the single. To date, the hashtag has clocked more than half a billion views.
So how can a creator starting from scratch hope to hitch a ride on the algorithmic rocket ship? Tangorra recommends videos in the 11–15 second range—watch time is important to landing in the "For You" tab—that are true to your personality. If you're trying to popularize an original challenge using your own music, he says, set the barrier for engagement low by making the action memorable, fun, and easily replicable. Singer Cameron J. Henderson (@TheKingOfWeird), a popular YouTube performer and sketch artist who has nearly 800,000 TikTok followers, emphasizes discipline and strategy in planning content.
"A rookie mistake is not planning and micromanaging your to-do lists," says Henderson, whose videos often involve a green screen and additional performers. "Spend just as much time planning and revising your ideas as you do working. Working nonstop doesn't always mean you're being productive."
Peters credits TikTok as an "amazing promotional tool" for his influencer clients. If Tangorra is a test case, the evidence is hard to argue with. In the last year, he has hosted the iHeartRadio Music Awards red carpet, announced nominees for the American Music Awards, and done promotional work with Warner Bros. for its upcoming "In the Heights" film adaptation.
Follow the lead of these savvy TikTokers, and you could be in for a huge career boost.
This story originally appeared in the April 2 issue of Backstage Magazine. Subscribe here.