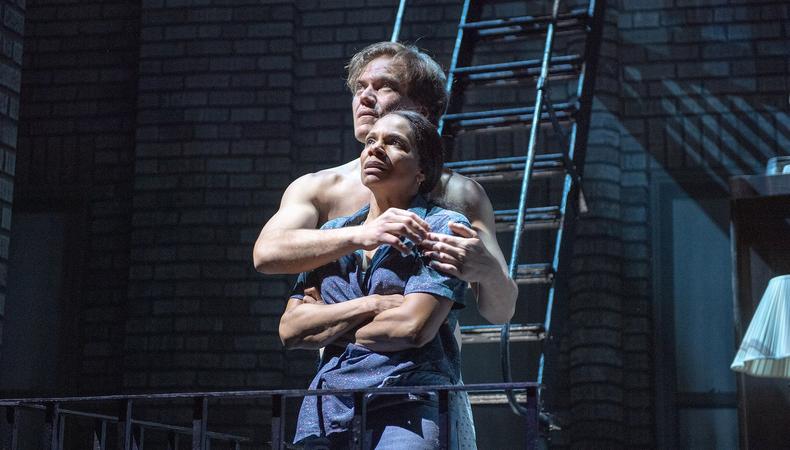 It has, quite unfortunately, taken until 2019, but Broadway finally has its first intimacy director. Working with Audra McDonald and Michael Shannon on the revival of Terrence McNally's "Frankie and Johnny in the Clair de Lune" playing now at the Broadhurst Theatre, Claire Warden has carefully constructed the play's many intimate scenes first and foremost with concern for the actors. Fresh off her Drama Desk Award win for fight choreographing Off-Broadway's provocative "Slave Play," Warden speaks about how her role protects the performer's humanity, and why intimacy coordination doesn't just make for a better storytelling environment—it makes for better storytelling.
Since many people may not know, can you describe the role of the intimacy director?
It's a threefold role. First and foremost, it's advocacy for actors, making sure that actors have agency over their bodies and what happens to them and that anything they're going to do onstage when it comes to nudity or acts of simulated sex or physical intimacy is something they enthusiastically consent to. Another part of the role is creating the protocol for an entire team. It's helping create the structures and protocols and procedures when working with scenes with nudity or simulated sex so that everybody is supported, respected, and protected. And then the final part is I'm a movement expert. I'm a physical storyteller, and I'm there to create the choreography and the movement to tell stories of all kinds of simulated sex.
READ: Sex on Camera + How Intimacy Coordinators Protect Actors on Set
How did you come to this particular line of choreography?
I got into it just as it was being created and helped develop it further. The founder of the work, Tonia Sina, had begun [working on] the idea many years ago, and together with Alicia Rodis and Siobhan Richardson, who are two female fight directors, they got together and created Intimacy Directors International. Just as they had created the initial outline of what the discipline could and should be, I read an article about Tonia's work and thought, Oh, that's what I was put on this earth to do. I contacted them and said, "I think I can bring a lot to this work and I really want to be part of it." I joined them, and we kept developing it from there and moving both the discipline itself and the movement within the industry forward.
"Frankie and Johnny" is the first Broadway show ever to have an intimacy director. Why do you think it's taken until 2019?
The most regular comment I get is, "How has it taken us so long to have this?" Yet, I was seeing the seismic shift in our society and in our industry that's finally made space for those in power to be made to listen. It's not that actors haven't been speaking up ever since acting has been on the stage, it's that no one has been listening—no one with the power to [enact] change has been listening. I think our society has been for the last 10 years or so in a wave of a socially driven need for change. I think this is part of that, and it started with Occupy Wall Street and Prop 8 and Black Lives Matter and #MeToo. It is this tsunami of the people calling for our humanity back, and this is [the manifestation of that] in the theater and film industry.
What is the actual process for choreographing scenes of intimacy with actors?
We have five pillars that we follow: consent, communication, context, choreography, and closure. It starts with a conversation with each individual actor to find out what's OK for them, any boundaries or requests they have, [and] what they need in order to do their best work. And then it's a conversation with the actors who are going to be working together, and they get to talk about that with each other: What's OK to touch and what's not, what they need. Then it's a conversation with the creative team, the director, the intimacy director, and the actors: What's the story we're telling here? A lot of awkwardness up until now [in] talking about sex [has come from] that stage direction: "They make love." It's been, "OK, go for it then," and there's no support. There are a thousand stories in a handshake, and what we're doing is telling a physical story in the same way we tell a story with text. It's about the story we're telling and always grounding it in that. That's why we're doing this, because we're actors telling stories. We choreograph it, bit by bit, and then they get the acting into it once we have the blueprint.
When you describe it like that, it makes me wonder: How have actors ever done scenes of intimacy without this kind of specific direction?
With difficulty. Sometimes they're lucky and they get a director who helps guide them. And sometimes it's just: Grit your teeth and survive the scene. And while that's a terrible experience for the actor, it's also not artistically fulfilling. Often, physicality is the culminating moment; when language is not enough we go to physical. So, often, as opposed to the audience seeing, "Finally, finally! We've waited four acts for this, they get to kiss!," we see two actors uncomfortably surviving a scene. That's not artistically satisfying to anybody.
What would you say to a producer or director who doesn't believe their production needs an intimacy director?
I think a lot of resistance comes from not necessarily understanding what my role is. It's a fear that the work to make everybody comfortable will take power from the director or [an intimacy director will] be in charge and direct the scenes themself. Or [they think] we're the "harassment police." What we're there for is to provide the structure that actually allows the actors and therefore the director to produce even deeper, riskier, more powerful, more authentic, more nuanced work, because everybody is freer to dig into their craft as opposed to spending their energy protecting their humanity. If you have a six-person broadsword battle onstage, are you going to choreograph that yourself? Probably not, unless you are a trained fight director. The difference between fight and intimacy direction is the emotional and psychological care we need to take with actors, because we can't deny right now the world in which we live, and actors walk into the theater from that world every day. We need to acknowledge the human beings that are these actors, and we need to provide care and support for them so that they can eschew that world for those moments and do their best work. If we ignore it and pretend it's not happening, you're not getting as satisfying or powerful or authentic art.
What is one thing you'd like the industry and broader public to know about intimacy direction?
One thing that really matters to us is the complexity of this role; the research and [combination of] training and experience and understanding that you need to have to do this job. While there's a lot of enthusiasm for it, if you are not fully trained and understand all the unseen complexities of the job, it can be dangerous. There are people who really want to do this work, who are calling themselves intimacy directors because they're so new [and] think, I can do that, without a full understanding of what it takes. A little knowledge can be more dangerous than none. While there's this rush of passion for everything to be changed now, we're running the marathon, and there is time for those who are interested to train fully and understand all that it takes to do this so we can always protect actors. What breaks my heart more than anything is actors getting hurt by someone trying to do this job—because too many have been hurt already.
This story originally appeared in the July 11 issue of Backstage Magazine. Subscribe here.