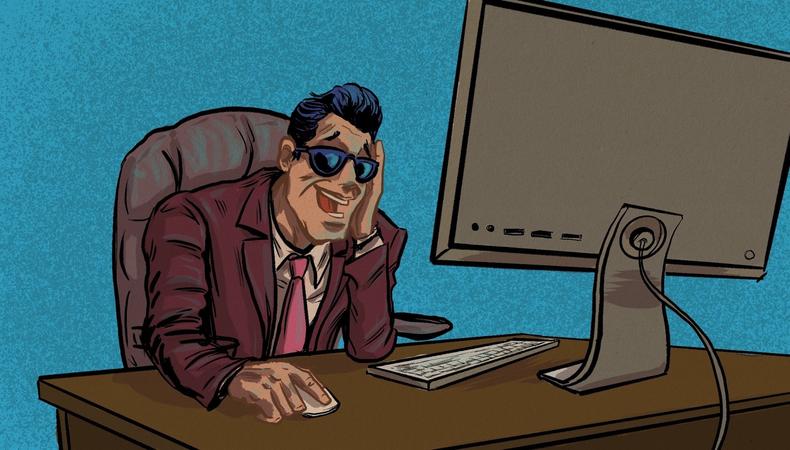 I'd like to tell you a little bit about one of my newest discoveries—we're going to call her Verona. If I had to describe this young woman with just three adjectives, I would use "weird," "daring," and "funny." Are you wondering how I found her? It was online. No, I'm not talking about Tinder. I'm talking about her web series.
I'm over 40, so my approach to discovering talent is old-school. I go to plays, comedy shows, acting classes—that sort of thing. But I've come to learn it's just as easy to find potential clients from the comfort of my own desk. Or, in this case, my home computer.
It was a Sunday night, and I was still mourning the end of "Game of Thrones," so I decided to waste some time on Facebook. I must apologize to Mr. Zuckerberg, because "wasting time" was the last thing I did. You see, I came across a link to Verona's web series on a friend's feed—and I'm using the word "friend" loosely. It was just some dude I'd met in my anger management class. Anyway, the material looked like a smile, so I clicked on the link.
READ: Tips on How to Write a Web Series
Verona's series was a uniquely American version of the British series "Fleabag." There were only five episodes, and each one was about three minutes long. They all made me laugh and cringe at the same time. I was especially impressed that Verona was the lead and creator. My talent detector was buzzing like crazy, so I tracked her down and set up a meeting.
Long story short, we hit it off in a major way. Verona explained that she had created the show on a shoestring budget by enlisting the help of just about everyone she knew. And she had done it because her 20s were almost over and her career was still stuck on the Hollywood launching pad.
Well, mission accomplished, because I signed her on the spot. Then I introduced Verona to a manager who signed her and sent her to a literary agent who signed her and set up some pitch meetings. It's still early, but the feedback has been promising, and I see a bright future for an actor I stumbled across on a friend's Facebook feed on a boring Sunday night.
READ: How to Create Your Own Content
We live in amazing times. Anyone can create their own content without a boatload of cash. Hell, entire feature films have been shot on iPhones. (Do yourself a favor and watch Sean Baker's breakthrough film, "Tangerine." It was shot on an iPhone 5S!)
This may or may not be the right path for you, but here's the thing: If creating your own vehicle sounds like too much effort, you can still work on a web series someone else is producing. The opportunities are there. You just have to find them. And as someone in a position to know, I can tell you these things are getting seen by all the right people.
Back in the day, actors would create their own showcases by choosing material, rehearsing for weeks, renting a space, buying cheap wine, sending out invitations, crossing their fingers, and hoping for the best. Doesn't that sound quaint? Now, the means of creation and distribution are right in front of you, just waiting to be used.