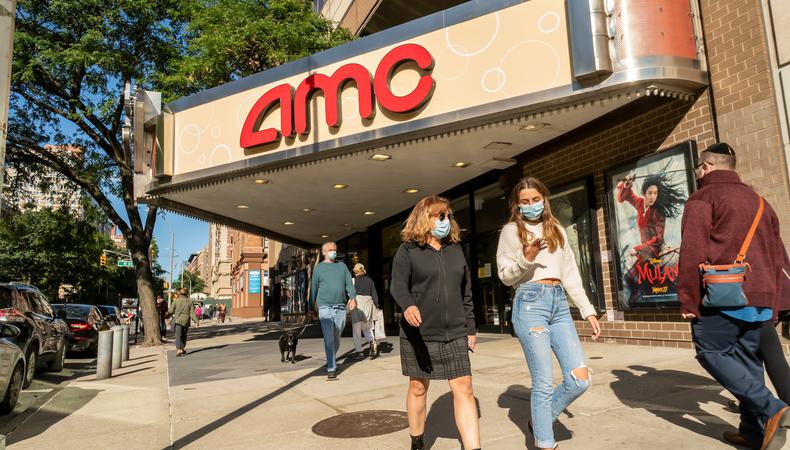 Hollywood may have resumed filming in the midst of the COVID-19 pandemic, but that recovery has not been extended to movie theaters. Major American cinema chains have seen their revenue plummet. Regal recently announced that it would be closing its 536 multiplexes indefinitely. Meanwhile, though AMC has reopened a majority of its domestic theaters, its revenue during its latest quarter declined nearly 91%. And without federal help, many smaller cinemas are facing bankruptcy and closure.
The largest movie theater chain in America is AMC, with 634 theaters nationwide. Earlier in the COVID-19 pandemic in March, as it was shutting down a majority of its movie theaters, AMC also had to lay off or furlough 26,000 workers and 600 people in its corporate offices. Then in the summer, as movie theaters reopened internationally, it still was not enough to bolster AMC's profit margins.
As of late October, AMC opened 539 of its 600 domestic locations, and 261 of its 358 international venues. In addition, because of COVID-19 safety regulations, the movie theaters that have reopened were only allowed to partially fill their theaters to maintain social distancing.
Despite pressures from theater owners, no cinemas have reopened in the two major American markets: New York City and Los Angeles.
In a recent earnings report, which tabulated its revenue from July to September 2020, AMC reported that it made $119.5 million. This constituted a 90.9% drop from September 2019, when it brought in $1.3 billion in revenue. It also suffered a loss of $905.8 million. In total, for 2020, AMC has brought in a little more than $1 billion in revenue, compared to $4 billion in the first nine months of 2019.
"The magnitude of the impact of the global pandemic on the theatrical exhibition industry was again evident in our third-quarter results, as theatre operations in the U.S. were suspended for nearly two-thirds of the quarter," said Adam Aron, CEO and president of AMC in a statement. "And yet, despite unrelenting obstacles, the AMC team continued to make significant progress in pursuit of our three key priorities: to strengthen our liquidity position, to dramatically reduce operating and capital expenditures, and to continue to safely and successfully restore our operations."
In order to stem its profit bleeds, AMC has sold 30 million shares of its stock, raising $97.7 million. Back in August, AMC raised $77 million by selling nine of its theaters in Europe's Baltic region. It also laid off 176 corporate-level positions.
Meanwhile, the second-largest cinema chain Regal Cinemas, recently announced it would shut down all of its 536 movie theaters until further notice. The movie chain reopened some of its locations in August but soon realized that operating outside of the major cities was not financially viable.
"Despite our work, positive feedback from our customers and the fact that there has been no evidence to date linking any COVID cases with cinemas, we have not been given a route to reopen in New York, although other indoor activities—like indoor dining, bowling, and casinos were already allowed," said Mooky Greidinger, CEO of Cineworld, the parent company of Regal, in a statement. "The prolonged closures have had a detrimental impact on the release slate for the rest of the year, and, in turn, our ability to supply our customers with the lineup of blockbusters they've come to expect from us. As such, it is simply impossible to continue operations in our primary markets."
Around 40,000 Regal employees in the U.S. have been furloughed.
Another reason for these profit bleeds is movies that were slated to be released in cinemas this year have been pushed back. Blockbusters like "Black Widow" and the new James Bond film, "No Time to Die" have delayed their cinematic releases to 2021. "Wonder Woman 1984" pushed back its summer release to Dec. 25, 2020, and will be simultaneously released in movie theaters and on HBO Max (though it's unclear with the current COVID-19 infection rates, how many theaters will still be open on Christmas Day).
Some films, such as Disney's "Mulan," have been moved to a streaming platform release. Even the films that were released in the theaters did so with smaller profit margins when compared to pre-pandemic takeaway; Christopher Nolan's film "Tenet" was released worldwide and made $350.7 million on a $205 million budget. Variety predicted the film will lose millions.
According to the National Association of Theatre Owners, 96% of U.S. cinemas have reported over 70% in losses in 2020. They've estimated that 70% of their small and mid-sized theaters will go bankrupt or go out of business by January. The organization has taken to advocating for a bailout with Congress. It put its name to the Save Our Stages Act, which has also been advocated for by live music venues and live theater venues. SOS would provide $10 billion in federal relief money to businesses that provide live events.
"American movie theaters need help now," NATO President and CEO John Fithian said in a statement. "Soon, a vaccine will allow our industry to return to normal, but without bipartisan action now in the lame-duck session of Congress, hundreds of movie theaters will not make it. Local communities across the nation are and will be permanently damaged. This Congress and administration still have a job to do."
And on the COVID-19 front, things seem to be getting worse before they get better. Infection rates in America have continued to increase. Meanwhile, abroad, Italy, Germany, Spain, and the UK have announced or enacted lockdown plans for their country or certain regions to stave off a second wave of infection. This means that the cinemas that have previously reopened have to shut down again.
Yet, some theaters have found creative ways to make money: a number of distributors, big and small, have started doing virtual releases with their films, letting cinemas sell tickets to their films as digital links, and sharing the profits accordingly. AMC and a number of art houses and local cinemas have managed to stay afloat this way. Others, such as CineLux Theatres, a chain in Northern California, have let patrons rent out entire theaters for private parties. Others in New York City like the indie film house Nitehawk Cinema have survived with take-out food and drink sales. But the consensus from the industry seems to be that without federal help, survival will be tough.
Recently, Cinemark and AMC have signed deals with Universal agreeing to shorten the required window for the studio's movies to be in theaters before moving to premium video on demand, from 31 days to 17 days. And the deal only applies to films that open at less than $50 million. Cinemark and AMC are expected to get a share of the PVOD profits.
NATO has released a PSA on YouTube called #SaveOurStages. Said Paul Gunsky, owner of CineLux, in the video: "As an industry, we certainly need assistance. Without that, I'm not sure we're going to be able to get to the other side."
Looking for remote work? Backstage has got you covered! Click here for auditions you can do from home!