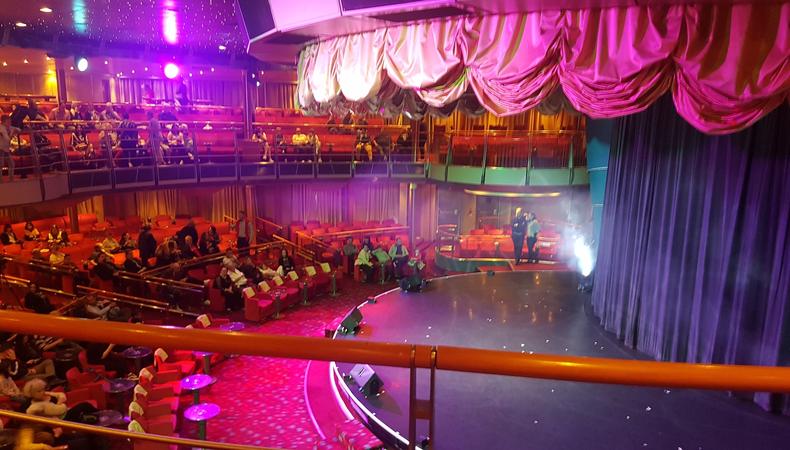 Working on a cruise ship as a performer involves employing almost every skill you've learned during your time on the stage. You'll have to be adept in several song and dance styles and do many shows a week. And, unlike many acting opportunities, you might have to perform as a version of "yourself" rather than a character, and interact freely with the audience. It all calls for a lot from you in terms of skill and stamina, but before you get there, casting directors who specialize in cruise casting have some advice to help you get the gig.
You will probably use all the skills listed on your résumé.
"The shows tend to be revue-based, where you're doing a variation of different song or choreography styles. We need people who can handle being versatile and really selling across a broad spectrum of anything from classical to rock to pop to Broadway for vocalists, and ballet, jazz, contemporary, Latin, ballroom, [and] hip-hop for dancers. It's not a different cast or a different group within a cast that comes in and does the hip-hop number and the ballet number; it's all the same people. Yes, there are different qualities within the cast of vocalists, but we only have so many people. You might need to sing 'Nessun Dorma' and turn around and sing something by Queen in the next couple of minutes. If you're in a Broadway show, it was choreographed by someone—and, yes, there might be variances within that, but generally it's one person's style." —Franklyn Warfield, RWS Entertainment
In addition to song and dance, come with something special.
"Sometimes, playing an instrument or [having experience in] stage combat is a good thing. Sometimes, past costume character work is good to have. It's a free-for-all. Sometimes, speaking a foreign language, being fluent or proficient in it, is a good thing. It depends on what's casting." —FW
READ: What You Need to Know About Working on a Cruise Ship
Remember what type of production you're auditioning for.
"No matter what you're auditioning for, you need to have a connection to the material you're singing. Who are you singing to? What is it that you want? What is your emotional connection? No matter what you're singing, if you don't have a connection to it, and you don't ultimately have a reason for why you're singing it, nothing's going to come across. You're not going to relate to the audience, because you're not relating to what you're singing. People say, 'This character is singing,' and that's what they hide behind. As soon as we say, 'It is just you on a stage. I need to see you having fun; I need to see your connection to it'—that's where I think it starts to get a little different in the audition setting. How are you getting us engaged? Are you even looking at the people behind the table? Are you engaging the audition panel, as opposed to making it clear you're living in a different world?" —Katie Proctor, RWS Entertainment
Do your homework.
"You need to do the research and know what different dance and vocal styles are right. I think a lot of people come in and assume they're just auditioning for 'Chicago' the musical, but in fact, there is a whole other musical that you have to get through the creative team with, as well, and it's a very different style. You've got to be able to do a bit of everything. It's not easy!" —Benton Whitley, Stewart/Whitley Casting
Your job isn't necessarily over after curtain call.
"A standard theatrical process [is] you do your show, you come out of the stage door, maybe you wave at a few folks, sign a few autographs, you turn a corner, and they're out of your life. Not so on a cruise ship. You're floating along with your audience for maybe two weeks, so you don't get to just check out when your show is done. You will see all of your audience members on the lido [deck] getting tea or something, walking the halls. You will be recognized. It's fun! It gives you a taste of celebrity. I always tell people, because some are really uninterested in that, but I think it's a unique opportunity to connect with your audience. And then if you do make those connections, they're liable to come back night after night to watch your shows, and they love you even more." —FW
This story originally appeared in the Sept. 12 issue of Backstage Magazine. Subscribe here.