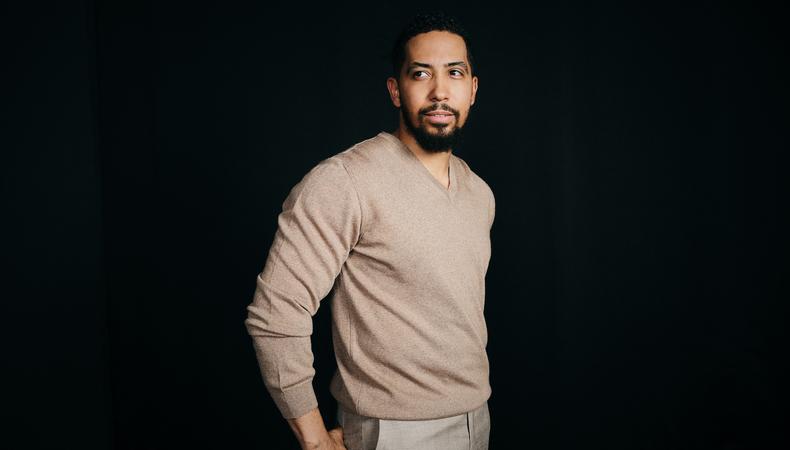 The following Career Dispatch essay was written by Neil Brown, Jr., currently starring on "SEAL Team"; new episodes airing Wednesdays on CBS.
First of all, let me clarify everything you are about to read with this one fact: I truthfully and honestly have absolutely no idea what I'm talking about. That is as straight-forward as it gets, and I mean every single word with a smile on my face.
Truth be told, the one thing I am sure of in this life is that I don't know a damn thing and that, ladies and gentlemen, is what keeps me hungry to learn. So, what follows from this point on is simply the ramblings of an artist who's been trying to figure out what they're doing over the past 26 years of their career. Please don't take too much of this to heart because like any art or anything in life, really, these are things that simply work for me; the things that keep me sane and help me gain a higher perspective so I can focus more on the big picture.
The road from nonunion extra in a right-to-work state to where I am fortunate enough to be now is chock full of twists and turns, peaks and valleys. All the while, I've been given so many gems of insight from artists far more talented than me, whom I love and respect and who are too many to name. These words of encouragement, gifts of insight, and tools of the craft all seemed to land on me exactly when I needed them. My hope is that the principles at the heart of my big picture perspective—which I've narrowed down to three for the sake of this piece—will affect at least one artist in the same way.
The most powerful tool you have as an actor—as a person—is a changed mind. The ability to change your mind is really the only fundamental principle I have to share, and the other two are just off-shoots of that. If one can change their mind, they can completely change the direction of an audition, a job, their life, their career. One can change everything about themselves on the outside, but it's not until the mind is changed that true growth will have the breeding ground to develop.
How This CBS Star Learned to Love Her Natural Hair
I can't tell you how many times an actor "just wants ______"; "I just want enough vouchers for my SAG card"; "I just want an audition"; "I just want better auditions"; "I just want a speaking role"; "I just want good material"; "I just want better material"; "I just don't want to have to audition anymore." It goes on and on. This mentality seems to be a swift stairwell to success, because of the constant want for more.
Instead, for me anyway, it was a slow ladder to depression, a constant lack of fulfillment because I didn't value my own abilities enough to set out a clear, well-defined, specific, big picture goal. As a person grows and evolves, so does the idea of what success is and not necessarily because you want it to. Most times, it's because it needs to for you to survive. To be rigid and set in stone in a career where the ability to adapt and play in-sync and in rhythm with all the other players, is just counterproductive. Learn to take control of that evolution by changing your mind. That changed mind turns something tedious into something fresh; something you hate into something you love; something mundane into something exciting.
Changing your mind is the key to ending your small thinking and to start thinking big. If you can perceive it, you can achieve it and it's not until you change your mind that you will change your perception of how you must go about doing what needs to be done—and how you feel about it. Will you do it expeditiously with a smile, or will you drag ass with a frown? This is directly related to the next principle: doing what you have to do until you can do what you want to do.
This idea has been made famous recently by an actor whose work I can't help but hold in the highest regard. But it's been instilled in me since I was able to walk by my real hero, my daddy, Neil Brown, affectionately known by his friends and all who know him as "Captain." Whenever I wanted something, whenever I was down about the monotony of the actions I had to take to get that thing, my daddy would always tell me, "You got to do what you have to until you can do what you want to, son. Ain't nothing in life free." I never really was able to understand how simple and correct that principle was until I got older.
Everybody wants their bills paid but nobody feels like paying bills. And yet, you can't have one without the other. You can't have a good audition without the bad ones, because without the bad auditions, what is a good one? I honestly don't think you can be a "good actor" without being a "bad actor" first, so never beat yourself up by what you perceive as the end of your career because you delivered that line wrong, or you sucked that day. Life is filled with all kinds of shit we don't want to do. I don't want to get up at 4 a.m. to run at 5 a.m. because it sucks. It's cold and I didn't get enough sleep, but if I don't do it, I won't get that run in because I have to be on set at 7 a.m. and I probably won't get off until 9 or 10 p.m. So, if I want to look like the Special Operator I'm supposed to look like on "SEAL Team," I have to get my butt up while everyone else is asleep and comfortable.
So many of us get to that next step that we "just wanted" and all of a sudden we get sick of it. We forget that it wasn't so long ago that we "just wanted" whatever that thing is. "I just wanted an audition," and now, "Damnit, it's a next-day audition. I don't do those, I need more time." The mind can be as bored or excited as you want it to be and be careful not to let that ugly demon known as "pride" prevent you from getting what you want. Set your mind on being consistent about the day-to-day, often very tedious actions actors have to do: the plays you study, the books on acting you read, the auditions, the hunt for auditions, the working out, the classes, the writing, the silly exercises, the films you study, and nowadays, the social media we all must engage in. Do all this and more, knowing it has to be done. There is no shortcut, there is only hard work that has to be done consistently and with a changed mind that has decided to embrace it, to love it, and know that eventually what you truly want to do will be there before you know it.
This is the process, and that's the final and last thing I have to share.
Fall in love with the process, baby. The changed mind, the "doing what you have to do until you can do what you want" is all part of the process, and you have to love it. If you don't, you will give up, you will gas out, you may even become bitter. This job is unique in that every single thing you do goes into the bank of experience and turns into your work. All of it—the ups and downs, the laughs, the cries, the disappointments and the highs of crushing it—are all a part of the process and you have to go through it, so learn to love it.
Set your changed mind on the fact that you must approach your work knowing things must be done, especially things you don't feel like doing. Then know in your heart of hearts that it is all a part of the process you love—then have your changed mind push you through it with great enthusiasm and a thirst for learning and experiencing it all. Only then, your bank of experience will be overflowing and I am telling you, this marathon will be that much easier to run. That is the biggest truth I can close with. It is in fact a marathon, not a sprint. You have to know when to coast and when to kick, and if any of my ramblings ring true for you, for that I am thankful and grateful.
Now go kick some ass, and if the good Lord's willing and the creek don't rise, I'll see you on set.
What advice would you tell YOUR younger self? Get more Career Dispatches right here!