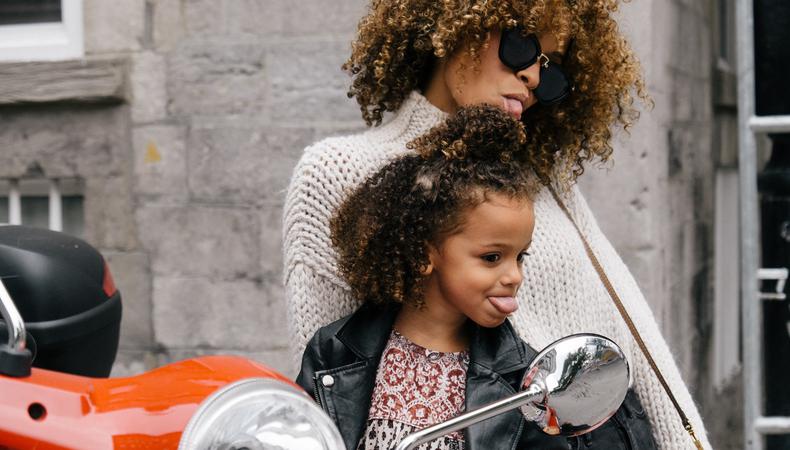 Social media can be a powerful tool in an actor's toolbox, especially for young and up-and-coming stars and their parents or guardians. Building a public persona or brand via Instagram, Twitter, Facebook, YouTube, TikTok, and other online platforms enables young artists to network, engage with their community, and—increasingly these days in the entertainment industry—even book jobs.
Yet with the many potential benefits of social media today come a plethora of challenges and nuances for kid and teen performers to navigate. How should parents help children manage their acting careers online? How can they keep their child actors safe from the inherent dangers of the internet? Read on for some social media do's and don'ts, accessible resources, and, best of all, tips from real-life parents of youngsters in the biz.
Child actors and their parents should work closely together on social media content.
Pressley Hosbach, 13-year-old star of the new Brat TV series "Stage Fright," began navigating social media in the public eye during her breakout on Season 8 of Lifetime's reality hit "Dance Moms"—and she's had help. The actor-dancer-vlogger's mother Ashley Hosbach tells Backstage, "[Her] career and dreams are hers, so it starts there. She's the star...she comes up with the ideas and creates the content, with some production assistance from me."
All words, images, and video Pressley Hosbach would like to post via Instagram and YouTube must first be approved by her mother, who is logged into each account on her phone. It's common practice for social media accounts to be managed as a team effort in this way, with child actors generating or pitching content and their parents executing or giving the thumbs up; how much each contributes to the process depends on what should be a clear family policy.
At only age 7, actor-model-musician Rachel Gordon has about a "50% stake and control" over her social media accounts, say her parents and collaborators Esther and James Gordon. "Rachel will have her own creative ideas on what to post (based on her personal experiences: travel, auditions, shoots, events she attended) but will seek help and approval from her parents on content development (taking her photos, Boomerangs, uploading videos, etc.) and captions before posting."
The percentage of control a child actor has over the social content posting process may increase during teenage years. "As Rachel grows older, she will likely want to take the lead in managing her own social media accounts—still with parental supervision and consent," say the Gordons. With the right amount of time and the practice of safe online habits, teenage actors can gradually take over ownership of the content behind their growing brand.
When, approximately, should kids be allowed to do so? Backstage Expert Heidi Dean pinpoints age 13 as a cutoff: kid stars 12 and under should have their parents primarily running social accounts. Instagram and Twitter specify in their terms of service that those under 12 may not create an account, although there is no means of age verification. The Children's Online Privacy Protection Act (COPPA), exempting kids from internet data collection, prevents their own creation of a YouTube page. These kinds of rules are put in place for a reason; adult supervision and judgement are needed for any young person's online presence, especially that of a child actor in the spotlight.
Monitoring engagement is as important as engagement itself.
Pursuing the life of a performer means being in the public eye; being in the public eye means attention from audiences or fans—even, perhaps down the line, real fame. As with many aspects of social media, its facilitating interaction with other users can be a double-edged sword. On the one hand, followings grow through engagement over social media, and friendships and professional connections can be forged online. On the other hand, especially for younger stars-in-the-making who are fundamentally more vulnerable, interacting with or receiving unsolicited communication from strangers comes with risks.
Parents of kid actors should have firm policies in place for engaging with others via social media accounts, and should serve as the first line of defense as necessary. As Hosbach puts it, "Pressley is building her community and tribe herself, but I do make sure it's filtered and a mentally healthy space for her to thrive." On Instagram, she reviews all comments on posts before allowing her daughter to like and respond. Private messages are read by Ashley Hosbach first: "I do not allow her to respond to messages until after I have opened them. She is not allowed to open her request box at all, as these are generally from people she does not know.
"Monitor everything and do your research on people or companies that may reach out to your children," she advises fellow parents. "Make sure you know who your children are interacting with."
Rachel Gordon's mother and father always ask the same question of anyone reaching out in comments or messages: " 'Is this someone you know? Is he or she a friend of ours?' Some fans may private message to say hi, and we will always respond in kindness but limit to short chats only."
Remember: engaging with others over social media is optional. If communication with anyone becomes uncomfortable or inappropriate, all platforms have options to block or report users and ensure safety. And cyberbullying has become a pervasive phenomenon that kids and parents should discuss together, and discourage from followers. (Here are some helpful tips on cyberbullying).
Use monitoring technology to ensure safety.
Speaking of ensuring safety on social media, what technology is available to create a safe online environment for children? More and more software is being developed to protect a generation of smartphone users from age-inappropriate content online (and even limit their screen time).
"There are a lot of apps out there," says Hosbach. "I recommend Bark, an internet safety watchdog that monitors and scans all communication and delivers alerts to parents." WebWatcher and Qustodio are other popular options. Common Sense Media also has specific tips on which software is recommended for a variety of devices. Anyone using parental controls should communicate with their children about those restrictions and why they're important, and that's doubly true for families with working actors.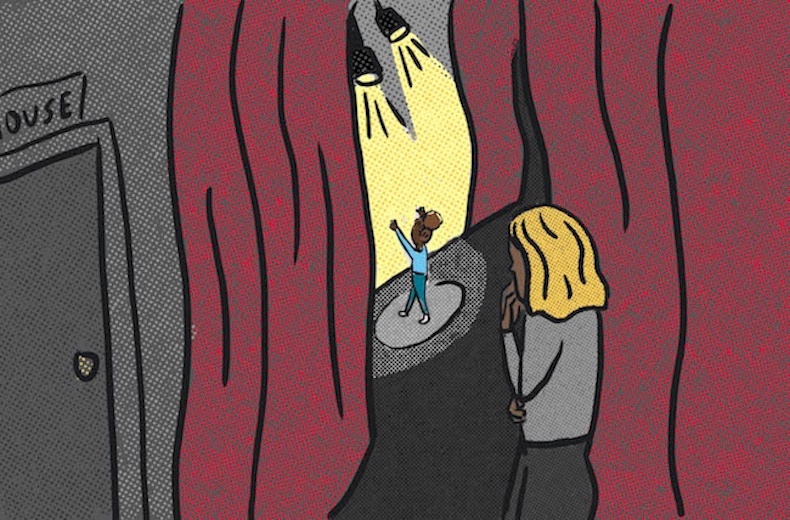 How to Manage Your Child Actor
Be smart and think ahead.
Parents should be proactive in their approach to crafting an online presence. Make sure that sensitive personal information is listed nowhere on your child's social media accounts, actor website, or any other online platforms. If their career takes off, there may emerge public interest in email or phone numbers, their school or home addresses, and other details that should remain private. Keep track of your child actor's online footprint as though they've been suddenly subjected to the scrutiny that comes with overnight success (which may be the goal—so be prepared!).
Hosbach says parents of child actors should know as much as possible about how Instagram, Twitter, YouTube, and the rest work. "I suggest that you use the social media apps yourself to make yourself familiar with the ins and outs of them so you are not missing anything." Given rapid shifts in culture and advancements in technology, it's also important that child actors and their parents keep abreast of industry trends and news as it relates to social media. Everything from specific software policies to internet etiquette can evolve, and it's worth remembering that any joint approach to social media usage should be designed to adapt as needed.
"Review security settings and privacy policies for the social media sites kids frequent," recommends a guide from the Cybersecurity and Infrastructure Security Agency. Check out online resources like ConnectSafely or the National Cyber Security Alliance for more advice.
Parents: lead by example.
Ultimately, a child actor's social media experience and whether they navigate the digital world safely is up to the child actor. And their greatest resource is a trusted parent or guardian providing a model example. "The best online environment comes from within," says Esther and James Gordon. "While [parental control] apps can somewhat mitigate risks in the virtual world, the child needs to be educated (just like in the real world) to be cautious—words and actions matter."
More important than the specific social media practices, especially on the road to potential fame as a future star of stage and screen, are a young person's values. As Rachel Gordon matures and her online presence grows, her parents will continue to teach the important lessons that will serve both her career and her life: "Treat others how you'd like to be treated. Always be kind and gracious online as you are offline. Moderation is key." After all, as they say, "we still live in the real world."