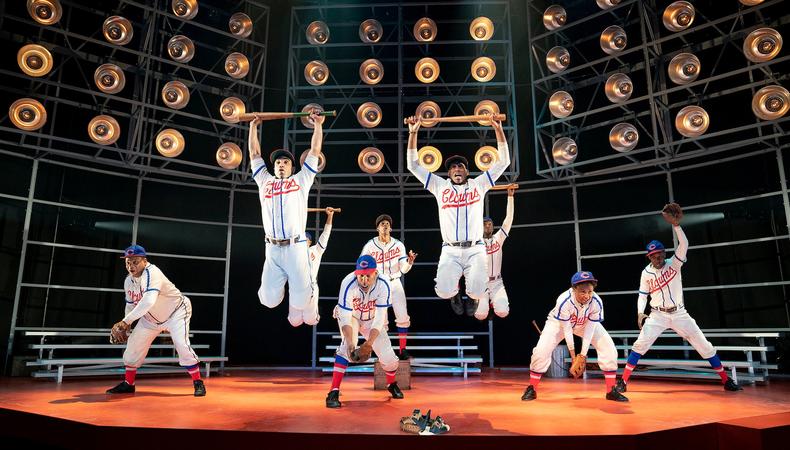 The toast of the town for her groundbreaking work on the 2017 revival of "Once on This Island," choreographer Camille A. Brown is one of those "overnight successes" who was actually a decade in the making—and there's no stopping her now. Fresh off her 2019 Tony nomination for "Choir Boy," she jumped immediately to Roundabout Theatre Company's "Toni Stone" (running Off-Broadway through Aug. 11). Brown spoke with Backstage about how she helps performers find storytelling in their movements and the one thing every aspiring choreographer needs.
READ: How to Transition From Dancer to Choreographer
How would you describe the role of the choreographer?
The role of the choreographer is to create a language that supports the story and helps move the story forward.
How did you first come to do choreography?
I always say I found choreography by way of rejection. I had always loved putting things together, but I didn't know it was actually choreography that I was doing. I wanted to be a dancer. As a student, that whole issue of body image came into play, and there were a lot of times where I felt like I didn't fit in, I wasn't enough. When I got to college, I was told I couldn't fit [into] the costumes, so I wasn't even gonna be asked to audition. I didn't get it. I just wanted to dance. I called my mom and told her I wanted to transfer, and she said, "Well, we can talk about that when the semester ends, but for now, you have to find something you can devote your time to." I turned to composition and improv. I realized, "Oh, [my teacher] is asking me to create my own voice. It's not going against anything; you're learning something new and you don't have to ask. You don't always have to ask people when you can dance. You can dance whenever you want to." That's how I started putting choreography together.
It's somewhat surprising, but choreography in theater skews heavily male, so it's all the more impressive that you've carved out this place for yourself.
Thank you. I've had my community to help me, so we never do things alone. I think people think I'm so confident and fearless, and I feel like I'm the most doubtful, fearful person I know. If it weren't for the people who surround me, who lift me up in those moments where I don't believe—it's those times that I think are most important.
That's probably true for most artists in any discipline.
Right, and I did [receive] a lot of doubt from people about wanting to go into theater. I had been establishing my company and was starting to do work, and around that time, I wanted to try my hand in theater and people said, "That's not going to work. You have to choose. That's going to be challenging. This is a completely different world." I felt like, "OK, well, let me at least try it." I always say, try it. Just because it may not work for other people or you don't see it doesn't mean it can't be done. I am not saying a career in theater is not challenging. But I'm glad I chose to listen to my heart and was prepared to fall.
You've choreographed for several musicals, but your two most recent projects, "Choir Boy" on Broadway and "Toni Stone" Off-Broadway, are both plays. Are there major differences in choreographing for a play versus a musical?
My job is still the same; how I communicate is through movement. I know how to tell stories through my body and through other people's bodies, so regardless of whether it is a play or a musical, I'm going in thinking, How can I contribute a dance language to this story? Before I walked into "Choir Boy," I hadn't seen the show. They had already cast it before I got on the team, so I didn't know what I was going to do. Then I heard them sing. You get inspired in the room, so I try not to plan too much. You have an idea, but I want everyone to feel like we are building this together and they are a part of the creation of it.
READ: How to Become a Dancer
What was the process for finding the movement of "Toni Stone"?
I actually pulled from the research that I did in my work for my company to create movement and language and movement for "Toni Stone." Even though [the idea] was, "Oh, it's a baseball team," and you're talking about stereotypes, [playwright] Lydia Diamond has placed this idea of entertainment inside the play. So instantly, I started pulling from [my dance project] "Mr. TOL E. RAncE," which I created in 2012, and I love the fact that it's just working; the two pieces are speaking to each other and it's so crazy that they are functioning together.
Can you describe your working relationship with actors?
At the start of it, you have to build trust and you have to break down the fear, because a lot of actors, when they hear "dance," it's a trigger for them in a negative way. My job is to come in and empower them and make them feel like their movements do matter and it is a part of a legacy or a lineage. I ask actors, "What do you think dance is?" and most say, "Kick the legs and turn." Well, that's one part of dance. There's another part that actually comes from community. I start talking about things that are more accessible to them but are just as valuable. It's a lot of stripping down and them trusting the process.
To tack onto that, can you speak further to the ways you get actors who are more "mover" than "dancer" comfortable with movement?
It's the empowerment. I think fear can be the most debilitating thing. Dance is just like acting; I look at dance as acting. If you don't believe it, we don't believe it. [Performers] have to believe that this movement is coming out of them and it's strong, it's powerful. I not only have to get them to that point, but I have to create a world where it does look good and everybody looks like they can do anything.
What advice would you offer to the aspiring choreographer?
Patience. You're probably gonna hear a thousand nos to 10 yeses, and when we hear the nos we have to try to convince ourselves that it's happening for a reason. It may not feel fair, but it's preparing us for something else. Even though disappointment—mistakes, failures, however you want to word it—even though those things happen, I have to believe they're making me a stronger person. When that success comes, it's also humbling because I know what it feels like to be rejected and I carry both feelings with me at all times because I never want to forget. Honor your scars and your wounds because they're preparing you for something greater and something that you never would have thought could be possible.