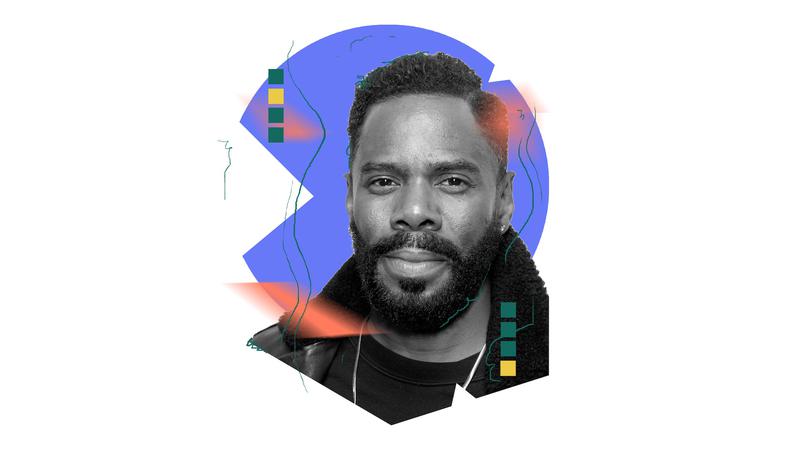 Over the course of his nearly 30-year career, Colman Domingo has acquired an extensive list of titles: actor, playwright, director, producer, talk show host, and award winner. In 2020 alone, he reprised his role as Strand on Season 6 of "Fear the Walking Dead," which he also directed an episode of; starred alongside Zendaya on the "Euphoria" holiday special; and rounded out the all-star cast of George C. Wolfe's "Ma Rainey's Black Bottom."
You're a writer, director, and producer, but when was the moment you decided you wanted to be an actor?
I wanted to be a photojournalist! I wanted to go around to war-torn countries and take photos and document anything that reminded me of being human. I studied photojournalism [in college]; that was my goal. I took an acting class as an elective. Lo and behold, my teacher pulled me aside one day and said, "I think you have a gift in this medium. Have you thought about pursuing it as a career?" I didn't. [Laughs] It was the first time someone told me I had a gift. I knew that it felt really good; I felt really connected to the work of an actor. Then I started going down the path of learning more, doing some training. Most of my training came from working. I moved to San Francisco. I was cast in a Shakespeare production [in] the California Shakespeare Festival, and I showed up for every rehearsal even if I wasn't called. That was my conservatory. I showed up because I wanted to learn everything. That's exactly what I still do. [Laughs]
"I've just always been that guy; I'm willing to learn and try something new and I don't have any limitations on that."
What would you pinpoint as your "big break"?
I had many big breaks. I feel like each one is different. When I was living in the Bay Area as an actor, I did a production of "Blues for an Alabama Sky" at TheatreWorks. That put me on the map as a leading man in the Bay Area. Before then, I started out doing theater for young audiences at places like Berkeley Rep and New Conservatory Theatre Center. This was the first role where I was being seen as a formidable player. I moved to New York after being in the Bay for 10 years, working on every stage there. In New York, my major big break was the musical "Passing Strange." The wonderful thing is this: Any musical I've ever done—because I don't consider myself a true musical theater artist; I just end up in musicals—I did at Off-Broadway or regional theaters with no intention of it moving to Broadway. And that includes "Passing Strange" and "The Scottsboro Boys." I was nominated for a Tony and [an] Olivier in London. Then when it comes to film and television work, of course, I can say that "Fear the Walking Dead" has been a tremendous opportunity for me to develop in a character for the past six, going on seven, seasons. It's provided me with a great platform, with more eyes on my work. I've been in incredible films with incredible directors, whether it's Spielberg or Ava DuVernay or Lee Daniels. Each time, I feel like it's a great breakout in a way.
What advice would you give your younger self?
Trust that your uniqueness will be your superpower. For a long time, I felt that no one really understood what I did. "Are you a dramatic actor, or are you a character actor? Are you in the circus, or do you do Shakespeare? Do you write musicals or plays? Are you working in the television space, or do you work in the film space?" I'm having such a prolific breakthrough because people finally realize, after so many years, [that] I do all of them. [Laughs] I would tell my younger self to continue to do all of them, and they will meet you where you live.
How did you first get your Equity and SAG-AFTRA cards?
My first union card was at Berkeley Repertory Theatre on a touring show for Theatre for Young Audiences called "The Yellow Boat." I got my AFTRA card first, then my SAG card. It was for a show called "Nash Bridges." I was a recurring criminal every season. Eventually, I got my PGA card. I got that by directing episodes of "Fear the Walking Dead" about four years ago. I've got my Stage Directors and Choreographers Society card. I got that probably while living in San Francisco, as well, because I had always been a director.
You do it all. I'm wondering what the special skills section of your résumé looks like.
[Laughs] Crazy. I've always felt it's because of the way I've approached this business: It's all learning, and it's about saying yes. When I took a part in the circus called Make*a*Circus in San Francisco, I had no circus skills, but I had the spirit of saying yes. I just learned to play the trombone for "Ma Rainey's Black Bottom," because I didn't play the trombone. I didn't know I could sing like a legit singer until I received the training. I've just always been that guy; I'm willing to learn and try something new, and I don't have any limitations on that. I think that's where my special skills section may be kind of extensive when it comes to language and accent—you name it. I'm curious, and anything that I'm cast in or a task that I'm given to take on, I work really hard.
What did playing Cutler in "Ma Rainey's Black Bottom" add to your acting skills?
It is always a death-defying feat to adapt and translate a work that was meant for the theater to film. That requires you to cull in all your skills. How do you use this language that is inherently theatrical? It's meant to be shared with an audience. How do you do that for film and make it very intimate? It was one of those experiences that you have to learn to become a bit of a hybrid of all that you know to make it feel very natural and very intimate, but also give it size when it needs to have size. That was something I had learned a lot. Those incredible scene partners, just working at the top of their game and [as] willing and open to wrestle with the text as you are. It was just a great, great ensemble experience, working with like minds and people willing to do the work. A whole group of overachievers, to be very honest. [Laughs] You can imagine a whole bunch of overachievers working together and having such a foundational love and respect.
What's the wildest thing you've ever done to get a role?
I have an upcoming film called "Zola," which is based on a viral tweet. I play this complicated pimp, and I really go for it. I wanted to unknow myself and change the way I speak. [My character has] a Nigerian accent. I changed a lot of things that I know about myself. A great challenge is to find something human in someone you think is doing very inhuman things.
What is your worst audition horror story?
I was doing a pilot season in New York. It was my last pilot season, because I got so frustrated with the idea that I had to audition every single day of the week—sometimes two or three auditions—and I never had time to prepare. I go into this one audition, and the casting assistant gave me all these notes before I even opened my mouth. So I did it, and the casting director just yelled at me, "Stop! Colman, stop! What are you doing? You're doing way too much. Just simplify." I felt embarrassed and I felt angry. I looked square at the camera with so much rage and said the lines while not moving at all, and I walked out and actually took the sides and threw them in the trash. That was a learning experience for me. Every time I audition actors for anything that I'm doing, I provide so much grace and love and generosity and a sense of play, because I never want actors to feel like that. I want them to feel empowered when they're in any room I'm a part of. We have to come to the other side, the director's chair, the producer's chair, to make that happen. I'm quite sure that the casting directors who were doing that and making me feel that way were never on our side.
What's one performance every actor should see and why?
One of the performances that I haven't seen in a long time was in a film called "Uptown Saturday Night," and it's the role that Harry Belafonte Jr. played named Geechie Dan. People may know him as a singer or they may know him as a dramatic actor, but he is one of the most phenomenal character actors who has ever lived. You can't even believe [how] Harry Belafonte—who is the most beautiful, graceful gentleman; he's so articulate and intelligent—pours himself into this gut-rocket, raw, hilarious gangster. It's Brando-level.
Looking for remote work? Backstage has got you covered! Click here for auditions you can do from home!