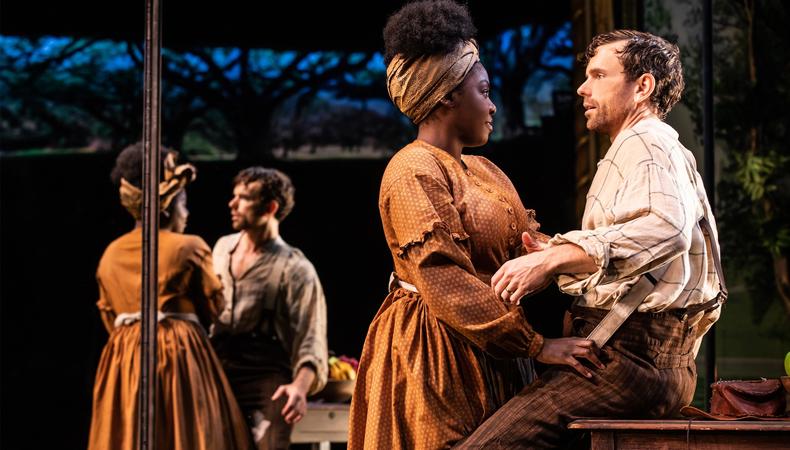 Jeremy O. Harris, whose "Slave Play" was short-ordered to Broadway after its lightning rod run at New York Theatre Workshop last fall, would like to clarify: He is not a wunderkind who, on the strength of his prodigious brain alone, was thrust into greatness; he has in fact been diligently honing his voice for years. And though the "Young Male Genius" archetype frustratingly obscures the work the playwright has put in to get to this point, given his meteoric rise—in an industry hellbent on spinning a story—it seemed a near inevitability. (There are, admittedly, worse misconceptions to bear.)
"This is something I've been trying to express more, because the media loves to create narratives around 'genius,' " says Harris. "No, the reason I have a play on Broadway is because I lived in L.A. for six years and was an assistant and was really close to a lot of phenomenal writers. I had this weird apprenticeship with these amazing, uncompromising writers."
During the 2018–19 theater season, Harris was produced twice by major Off-Broadway institutions; in addition to "Slave Play," his "Daddy" debuted in New York via the Vineyard Theatre starring Alan Cumming. At the time, Harris was still matriculating at the Yale School of Drama. The "Slave Play" Broadway transfer arrangements coincided with his graduation last spring.
"To leave school as someone who has a play premiering on Broadway and can fully afford to have an apartment in the neighborhood of his choosing is really destabilizing," he admits, chatting on a break during the play's tech rehearsals. (A limited engagement at the Golden Theatre opens this week and is slated to run through Jan. 5, 2020.) "I've had to make sense of a lot of things really quickly. I'm finally getting to live in a way that's like [that of] a lot of my friends from middle class backgrounds."
READ: 29 Broadway Power Players Actors Should Know
"Slave Play" was actually conceived of during Harris' time at Yale, and the prestige of the program is an undeniable door-opener. But even so, "go to Yale" is hardly part of his advice for fledgling creators.
"A lot of young writers keep asking me, 'How did this happen? Should I go to Yale?' And I'm like, 'No,' " Harris says. "Yale was a great opportunity for me to have time to write in the same way that [a workshop] is a great opportunity to write. The work that made writing possible was reading every play I came in contact with for six years. I was learning a lot from just seeing what worked and what other people were interested in. These are all the things I got to continue learning at school because I was with eight amazing writers every year and reading their new work while also throwing myself into classic work."
Harris is also wary of prescribing continued education for artistic pursuits because of its uniformity, a structure that can be highly antithetical to the way many writers—himself included—ultimately learn the sound of their own voice. "I think I'm a really intuitive writer, and what was hard about school sometimes is that intuitive writing, nobody teaches that," he explains. "What they teach are methodologies of writing practices, and my methods of writing were so at odds with that practice. And so it would be like, 'I literally cannot write today, because writing this way feels like cutting a little bit of myself and leaving it on the page, and I don't know that I've eaten enough this week to, like, cut myself.' And 'eating' is reading and talking about the ideas."
For that reason, Harris says, his own playwriting education—still very much evolving—has been seminally informed by "Slave Play," from its initial ideation through its continued reception by both actors and audiences. Also for that reason, the play has not dramatically shifted just because it is now showing to some 800 people a night, roughly four times more than in its Off-Broadway run.
READ: How to Become a (Successful) Playwright
"People ask me whether it's changing for Broadway, and my answer is always, 'It will change if the room tells me it needs to change,' " he says. "It's not necessarily going to change because [I think,] I'm on this new block with this bigger audience, so I need to do X, Y, or Z, because I can't predict that. You can always attempt to listen, and listen deeply, but listening deeply doesn't mean enacting things people tell you to do. Listening deeply can be just taking what they have to say as meaningful to them, and then processing whether or not it's meaningful to you, and moving forward with that knowledge.
"What I can understand," he continues, "is what an actor is telling me their character needs in that moment, and a lot of times that just comes from fierce performers."
Harris cites one such performer, Antoinette Crowe-Legacy, who played the deeply demanding role of Kaneisha in an early Yale iteration of "Slave Play." Feeling backed against a wall and second guessing a moment in the script that would prove essential, he made an alteration; Crowe-Legacy, bewildered by the choice, then elucidated back to Harris everything about the moment he had quietly though consciously woven. It needed to stay put.
"She looked at me and said, 'Why did you change this? The reason I'm doing this play is because of this,' " Harris recalls. "And then this actress—whom I had never told any of this—was able to tell me Keneisha's journey and speak to anxiety, fears, and frustrations that I had locked deep inside, that I had only ever spoken to myself. What I realized that day was that I articulated very clearly, that the secrets behind the obvious were also heard by this actress. And if they were heard by this actress, they will be heard by an audience."
This story originally appeared in the Oct. 3 issue of Backstage Magazine. Subscribe here.