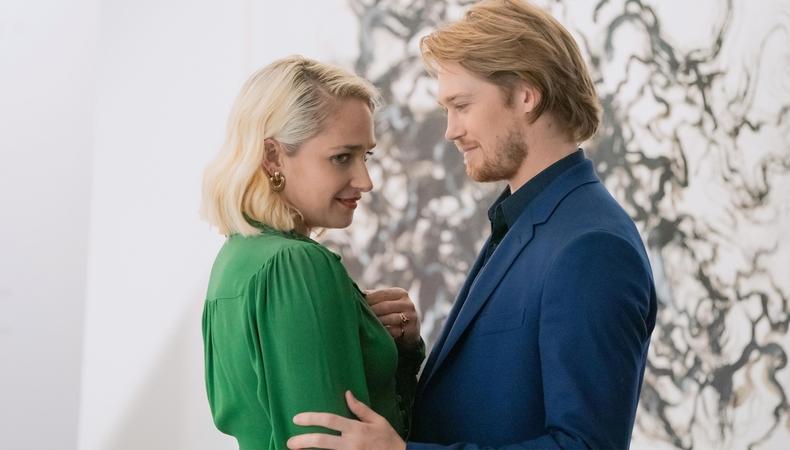 A pioneer in the field of intimacy coordinating, Ita O'Brien has brought her expertise and perspective to projects including "I May Destroy You" and "Sex Education." Here, she guides us through working with the directors and stars of Hulu's "Conversations With Friends." Like "Normal People," which she also worked on, the series is an adaptation of a Sally Rooney novel that examines a nexus of complicated (and extremely sexy) relationships.
What was it like coming to this project after the success of "Normal People," and working with this cast?
There was a [feeling that] "Normal People" had that impact—how do we top that? I have to say, I think Alison Oliver [who stars as Frances on "Conversations"] is just an incredible person—her stamina, her joy of life, her generosity, what she brings is utterly beautiful. And equally, I think Joe Alwyn's casting [as Nick] is inspired. He brings such a gentleness and complex delicacy to his role.
Once you read the scripts and saw the scope of the scenes you'd be working on, what were your next steps?
It's always talking to the director first, getting the director's vision of how they perceive it. And then [having] those initial discussions with the actors—not even necessarily about each scene, but just talking about the character's relationships, the quality of their intimacy, and what it reveals about them as characters.
READ: How Intimacy Coordinators Protect Actors on Set
We had the first conversations with Alison and [Sasha Lane], with [director] Lenny Abrahamson, since the true arc of the love story is theirs, because the story starts with them and their history. Those are the first intimate scenes that we did—having a sense of who they were—who they were beforehand. Particularly for Frances [Oliver's character] being such an innocent with Bobbi [Lane's character] in their first iteration as lovers; then Frances' growing and exploring who she is as a sexual person with the masculine as opposed to the feminine.
The scene with Frances and Nick [Alwyn's character] their first time together—that coming together, that joy of naked skin, experiencing somebody for the first time, and then the tears coming—it was sublime and beautiful. And then [Frances] says, "I've got something to tell you: It's my first time with a man." The delicacy of that scene and the discovery of self for each of them—but particularly Frances and her own autonomy.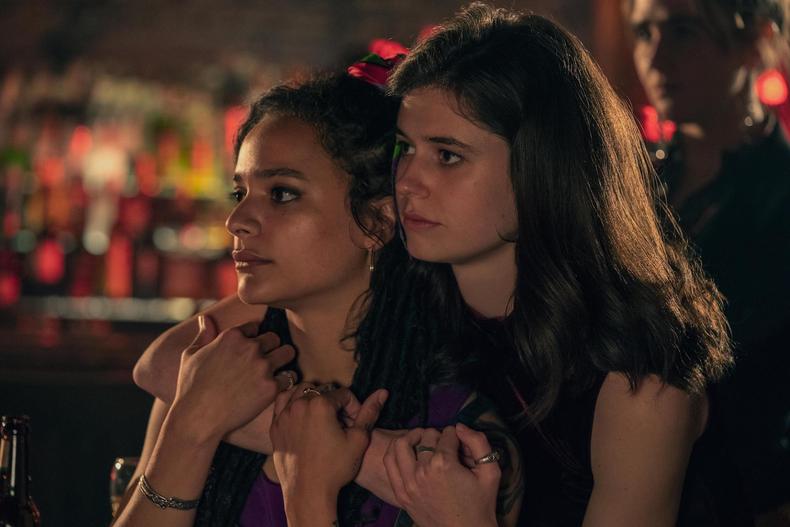 Sasha Lane and Alison Oliver on "Conversations with Friends" Credit: Enda Bowe/Hulu
How did you work with the actors to make those intimate moments look and feel as real as they do?
What's lovely about "Conversations With Friends" is that there's complexity—it involves other people, it involves knowing you're having an affair, knowing that you're transgressing. But that drive is there so completely. And then there's so much of the mind-body-soul connection that's told to us through these intimate scenes that then gets mismatched with how [the characters] communicate with each other. With Frances and Nick, you've got so much of that in emails and texts—these cryptic things where there are choices of being sparse, or being hurt, and not really sharing all of what's going on.
And so for me, it's about supporting that actor-director process. Lenny has such an ease and generosity in having that open and collaborative investigation and talking about who these characters are; so by the time we get it up on its feet, there's been such rich conversations and people offering their reflections and their thoughts about the characters. And then within that, we choreograph [the scene] and know that understanding is allowed to unfold, because [the actors] know what they're doing, what the choreography is, all the safety that the intimacy coordination gives, and all the modesty garments that are all in place so that nobody feels exposed. That allows the actors to be free and open and give the best of themselves.
Did the choreography change once you began shooting?
It's more the case that you learn a routine, and then each time you perform it, you bring something else to it. Breath is a biggie—once you've got the nuts and bolts of it, breath is everything. Breath sells it. So once that shape is known, you can step back and just let the actors fly. Lenny would give notes, and I would be on the monitor, and I'd perhaps step in if something wasn't telling the right story. But I really didn't have to do that much on this. The last scenes we did were the ones in Croatia, and by then, there was such ownership. Alison and Joe knew the process and the characters so well that it was really a very light touch that was needed.
This story originally appeared in the Jun. 2 issue of Backstage Magazine.