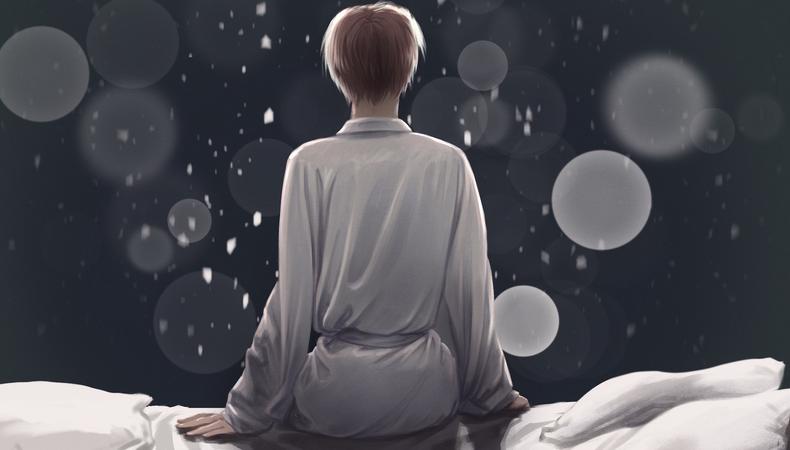 In film, television, and even theater, when an intimate scene is called for, the actors are often left to their own devices to map out how the scene should go. There is a high risk of blurred lines and abuse in a workplace where workers are required to kiss and simulate sex. To combat this, it's becoming best practice on many projects to hire intimacy coordinators. In my recent conversation with Amanda Blumenthal, owner of Intimacy Professionals Association, she reveals why that's such a huge step and what it means for actors going forward.
READ: Intimacy Directors Should Be on More Sets, Says SAG-AFTRA
How did you get into intimacy coordination?
I was working as a sex and relationship coach before becoming an intimacy coordinator. I also have a background in advocacy for survivors of sexual assault and in doing sex-positive education work. Plus, I come from a family of filmmakers, so intimacy coordination seemed like the perfect blend of [those] two worlds. When I heard about the opportunity to interview for an intimacy coordinator job on an HBO show, I applied immediately. I happened to get that job. ["Euphoria"] was the first show I worked on as an intimacy coordinator.
Do you think this position would have been created without the #MeToo and Time's Up movements?
Honestly, I think these movements created the social climate and awareness around issues related to consent and harassment that were a necessary precursor for this job. Without the culture shift that these movements spawned, I don't think the industry would have been willing to embrace intimacy coordinators like it has.
What is Intimacy Professionals Association?
IPA is a network of knowledgeable intimacy professionals that promotes safe, high-quality work on topics of intimacy, and we connect these professionals with productions. It includes intimacy coordinators, trans consultants, and expert consultants on a variety of topics related to gender and sexuality, including BDSM, kink, polyamory, and trans and gender-nonconforming identities. IPA also trains and certifies intimacy coordinators.
You started doing intimacy coordination at the beginning of the creation of the role. Were you ever stumped by a particular scene and how to handle it?
I'm not sure I ever felt stumped by any particular scene, but there are definitely some scenes that have forced me to get creative when it comes to things like modesty garments and barriers! I'm always experimenting with developing new types of barriers for actors to use during simulated sex.
READ: Sex on Camera + How Intimacy Coordinators Protect Actors on Set
What can an actor do to ensure that they are safe on a set going into a scene with simulated sex and/or nudity?
I think the simplest and most effective tool any actor can implement when doing nudity or simulated sex scenes is to simply make sure they communicate clearly and proactively with their scene partner(s) and with the director about their boundaries. I always encourage actors to spend some time ahead of shoot day thinking about anywhere they don't want to be touched or if there's anything they wouldn't feel comfortable doing. Getting really clear with your own boundaries and then taking the time to talk about them with those you'll be working with before the camera rolls can go a long way in making for a more pleasant experience during these sorts of scenes. As an intimacy coordinator, I help to facilitate these sorts of conversations, because without someone making a point of them, they often don't happen.
I love what you say about interrupting the power dynamics on set so that actors feel they have an advocate in their corner. Do directors or other creatives have any problems with this?
I find that a lot of the fears that directors have around working with an intimacy coordinator come from misconceptions about what we do. They're often afraid that we are going to sanitize the sexuality or nudity components of a scene, or that we are going to talk actors out of doing something—but that's simply not the case. As a matter of fact, I've worked with many actors who say they are more comfortable going further or doing more nudity in a scene if an intimacy coordinator is present, because they feel safer and more supported. We're not only advocates for the actors, we're also there to help the director achieve their creative vision.
What are the best and most difficult parts of this position?
I think the best part of doing this work is when you get to the end of a scene and the actors and/or director are just so incredibly grateful for the support you provided. The most difficult part is when you're working with a director who just doesn't want to participate in the intimacy coordination process.
READ: How Broadway's First Intimacy Director Protects Actors + Makes Better Art
Tell us about your new agency representing intimacy coordinators.
I recently decided to take the plunge and got my talent agent license, and I now represent several intimacy coordinators as their agent through IPA. Since I've trained all of the intimacy coordinators I represent and I know them very well, I am able to match productions with the [person who is the] best fit for their show. I also represent several consultants who are experts on a variety of topics related to gender and sexuality. The consultants I represent work with productions during the development stage of a project to make sure that the scripts authentically represent the communities and practices they are portraying and are free of problematic tropes. Some of the IPA consultants also do sensitivity trainings for crews and at the corporate level.
Will SAG-AFTRA play a part in intimacy coordination? Doesn't the SAG-AFTRA contract already protect actors in these situations on set?
SAG-AFTRA recently announced its plan to collaborate with intimacy coordinators to standardize, codify, and implement guidelines. In addition, they have also said they are planning to establish guidelines with new, relevant policies for nudity and simulated sex and specify acceptable training, vetting, and qualifications of intimacy coordinators. I've been involved with SAG-AFTRA on this front, and they've been fantastic. I can't wait until the guidelines are ready to be shared with the public.
Section 43 of the SAG-AFTRA Basic Agreement is what currently provides guidelines for nudity and simulated sex, and the guidelines are rather vague. While they do offer some protections to performers doing hyper-exposed work, they are by no means comprehensive, and there is definitely room for improvement.
Where do you see your craft in 10 years?
I think that in 10 years, this position will be a union position covered by SAG-AFTRA, and I think that having an intimacy coordinator on set whenever intimacy work is being filmed will be an industry standard and probably mandatory.
This story originally appeared in the Jan. 23 issue of Backstage Magazine. Subscribe here.