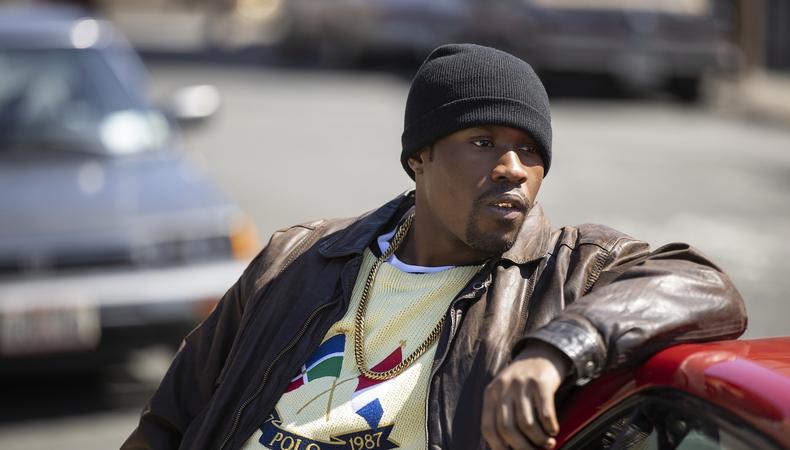 Designing period costumes for Ancient Rome or the Civil War era is one thing, but how do you authentically recreate fashions from the recent past, especially when much of your audience will have actually lived through it? That was the task at hand for Marci Rodgers, costume designer for Hulu's "Wu-Tang: An American Saga," which depicts the formation of the seminal rap group. Rodgers speaks with Backstage about toeing the line between authenticity and aesthetic, and how her costumes have helped actors go deeper into character transformations.
How would you describe the costume designer's role in television?
I would say I'm a visual historian, and what that means is, obviously, you have the script that's there to serve as your road map, but you also have to read between the lines to add more depth to what's on paper. It could be a [different] era, which "Wu-Tang" is, in the '90s, or it could be contemporary. I actually designed "She's Gotta Have It" [on Netflix], and I had a bit of reference to the original [film], but it can be a mixture of things. It can be environment, the actual location, economic status, education status [of the characters]. There's a lot that goes into being a costume designer; sometimes we turn into psychologists, strangely enough.
READ: Give Feedback That Actually Helps Your Costume Designer
What is it about costume design that is alluring to you?
"Alluring" makes it seem like it's fascinating and it's fun. I think that I have been chosen to be a part of a community that has dedicated itself to storytelling, be it through biopics or other types of narrative, that inspire people who may have a dream of becoming, let's just say, the next rap group of 2019 or the 21st century that changes the face of everything. How can I help accomplish that by way of my costume choices or how I design costumes? Even with the Ku Klux Klan robes [in "BlacKkklansman"]—I mean, that's an unfortunate part of our history, but it's true, and that's my approach to it.
When designing for a period in recent history, is there a give-and-take of clothes that are historically and culturally authentic that also look great on-camera?
Yes and no. Thankfully, I was able to get a lot of clothes that were actually of the '90s or from the '90s. You will see that for Shameik Moore, who plays Raekwon, I was able to get the Snow Beach jacket from the '90s, one of the original Snow Beach jackets that Polo came out with. You gotta think about it and take a step back. These boys were not rich, so a lot of what they wore was what they had, and whatever they could obtain by way of being in the streets. I think New Yorkers have an intuitive sense of style, so they didn't realize, like, wearing Carhartt was gonna be fly, but it was also functional because if you're outside in New York in January at 12 o'clock at night, it's cold. You need something that's going to cover you and protect you from the cold. It just so happened it became fashionable.
And how do you generally work with actors on their costumes?
When you work on a project, you may know an actor [or] you may not. So, I normally take it as [if] I just met you, even if I do have a relationship with them. I didn't have a relationship with any of these actors [on "Wu-Tang"], so I literally had my research book and I sat next to each of them before I started my fitting and I went through my research and I showed them, page-by-page, who and how I thought their characters should look, be it historical research or just research of clothing during that period, so they could get an idea of my color palette and what the person wore historically so we don't veer off to "dressing the actor." We're dressing the character, but keeping in mind that the actor has a say, and actually opening up questions to them, and in that way we collaborate, because they know a separate side of dramaturgy than I know. It's having those conversations and showing them their closets and making sure they're comfortable.
Are you and the actors you're dressing ever at odds on a certain look or costume idea?
I think sometimes they may question where I'm coming from, but if they do, I thankfully have my ducks in a row, where it's like, "This is why I'm thinking the way I'm thinking." And if we agree to disagree—this goes for any project—that's when I open it up to, "Well, what are you feeling? What do you want?" You kind of have to tell me, because I want you living in the clothes. Sometimes I think costume designers don't get the accolades we should, because the clothes can pretty much transform a person. I think it's important to have those conversations, and sometimes I just do random checks on the actors, like, "Are you OK? Is there anything you need? Anything you're thinking?" When I do that, it catches them off-guard, because they're kind of like, "Is something supposed to be wrong?" and I'm like, "No, just asking." I try to be there as much as possible.
So it's safe to say you have seen costumes greatly enhance actors' performances.
I remember when I fit Dave East—he plays Method Man on "Wu-Tang"—and I gave him a vintage Georgetown Hoyas jersey, and I remember I had set his look up, I stepped out of the fitting room, he put that look on, and I came back and I was like, "Wow. You look like Method Man," and he turned around and looked at himself and he was like, "Damn." It was out of this world. I was actually able to have conversations with Method Man about his character and how he wanted that character to be [portrayed]. That, to me, is magical.