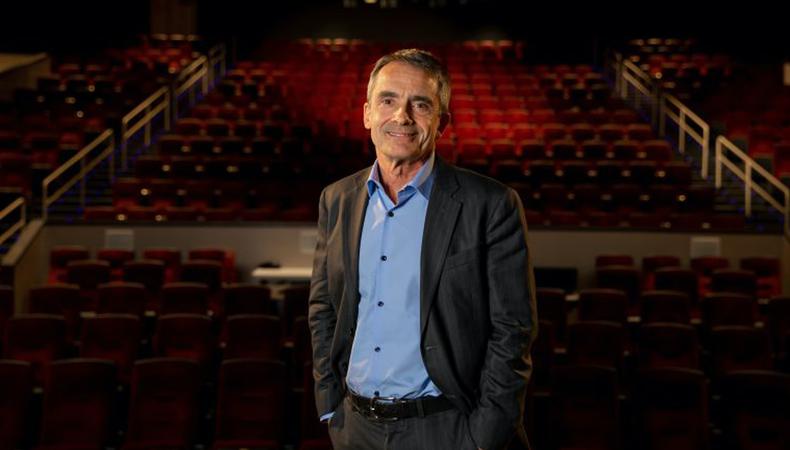 As many university professors would tell you, having to adjust an entire film school curriculum to virtual learning is easier said than done. For newly appointed Dean of Chapman University's Dodge College of Film and Media Arts Stephen Galloway, he began his tenure with an even more difficult hand. "I started [at Dodge] at the very moment when COVID began," Galloway tells Backstage. "We were suddenly plunged into: How do you run a film school with 1,600 students making literally hundreds of films every year?"
Galloway, who is well known for his former position as executive editor and producer at the Hollywood Reporter, is no stranger to having to roll with the punches. For the past year, Dodge focused on—as Galloway describes it—reinventing its entire education process. This, of course, included tools many educational institutions had to become familiar with through the pandemic, such as Zoom and Canvas; but for film students, it involved more thinking outside the box to give them a virtual education experience that would become an adequate replacement for in-person learning.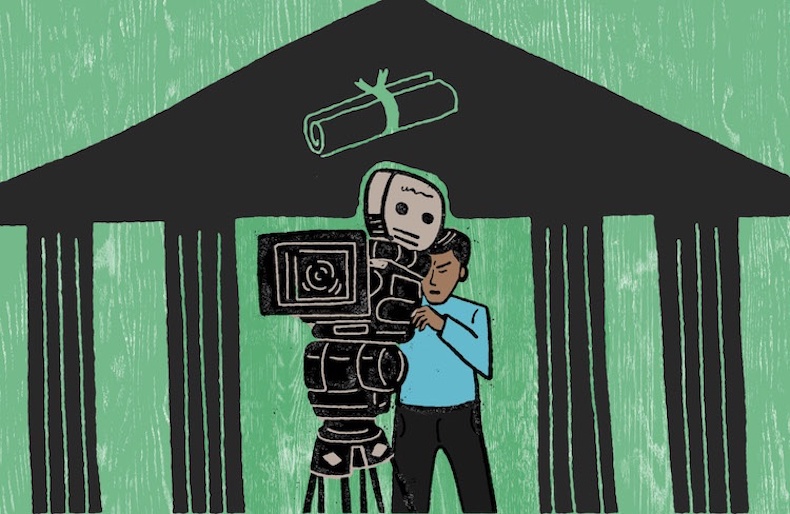 30 Film Schools You Should Know
"COVID, which has been devastating and has really hurt education, has also made us leap into this brave new world of a much more globalized [and] efficient approach to education," Galloway poses.
Some of the benefits Dodge College saw from virtual learning included being able to book guests such as Judd Apatow, Bryan Cranston, and Lena Waithe for masterclasses that reached 800 students at once. The school also invested in free online workshops that would cover anything from how to be an assistant to how to operate a Steadicam.
Similarly, DePaul University saw surprising advantages in going from in-classroom to Zoom. Gary Novak, director of DePaul's School of Cinematic Arts, says virtual learning allows not only for booking more guests efficiently, but also more engagement with the students. "In a normal classroom, you might have 20 students and there'd be some who would sit toward the front and be more vocal and then have some in the back who just kind of stay quiet," Novak explains. "Some of the instructors actually found that in a Zoom environment, everyone was kind of on an equal footing, and people who wouldn't participate as much in the past participated more in Zoom than they did in a traditional classroom."
Shayna Connelly, an associate professor at DePaul, has had to balance the ups and downs of teaching online. "Not being able to have that unconstructed, unofficial time before and after classes where I can just banter with students or where they can ask me questions on their way out the door—that time is actually really important," she says. "So I've had to come up with ways to kind of recreate things like that with optional 'ask me' sessions on Zoom. I'm trying to come up with ways to make them more engaged, and there's a benefit to them."
The biggest benefit to the change was the approach the students took to creating their film projects. One specific example from Dodge comes from a documentary class about filming wildlife. "There's wildlife in your backyard, so you don't have to take a plane to the Arctic," Galloway tells. "I watched a film a few days ago that was a documentary about slugs, It was sped up to 4,000 times the usual rate; it was amazing."
Getting creative with filming under constraints was an obstacle many film schools across the country have had to work through. "Creativity loves an obstacle," says the chair of New York Film Academy's documentary filmmaking department, Andrea Swift. "Students pivoted and made different movies than they had originally intended—it was a relief to see that our students continued to succeed and so fully learn and create from home."
This shift in filmmaking is something that can be described as an accidental blessing, a lesson in how sometimes less is more. Rather than focusing on making their mark through spectacle, film school professors are seeing their students working with smaller sets, smaller casts, and smaller stories—which in turn, is making for more intimate and often better films.
Galloway says he hopes the trend of shorter, smaller films continues. "You don't need to make 45-minute student films with 8,000 people in tanks. You're not showing your best work then, because you don't compete with professional big budgets," he says. "I'm hoping this is actually steering us to a much more actor-centric, much more story-centric kind of filmmaking."
Novak agrees, speaking from his experience of seeing more personal stories than before the start of the pandemic. "I did see that it was more personal stuff, more stuff that the students could relate to in general and filmmaking," he says. "I've always said that nobody likes restrictions, but in many cases, restrictions lead to creativity, right?"
Within this environment, film schools are also developing at a similar pace as the rest of the film industry. NYFA, for example, created a COVID Task Force and COVID Administration team that, according to Swift, created an extremely effective set of protocols and safety measures that allowed students to safely restart production and attend hands-on classes and production workshops.
Dodge is in the process of converting one of its storage spaces into a state-of-the-art virtual production studio that will allow students to film against an LED wall that simulates hyper-realistic environments, something Disney has been using for shows like "The Mandalorian." Meanwhile, DePaul has been embracing other tools and services that have been popular in the industry, such as Frame.io, a Cloud-based service that allows users to collaborate on and review scripts and storyboards and edit projects together.
All this to say that many film schools around the country are in a very comfortable place, and are continuing to explore and expand their horizons in a way that is safe and beneficial for students in-person and remotely.
"We expect to continue operating under the dual model of hybrid and online learning, expanding the number of on-campus courses for our hybrid students as safety increases," Swift says. "We are planning to return to normal in the fall, though it will be a new normal, enhanced by all we've learned this past year."
"I want to continue to develop ways to make students feel involved and engaged with me and with each other," Connelly says. "That kind of connection cannot be underestimated, especially going forward, and so anything that I develop and learn will only help me and my students in the fall."
Looking for remote work? Backstage has got you covered! Click here for auditions you can do from home!