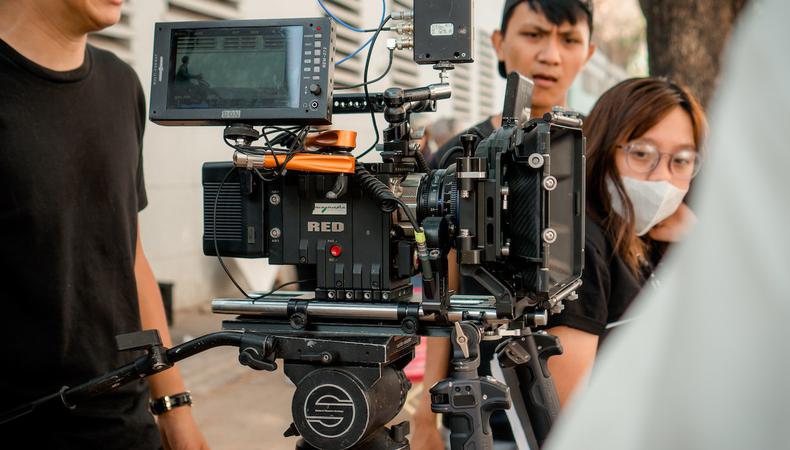 A team of Hollywood professionals has launched COVID Film Certification, a training program for production crews focused on how to make film and television sets safe, as well as providing nurses and PPE for production companies.
The goal of the program is to streamline the COVID-19 compliance process for production companies and producers by creating a one-stop shop. While the Producers Guild of America released a series of safety protocols, until now, producers were tasked with logistics for health and safety measures, and for finding qualified health experts on their own.
"Many producers are facing significant hurdles in light of all the complications and challenges posed by COVID-19," said the program's creator, executive producer Franco Porporino Jr., in a statement. "Production companies need to get back to work, but must do so in a way that prioritizes health and safety for all personnel. And with this program, production companies and studios can welcome their employees back with peace of mind, knowing that each person is fully informed on how to safely navigate production during this pandemic."
COVID Film Certification will offer two programs: one for production personnel, crew, and talent, and one for the compliance officer (every set now requires someone who can oversee COVID-19 health and safety protocols). The program will educate attendees on COVID-19 protocols and best practices for pre-production and post-production for filming. Exams cost $99 each, and the certificate will be valid for one year. There will also be opportunities for continuing education as guidelines change.
COVID Film Certification has also partnered with a private health care company to provide on-set nurses if a production company needs it. It will also provide EPA-approved PPE for purchase.
The program has an advisory board of industry experts, including Lori Rothschild Ansaldi, CEO of Big City TV; Ra Kumar, an agent at United Talent Agency; Lucilla D'Agostino, chief creative officer of Big Fish Entertainment; Hans Schiff, a former agent at Creative Artists Agency; Darin Frank, a partner at the law firm of Sloane, Offer, Weber, and Dern; and Peter Rajsingh, a professor at New York University.
"As we all navigate this pandemic, safety for our crews and talent must remain our highest priority, and Big City TV, along with my partners at the Content Group, were not satisfied with simply 'meeting protocols' for our shows," said Ansaldi in a statement. "Our goal is to always go above and beyond for our clients and talent to ensure that we create and maintain safe and healthy work environments, so every crew member and talent across Big City's entire portfolio of projects will be trained and certified by COVID Film Certification."
For more on how to get work on a film crew, visit Backstage's crew hub!