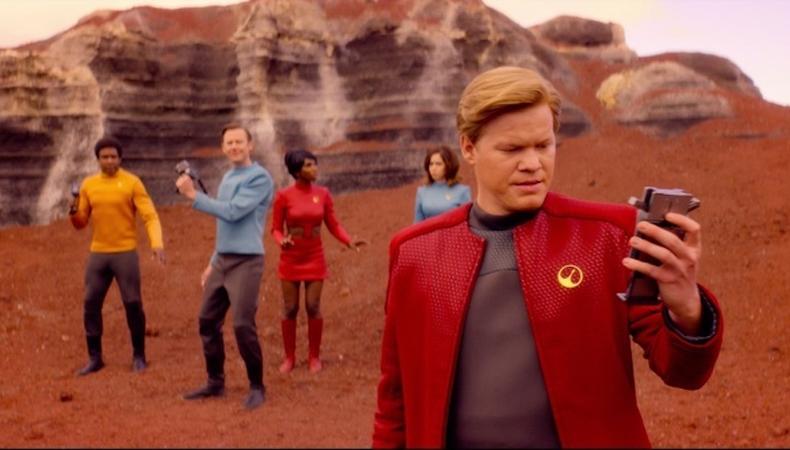 Awards season kicked off in earnest last week with the Golden Globes and Critics' Choice Awards, and it continued Jan. 18 with Casting Society of America's 33rd Artios Awards, honoring excellence in casting across film, TV, and theater. Ahead of Sunday's Screen Actors Guild honors, the Artios Awards recognized the casting directors that put those nominated actors in their roles.
Hosted by Bridget Everett in New York City at Stage 48 and Tig Notaro in Los Angeles at the Beverly Hilton, the bi-coastal ceremony celebrated Artios-nominated CD for "Insecure" and "Detroit" Victoria Thomas, agent Kevin Huvane (whose longtime client Nicole Kidman presented his award), and filmmaker Barry Levinson. The organization also spotlighted casting associates Nick Gereffi and Emily Towler.
Many of the Artios Awards nominations matched Golden Globe, SAG, and other award recognition, as excellent casting is often the catalyst for excellent performances. Winners like the teams behind the casts of "The Handmaid's Tale," (Bialy/Thomas) "Three Billboards Outside Ebbing, Missouri," (Sarah Halley Finn) and "Big Little Lies" (David Rubin) all added another trophy their projects' growing awards hauls.
In film, "Coco" (Kevin Reher, Natalie Lyon, Carla Hool) won for animated feature and "Lady Bird" (Jordan Thaler, Heidi Griffiths) took home the award for studio or independent drama feature. "Dunkirk" (John Papsidera), "The Greatest Showman," (Telsey + Company) and "Beach Rats" (Susan Shopmaker) were also triumphant.
The television category honored "Veep" (Dorian Frankel, Sibby Kirchgessner) and "Black Mirror" (Jina Jay) for comedy and drama series. HBO film "The Wizard of Lies" (Ellen Chenoweth) took home the award for non-theatrical release feature. Linda Lamontagne, nominated three times in the TV animation category, won for her work on Netflix's "BoJack Horseman." Another triple nominee, this time in the reality category, Sasha Alpert, took home the award for casting "Born This Way." "Atlanta" (Alexa L. Fogel, Feldstein|Paris) followed up its Emmy and Golden Globe awards as the comedy counterpart to "The Handmaid's Tale" in winning for pilot or first season of a series.
Theater saw victories for Tony winners "Come From Away" (Rachel Hoffman, Telsey + Company) and "Hello, Dolly!" (Telsey + Company). David Caparelliotis was a double winner for his work on the plays "Jitney" and "A Doll's House, Part 2." New-to-Broadway "The Band's Visit" and "SpongeBob SquarePants" won for their Off-Broadway and regional runs, respectively; Tara Rubin and Patrick Goodwin of Telsey + Company took home those trophies. "Hamilton" continues to rack up awards: this year's Artios earned Bethany Knox of Telsey + Company another for her work on the Chicago, Illinois production of the multi-Tony-winning musical.
CDs behind all types of projects enjoyed a night of much-deserved recognition while they continue their campaign for an Academy Award category. In her speech, honoree Victoria Thomas voiced what is on many members' minds: "We all know how important our work is, but for some reason, it's not always recognized." Thursday, they were given a night where the purpose was just that, and actors, agents, and managers were there in support of those tasked so often with being in service to them.
The Artios Awards are presented every year in January by Casting Society of America, a group of more than 800 casting directors and associates. This year the awards celebrate their 33rd year after beginning in 1985. For the complete list of winners and by-the-minute updates, visit CSA's Twitter feed here. For more awards news and coverage from Backstage, visit backstage.com/awards-season.
Get all of your acting questions answered by peers and experts on the Backstage Community forums!