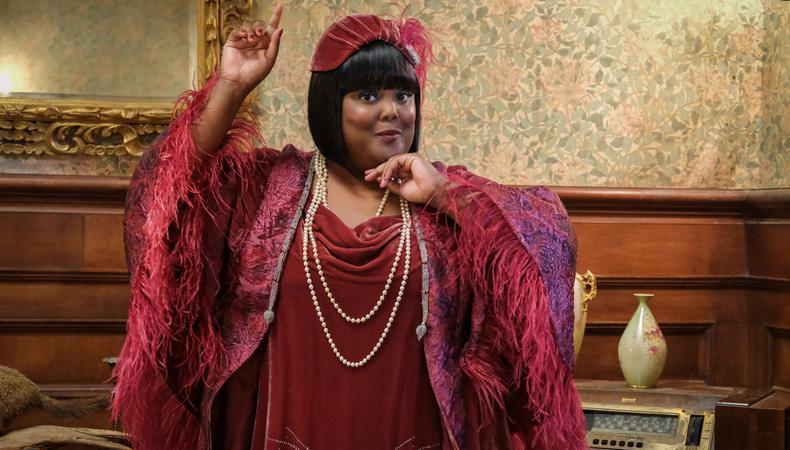 When sets across the country shut down due to COVID-19, "Young Sheldon" and "Get Shorty" star Danielle Pinnock found a new way to keep audiences laughing. Pinnock managed to spin her 17 years of experience in the entertainment industry into comic gold as the co-creator of the Instagram account Hashtag Booked. Run by Pinnock and fellow actor LaNisa Renee Frederick, it's full of memes, viral sketches, and helpful advice that actors of all levels can appreciate. Pinnock, who is currently starring as Prohibition-era jazz singer Alberta on CBS' new comedy "Ghosts," took over Backstage's Instagram to answer questions about finding auditions and creating your own opportunities.
You're hilarious. What's your favorite part about playing Alberta on "Ghosts"?
My favorite, favorite thing about playing Alberta on "Ghosts" is that she is a hot mess with a heart of gold. You don't know what's gonna come out this woman's mouth. And I got to take dance lessons and singing lessons to prep for the character.
Do you have any tips on breaking into acting in film?
When I was getting into acting in film [and] TV, as well as theater, Backstage was a phenomenal resource for me. I used to get Backstage in hard copy! I'm an OG Backstager. But also, there are so many other [ways]. Take a look at local acting classes near you. Some that I would recommend would be Heidi Marshall Studio, which I love, [and] Vagabond [School of the Arts] in Chicago. There are so many!
How did you first get into acting?
So I am Jamaican American, first generation, and my mom, she's a lawyer. We have a lot of lawyers, doctors, engineers in our family. And that was really the path. But I found acting in school. In the fifth grade, we had to do this musical called "Aladdin and the Wonderful, Magical Lamp." Child, we had no business doing nothing called "Aladdin," but, listen, the 2000s were problematic. I got cast as Jafar's sister, Helena. And I had to sing, and my family came to see the show, and they were like, "Oh my God, this is really great. She can do this." The other thing that I love about acting is there's so much community there, and I literally knew from that production that I wanted to go into this for the rest of my life.
Do you have any audition tips?
The biggest audition tip that I ever got, when I used to work in casting—I used to be an intern at Cindy Tolan Casting. Hey, Cindy!—was to ask the casting directors how they're doing. Genuinely. All we could get from actors was, like, "Hey! How's everybody doin' in the room?" We're not doing a hot five; we're not doing a set. It's a hard time for everybody right now, in the pandemic. They're tired of Zooms; we're tired of Zooms. That audition starts before you even open your mouth to do the sides. It starts the moment you walk into that room. The more that you can give the energy of joy, and peace, and light—even if you may be nervous, have a little conversation with them before you start. That will definitely [help you] take off the nerves you may have. And also, they'll be like, "Wow, that's a cool person."
READ: How Jurnee Smollett Made Denzel Washington Cast Her
If you create your own work, how do you get it noticed?
If you are doing a short film, make sure it's the best short film it can be, and submit it to all of the festivals. Any festival that you see, submit it. TikTok—just make sure you are doing things that are trending. Same with Twitter. If you are doing a play, try to see if there are any, like, "new voices" or "new playwrights" [opportunities] or things like that. Do your research, and what you can do to organize that research is put them all in an Excel spreadsheet. Denzel Washington has this amazing quote that I live by. He says, "Branding for an actor is being good, not being known." So if you can just focus on doing something that you love and that brings you joy, that is authentically you, I promise you people will find you. It's the facts.
Looking for remote work? Backstage has got you covered! Click here for auditions you can do from home!