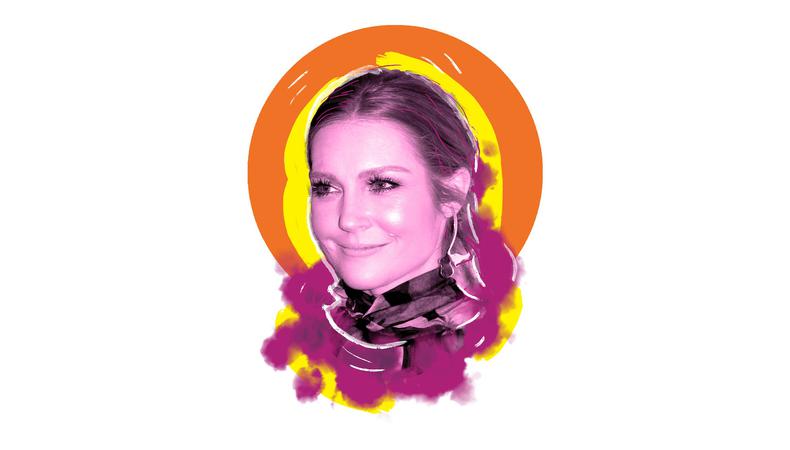 After seven seasons in Shondaland playing Abby Whelan on ABC's "Scandal," Darby Stanchfield is ditching the political for the fantastical on Netflix's "Locke & Key." Playing Nina Locke, the grieving mother of three kids who unlock special powers in their family home after their father's murder, Stanchfield purposely set real life aside and fully immersed herself in Nina's emotional isolation while filming the series. Here, she discusses other bold choices that have landed her roles.
READ: How to Audition for Netflix
How did you first get your Equity and SAG-AFTRA cards?
I think I got my SAG card doing a commercial. It might've been something like Miller Lite. [Laughs] I've done so many I can't remember which one it was. That initiation fee is always giant and you're like, "Oh, gosh, all the money's going." But it was very exciting to be a Screen Actors Guild member. [For my Equity card,] I did a play with the L.A. Shakespeare Festival. It was a touring show of "Much Ado About Nothing."
Tell us about your first day on a professional set.
I was trained classically in the theater, and right before I moved to Los Angeles, I had completed an MFA degree at American Conservatory Theater in San Francisco. So I moved to L.A., and a little time after that, I think my first job was a guest star on a television show. I look back at it now and I was incredibly green. I didn't know the terminology. Things like "first team" or "marking rehearsal" and all of the technical aspects. I had incredible enthusiasm, I was ready to go, but I learned a lot.
What advice would you give your younger self?
I had a real turning point midway through my career. I went through a drastic change in my personal life—it was a big growth in my character and it had to do with not apologizing for who I am. I might say to my earlier self to take that note: Trust yourself and your own instincts and be who you are and rock who you are and know that absolutely is enough because it's needed somewhere.
I've directed things and gotten to see the audition process from that side. When an actor is trying so hard to fit the role but is trying to please and is trying to win it, doing their craft [instead], telling the story, making specific choices and knowing who they are, that always shines. There's a kind of desperation when it's results-oriented and 'gimme-gimme, I really want this job,' as opposed to when you're really rooted in who you are and your skill and what you have to say and your own style. Of course, you need to know the tone you're going for, but there is something really, really attractive and really undeniable about actors who own their choices.
How do you typically prepare for an audition?
When I auditioned for grad school, the acting coach I was working with gave me the best piece of advice, one of the most practical, pragmatic pieces of advice that I ever got for auditioning: "You need to care more about what the character wants than anything else." You've got to care about it more than getting the job, more than whatever director you're going to meet, who's in the waiting room, if you're having a good hair day, what's on your résumé, what's in your bank account. You need to care more about what the character wants. If you do the work and prepare the story and you can truly focus that much on telling the story, there's no room in your mind for desperation or competing in the waiting room or comparing yourself to others. To this day, when I go in for a meeting where I'm reading for something, the character and what the character wants in the story come first. That's what I'm there for. It's kind of obvious—and it's not easy to do. It's gotten easier with time, and now it's like second nature for me. It's this muscle that I know. Auditioning is a very specific muscle, but if you can be that focused on the character, it can anchor an actor in obliterating all the other noise.
What's the wildest thing you've ever done to get a role?
[Laughs] I had auditioned for a recurring role on "NCIS" many years ago, to play Mark Harmon's first wife. It's the love of his life, and all his other relationships are based on this role. I really hadn't done a lot of recurring [roles]. I had done a ton of national commercials, I'd done my share of theater. The role was your all-American [woman]; long red hair, blue eyes. I fit the part. Also, the skill of bareback riding on a horse was needed. I had ridden plenty, but I had not ridden bareback. When I went into the audition, I decided, I'm just going to say yes and I'm going to go out and master this as fast as possible. Sure enough, I got put on hold, and I had a really good feeling about it. I started going to this ranch every day and working with a trainer to ride bareback, and basically spent 24/7 around the horses. I went on a lot of trail rides; I groomed the horses. I had ridden as a kid, but it did feel like that pushed me to this space of, "Just say you can do it and go and do it." It wasn't like a film, where I had six months to learn something. I got up to speed in two weeks. Once I got hired and we were shooting, we were on the beach, right on the shoreline. There's a scene with Mark Harmon and myself and a little girl who plays my daughter. She was a little skittish on her horse and the horse could feel it. The horse wanted to bank up the hill, it was scared. The trainers were like, "Darby, can you wrangle her horse—as you guys are doing this walk-and-talk on these horses, keep her horse calm." I was able to do it without missing a beat. If I had not done all that prep work bareback on a horse and dived in, I wouldn't have gotten that role, and it wouldn't have worked out so well. That was a breaking point for me. Then after that it was a recurring on "Mad Men," a recurring on "Castle," a recurring on "Jericho." It was that confidence and experience.
Want to Work With Shonda Rhimes? Here's How
What is your worst audition horror story?
I have a funny story—it had to do with my audition for "Scandal." Obviously, I got the job, but it was a bit of a snafu. I was doing an audition for Shonda and her executive partner Betsy Beers and the director of the pilot. There was this monologue I was doing, Abby is talking about one of these guys, Stephen, she has the hots for. It was this amazing monologue that Shonda wrote. I was wearing a turtleneck sweater under a suit, a thick cashmere turtleneck sweater. I had already made this decision, and as I was doing [the monologue], I tugged at the collar of my turtleneck to show how hot and bothered Abby is about Stephen. I ripped the seam across the turtleneck, like six inches, right in the middle of the monologue. I was so into it, I didn't realize until I went home and saw I had a gaping hole in my shirt. It's probably good I didn't notice, because that's a moment where I ripped my clothes in the heat of the moment. I got a callback, so I got it sewn back up because there was no way I was going to change what I did—with the exception of ripping the sweater. I had it stitched up and did the same thing and got cast.
Do you still have the sweater?
I do not have the sweater. But I bought the exact same color turtleneck and I wore the same one to the "Locke & Key" meeting. [Laughs] Isn't that amazing? It's a good luck charm for me. I know it's a good color for me, and when you go on camera, you want to wear a good color.
Speaking of "Locke & Key," what has playing Nina Locke added to your acting skills?
Nina Locke is such a giant departure from Abby Whelan on "Scandal," so I approached her very differently. I made a very specific set of choices going into this role that ended up helping me in the arc of the role. You meet Nina Locke at the very lowest point in the pilot. She's just seen the brutal murder of her husband and kids' father. They're all struggling with grief. It's all riding on her shoulders. In the series, Nina goes through a breaking point, and a lot of that story has to do with isolation. I moved to Toronto, I was there for half a year. Some of it was instinct to do it and some of it was purposeful. I didn't fly home, I wasn't with a community of people. I really enjoyed hanging out with the cast. I had somewhat regular dinners with the kids who played the Locke family and a couple other cast members, but I spent a lot of time alone walking the city, taking in music and architecture and being alone. Joe Hill, the graphic novel writer, he writes Nina as a woman shattered beyond repair. When I got to where I thought that point was in the series, that was all prepped. It was a parallel thing.
I hadn't done anything quite like that before. Some of that is [because,] with a Netflix series, you're given all the scripts all at once. You know what the arc is; it's not like going from episode to episode. It's like a film in that way. You know the arc of the character, even though it is television. What I learned was that it was a new way of working, it was a little bit more intense. I have a really supportive family, and I was able to put the work in first and try that, and it paid off and helped me find what that was for her. I really enjoyed it.
What performance should every actor see and why?
One that really has resonated with me [is] Charlize Theron in "Monster." The way she transformed in that role, the exterior, gaining the weight, everything about her behavior and knowing she produced it, it was a longtime labor of love for her. I found that performance so remarkable. When I saw that, I was like, I want to see more of that: Women taking these big risks and doing these crazy brave performances and exploring the psyche of human nature.