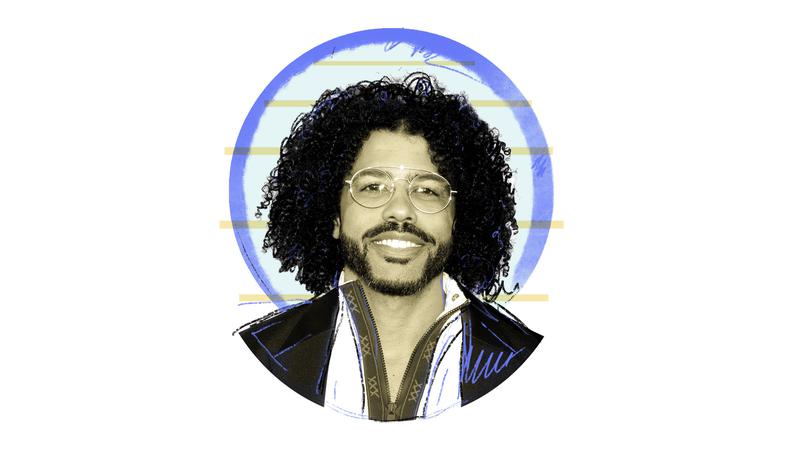 Daveed Diggs splashed onto the scene playing double duty as Marquis de Lafayette and Thomas Jefferson in the original cast of "Hamilton" in 2015. He has successfully pivoted from experimental hip-hop to the stage to the silver screen, with recurring roles on "Black-ish" and "The Unbreakable Kimmy Schmidt," among many others. Now, Diggs has a spate of upcoming projects this month, including a starring role on TNT's "Snowpiercer," a dystopian reimagining of Bong Joon-ho's 2013 film of the same name. He'll also be voicing a character on the new animated musical series, "Central Park," which premieres on Apple TV+ May 29. Here, Diggs shares his acting roots couch surfing and reading Backstage, plus how driving a rental car through a snowstorm helped him land his Tony-winning breakout role in "Hamilton."
What performance do you think every actor should see and why?
This is a totally ridiculous thing to submit every actor to, but I will say that one of the things I enjoy most is the totality of David Suchet's Hercule Poirot, of which there are many, many films and episodes of. He's adapted every Agatha Christie "Poirot" story. I am obsessed with them and have seen them all. And because of that, I have had this sort of rich experience of watching a really great actor adapt to a character over a very long time. If you can watch the totality of it, it's really kind of magical.
What's the wildest thing you ever did to get a role?
I guess it was for "Hamilton." I was doing little readings and workshops of it with Lin-Manuel [Miranda] and Tommy [Kail]. They would collect a group of actors for three or four or five days to just learn new songs Lin had written so that they can hear them out loud and get feedback on them. This was during a period I was on tour with this spoken word dance piece called "Word Becomes Flesh" that my mentor Marc Bamuthi Joseph had written. I would be on the road and I would get a call from Tommy, who was always really good about that; he said, "I'll call you whenever we're doing another one of these things, but don't worry, you don't necessarily have to be there. We're just hearing songs. If you can do it, we'd love to have you." But I didn't want them to have the chance to see anybody else, so I would do crazy things. I remember when I was in New Hampshire and we were doing "Word Becomes Flesh," Tommy called me and said they were just having a 24-hour thing—they were gonna rehearse for 8 hours and then perform the next day in New York. We had just showed up in New Hampshire, but the only thing we had on the docket for the next two days was doing classes with the students at the college we were performing at. So I asked a favor of all my brothers in the show: Can I go try to get this part? Do you mind if I bail on this? They're like, 'Yeah, sure,' so I rented a car in New Hampshire, drove through the snow, slept on Andrew Bancroft's couch, and did the workshop. I just didn't want to miss an opportunity to play around with these songs. I did the workshop then left the performance and drove back to New Hampshire. I ended up showing up literally in time to park the car and walk onstage to do our show.
"Stop sweating the timeline. I spent a lot of time when I was young thinking I gotta be this by this age, by the time I'm 25 I need to be on this. I just didn't know what I was talking about."
Do you have an audition horror story you could share with us?
I mean, most auditions are pretty bad for me. I'm not great at auditioning. I don't even remember what I was auditioning for; the directors were super funny guys and we got in the room, and we're walking around and talking about the material—we're laughing and having a great time. And then I did the scene and it was so clear I was very underprepared and I could barely get through the thing. But it was also so clear that whatever I thought this character was was so deeply not what they were looking for. There was this sort of awareness in the room that that's what had just happened. Even though we had just had this literal 15-minute love fest with each other. It was the worst first date ever, basically. Like we ran out of things to talk about and we're sitting there waiting for the bill and nobody knows how to say goodbye. I just kind of nodded and backed out of the room silently.
What advice would you give your younger self?
Stop sweating the timeline. I spent a lot of time when I was young thinking I gotta be this by this age, by the time I'm 25 I need to be on this. I just didn't know what I was talking about. And I spent a lot of time obsessing over a thing that actually is useless to the craft or the lifestyle of it. It doesn't make you any better to be stressed out about a timeline. In fact, it is energy you should be spending on making things. Spinning around wondering when you'll get to make something doesn't allow you to make anything.
How did you get your SAG-AFTRA card?
I was forced into it by the second episode of "Law & Order." I was already in "Hamilton," so I did one episode and then they called me back for another one, and then I very got the rude awakening that I was gonna have to pay whatever it was at the time to join.
How do you typically prepare for an audition?
Barely. I usually don't prepare enough, I take too long to read the script. For the most part, I'm just relying on instinct. What is usually more important for me, though, is reading the whole script. I'm generally more successful if I can read the whole story than if I get sides. Even if I read the whole script and never look at the sides until I get into the room. I think that the tone of a piece, and the world of a piece, is much more useful than knowing the words.
What special skills do you have listed on your résumé?
I bet I still have juggling on there. I bet I have driving a stick shift—I learned on the stick. I bet rapping is on there and writing rap songs. I haven't looked at or updated my résumé in at least a decade.
Do you have a history at all with Backstage?
I did. The first time I tried to "move" to New York—I'm making air quotes around move—was back in 2005 or 2006. I had a bunch of friends in New York and I was just couch surfing. I was doing EPAs, you know, I was doing, like, 12 of them a week. I thought, "Well, I'm in New York, I'm going to just see. I'm bad at auditioning, [but] there are all these listings [and] I got my Equity card. I'm just gonna go and just do them and at some point I'll book something." I didn't. I had so many auditions during that time and I read Backstage, but I couldn't afford to buy it. I had no money so I would go sit in like Barnes & Noble and read it while I was there.
Looking for remote work? Backstage has got you covered! Click here for auditions you can do from home!