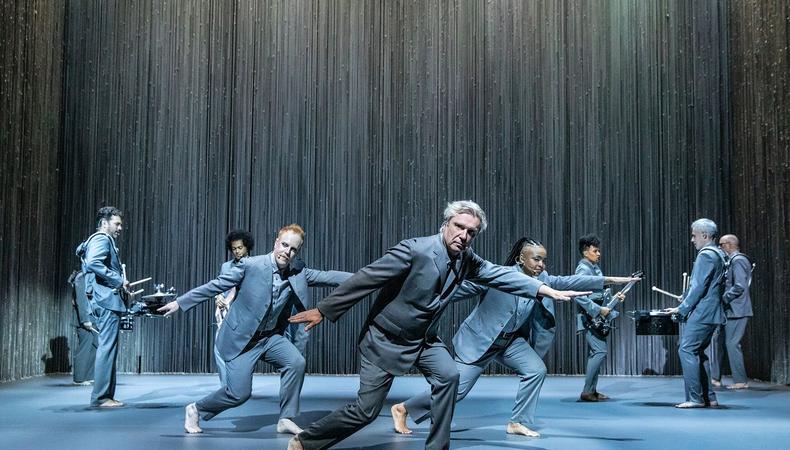 Annie-B Parson can make anything move—just ask her collaborators. Between her work in theater, dance, concert, and beyond, the auteur choreographer has worked alongside everyone from St. Vincent to Lucas Hnath to Mikhail Baryshnikov to David Bowie. Her newest venture reunites her with David Byrne, one of her longtime artistic colleagues, though it takes them both to somewhere neither has been before: Broadway. With Byrne's "American Utopia" (running at the Hudson Theatre through the new year), Parson is using the entire breadth of her skillset in ways tried, true, and completely new.
Parson tells Backstage how she can make even the most stagnant performances kinetic and her advice for all actors to get moving, whether or not they believe they can (spoiler: they can).
How did you come to work on "American Utopia"?
Since 2009, I've had the honor of working with David Byrne, making dances for him and his band on a number of his concert tours. These shows also included his collaborations with Brian Eno, Fat Boy Slim, and St. Vincent.
Details about this show are being kept pretty under wraps—how would you describe it?
For your ears, "American Utopia" is a concert; for your eyes it's a dance piece redefined; for your mind it's a meditation on community. But first and foremost it's a celebration of the brilliant canon of David Byrne, which has had far-reaching musical and aesthetic influence. Seeing him live—singing, dancing, and speaking—is the heart of the piece.
You've obviously worked extensively in all types of performance spaces; what has been unique about "American Utopia"?
We overuse the word "unique" on a daily basis, but when he created "American Utopia," David Byrne created something that actually is unique. And that's a big promise! In a way, the show poses a theatrical argument: Can a rock concert hold all theatrical elements—costumes, sets, text, dance, a narrative arc, as well as a protagonist—yet still make you want to get up and dance?
READ: An Interview With Choreographer Justin Peck
In general, what's different about choreographing for theater compared to dance or concert performance?
The compositional elements are the same in both mediums; issues of the use of space, of time, of line, motion, dynamics, and so forth. Those considerations are always going to be part of your craft in dance-making. But the givens are different, the contract with the audience is different in the theatrical concert form; the heavy lifting is coming from the catalogue of songs, with the dance as a very strong supporting player. The form of the show, the marriage of dance and music, is what holds it together.
I imagine the answer is "very closely" but, in theater, do you work with performers directly?
Yes, true! I work very closely with performers in all [types of performance]. In music, the performances are crafted primarily from the self, meaning there is no "pretend" or "acting"—at least in the shows I've worked on. But finding that is tricky; it's more like dance. In acting, the crafting of the role is created through a pretty intense relationship between me and the performer and the material.
Also speaking to theater, specifically, let's say you're working with an actor who is more "mover" than "dancer." What are some ways you help them get more comfortable with movement?
I always start standing—no "table work." We start with the physical body and how it relates to the space, creating movement material first based on my initial reading of the text, before we even delve into textual analysis and "acting," so that it comes from a more kinetic place. This can be very, very simple movement, often not what people associate with dance. We think of dance as full-bodied, extended, and very "felt" actions, or as some style that we are accustomed to seeing onstage that has been passed down from play to play. But dance is many, many things; the best of it doesn't even exist yet. New ways of moving are constantly being invented. I don't much like "couch theater" (when the performers sit on couches), disembodied in a way, and talk to each other for three acts.
In general, what are some ways actors can gain confidence with movement?
My best advice for actors who want to gain confidence with movement is training, training, training. Don't be afraid of going to dance class. There is sort of no way around it; you have to study how to use your body. It's like learning an instrument.
Catch Annie-B Parson's Big Dance Theatre company's "The Road Awaits Us" at Skirball Center in November; her new book "Drawing the Surface of Dance" is also out in November.
Want to hear more from the best creators in film, TV, and theater? Get it right here!