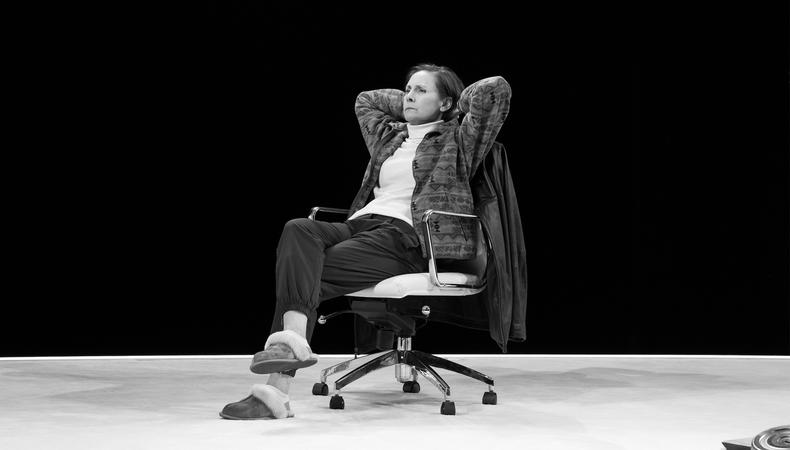 Lucas Hnath is no stranger to the marriage play. Questions of how people couple and cohabitate have long interested the playwright. It's what first brought him to Broadway two seasons ago with "A Doll's House, Part 2," in which he examined the hypothetical intricacies of Nora and Torvald Helmer's life 15 years after Henrik Ibsen's play ends. With his second and latest Broadway outing, Hnath tackles an even more famous marriage: Hillary and Bill Clinton.
Set during the 2008 presidential primaries as Hillary Clinton recalibrates her run for the Democratic ticket against Barack Obama, Hnath's "Hillary and Clinton" is a series of imagined, "alternate universe" conversations as Clinton turns to—and rebuffs—her former-president husband for political guidance. Hnath first wrote the play more than 10 years ago, around the time it's actually set. Worried that it employed an "old voice," he rewrote it from scratch when he was approached by producer Scott Rudin to bring it to Broadway last year. Hnath assures, though, that there's no winking to Clinton's second presidential bid and loss to Donald Trump: "I'm sure 2016 influenced it, but all in ways below the conscious level of my brain, which I think is probably going to be the more interesting stuff anyway."
When it came to finding the right actors to portray the cast of Hillary and Bill Clinton, Obama, and chief strategist and pollster Mark Penn (roles that ultimately went to Laurie Metcalf, John Lithgow, Peter Francis James, and Zak Orth, respectively), it was important that they not give "Saturday Night Live"–esque imitations of these real-life figures.
READ: The Unassuming Genius of Laurie Metcalf
"The moment you imitate the people, it becomes about how verisimilitudinous your re-creations of Bill and Hillary are," Hnath explains. "You want there to be a bit of a tension between the people and how they're being represented. When you walk into the theater and it is so starkly nonrepresentational, you're more open to seeing these people as characters rather than trying to read this play as a bioplay—because it's definitely not a bioplay."
That's why "getting the band back together" with "Doll's House, Part 2" Tony winner Metcalf was dream casting. "I truly cannot think of anybody I would rather have do it," Hnath says. Elucidating what, exactly, makes Metcalf—who won a second Tony for last year's "Three Tall Women"—such a special performer, Hnath cites her diligence and precision. He recounts how one day during rehearsal, he laughed aloud at Metcalf's choice to stretch with her hands above her head, "sort of making a belly for herself on one line." From there, he watched as Metcalf took that split-second gesture and fine-tuned it with each take.
"She was working out the mechanics of how that arm stretch would work in between a line. It's kind of extraordinary, that level of precision and attention to detail. There's nothing sloppy about her work; it is choreographed and measured to within an inch of its life," he says, adding that such dedication is especially important thanks to his scripts' linguistic challenges. "It's just a level of rigor that I deeply appreciate and really is helpful for what I do, where the language is already so difficult. I need you to do that and chew gum and walk backward. And she can do it; it's utterly virtuosic."
When it comes to actors auditioning for Hnath, he again emphasizes the importance of the script; he'd rather you be word-perfect holding the page than off-book searching for your lines.
"Keep your face in the script," he says. "There's that desire to want to show that you can be off-book, but it's more important for me to hear that you've got it word-perfect and are catching that comma and are taking the breath where it's scored into the script. I need to know that the actor can work that way. I want to make sure that you can deliver that language, because that's hard enough by itself."