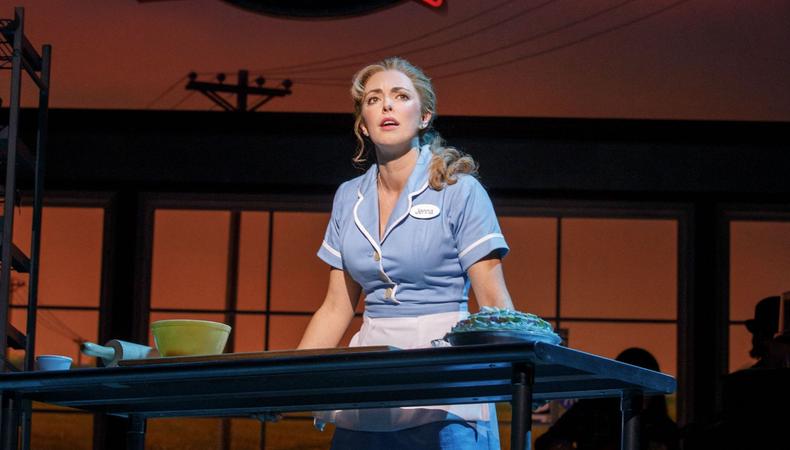 The following Career Dispatches essay was written by Desi Oakley, who starred as Jenna in the first national tour of "Waitress" and whose new album "Repeat" is available now.
I was 16. An organized, over-planner contemplating my future. I was torn between two career paths: songwriting and performing on Broadway.
It was a precisely even 50-50 split for me. On one hand, sitting at the piano was home, my sandbox, my safe haven. I'd composed songs since I was about 13, by which point I had already been told by professionals in the songwriting industry that I could successfully write a catchy hook. But on the other hand, musical theater seemed to exist in my chemical makeup. It was in my bones (despite no one in my family having any experience in acting). I found such comfort on the stage and those doors of opportunity began opening rapidly.
"Which path do I choose?" I thought. In my mind, I had two choices: become the next female version of Billy Joel—or win a Tony.
"I'm going to pursue musical theater!" I announced to my family in the living room. I had just listened to a message on our answering machine (yes, an answering machine) saying that I had landed my first professional leading role, playing Dorothy in "The Wizard of Oz" at Music Theatre of Wichita, a highly esteemed regional theater in my hometown. I took it as the sign that I needed and immediately immersed myself into the research that comes with such a big decision. Dance classes, BFA programs, SATs, scholarships, and more—16 years old and I'd already caught a serious glimpse of the hustle. But a few days later, it hit me like a ton of bricks: I was giving up songwriting.
"You'll always find time to write," my mom said encouragingly. Exactly! In college, I'll have so much free time, I resolved. Well, that didn't exactly turn out to be true. After that, it was time to move to New York City. "Now you'll be in the city so you can make music on the side," my mom kindly persisted. Totally! In NYC, all my dreams can be a reality! Again, easier said than done.
Dividing focus is hard. Committing to this career requires more than just passion and talent; it demands unwavering effort, steadfast intention, fortitude, and grit. It doesn't leave much room for any other outlets.
Only now, after almost eight years of living in NYC and pursuing a career on Broadway, I can say that I've finally begun prioritizing songwriting like I always hoped I would. Further, I can see clearly now that my gift for songwriting has played a huge role in my career in musical theater. I am often chosen to work on new projects by up-and-coming theater writers, but acclaimed writers like Stephen Schwartz and Sara Bareilles have also connected to my interpretation of their work. Being a songwriter myself has increased my ability to pick up a piece of music and recognize its original intention. It's enhanced my musicality. Maybe, after all, my passion for songwriting has made me the performer I am today.
My all-time favorite quote is by Henry David Thoreau: "Go confidently in the direction of your dreams." That word direction is important. He doesn't say, "Walk straight toward one dream and forget everything else." No, he says to walk in the direction of where you want to end up. I've concluded that you don't have to narrow it down to just one dream.
I don't regret a single day of those eight years structuring my efforts around a single goal, but the takeaway is this: Every passion you have flickering within you serves a purpose. Acknowledge every desire you have and remember there's enough space for all of it. Here's my best Thoreau-like wisdom: Don't snuff out a smaller flame just because it doesn't burn the brightest. In fact, it could enhance your whole fire.