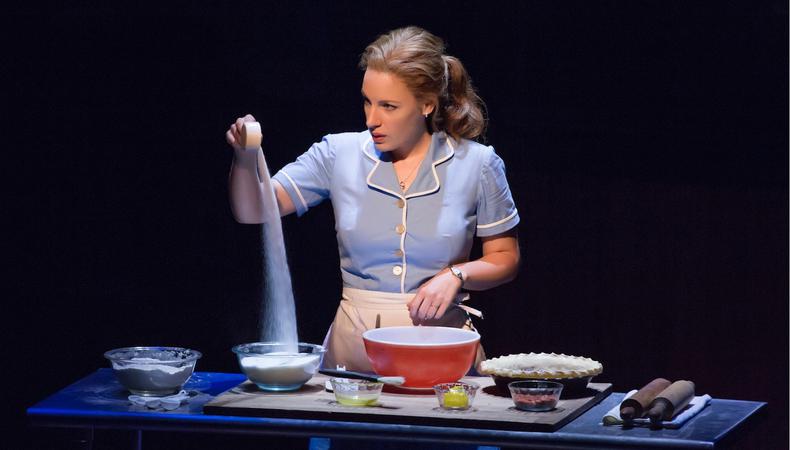 In book writer Jessie Nelson's "Waitress," the buzzy Broadway musical based on Adrienne Shelly's 2007 indie movie, our pie-making heroine Jenna finds more than sugar, butter, and flour on her pantry shelf. She finds herself.
"One of the things that I connected to was the notion of losing track of your authentic self and shrinking to fit—burying who you really are to survive a relationship, and ultimately reclaiming a part of yourself that you tucked away on the shelf," Nelson says. "To me, ['Waitress' is about] loving yourself enough to reach for the life that you really deserve and want."
Opening April 24 at the Brooks Atkinson Theatre, this musical about a gifted baker stuck in a dead-end diner and deader-end marriage is a bright burst of flavors savory and sweet off West 47th Street. That's as much thanks to five-time Grammy nominee Sara Bareilles' music and lyrics as it is to the ensemble's top-notch performances. Nelson says that casting was essential in getting the recipe just right, particularly for Jenna, originated by Keri Russell in the film and played here by Tony winner Jessie Mueller of "Beautiful: The Carole King Musical."
"[We] were looking for someone really earthy and real who had a wonderful gift with humor and pathos but also someone who could sing Sara's music. Sara's music is not easy!" Nelson explains. "The vocal range on the songs is huge. It had to be someone who can capture a pop sensibility and not someone who's too classically trained."
Such requirements emphasized Mueller as the pitch-perfect pick. Between her 2011 Broadway debut in "On a Clear Day You Can See Forever" with Harry Connick Jr. and her acclaimed take on Carole King in 2014, Mueller is well-versed in interpreting pop music for the theater. "She's so remarkable in the part," Nelson adds. "It's really one of those you-don't-want-to-miss-it kind of performances."
Bolstering Mueller's exceptional take on the role is the sheer theatricality of the musical's source material. Memorable, campy characters (supporters Christopher Fitzgerald and Keala Settle just about steal the show), a doomed but wonderfully engrossing love triangle, and, at its heart, a soon-to-be mother finally putting herself first all have such fairy-tale–like potency that they make a natural fit for the Broadway stage.
"It had the intensity of emotions to get the characters to the point where they need to sing what they're feeling," Nelson says of the film's adaptability. "There was so much to sculpt with."
It's worth noting that when the full "Waitress" creative team was first announced late last year, many hailed it as Broadway's first all-female creative team. And while the story of a pie baker singing pop songs and leaving her husband is empoweringly feminist (and while characters like Cal the cook seem in on the achievement, at one point exclaiming, "I'm leaving before I die of estrogen asphyxiation!"), Nelson insists that the historic creative team came together naturally, the record books out of sight and mind.
"I'm one of those people who don't believe there's a feminine aesthetic," she says. "I think many men can tell stories about women beautifully, and women can tell stories about men beautifully. But I think this team had a really nice synergy and was all on the same page. It happened very organically."
There's little doubt the musical's creatives, including Nelson, Bareilles, director Diane Paulus, and choreographer Lorin Latarro, were the right theater makers to adapt the late Shelly's work for the stage.
"What I loved about Adrienne's work is that she took these things that are associated with traditional feminine things, like baking and being a waitress, and she found a way by the end of her film to create Jenna as such a strong female character," Nelson says. "She's set out on her own in this very courageous way."
Like this interview? Check out more from creators and Meet the Maker!