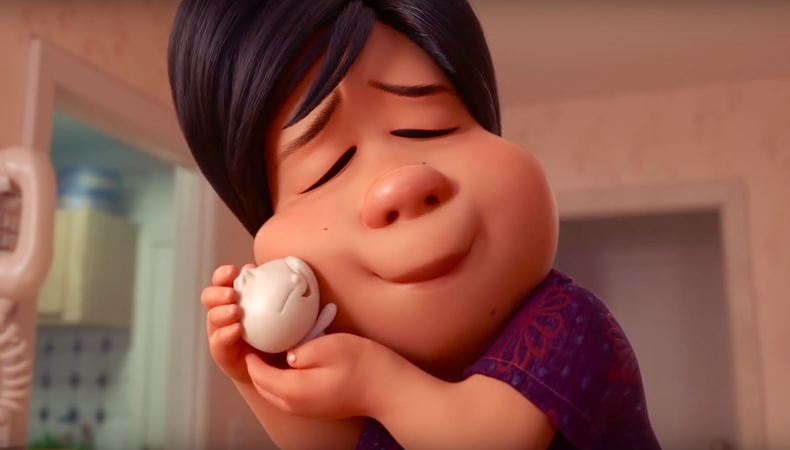 Filmmaker Domee Shi's passion for drawing and storytelling brought her to Disney and Pixar. And thank goodness Shi felt at home at the animation studio; otherwise, we might never have gotten "Bao," an eight-minute short film about motherhood, letting go, and the deliciousness of Chinese baozi dumplings that played in theaters before "The Incredibles 2." And "Bao" might have never been nominated for best animated short at the 2019 Academy Awards.
Ahead of the Feb. 24 Oscars ceremony, Backstage chatted with Shi—the first woman to ever direct a Pixar-produced short—about Asian representation, the film's relatability, and what goes into making the cutest animated dumpling ever.
Congratulations on the Oscar nomination! How are you feeling?
I still can't believe it. I feel like it won't sink in until I'm actually there. But I'm super flattered and honored. It's awesome for the crew who worked really hard to get the short recognized. To have such a different, weird type of short getting all this love and attention, it's really cool.
"Bao" is the latest Pixar film to shed light on a minority culture. Do you think Hollywood is on the way to more inclusivity?
We've always been on the forefront of teling creative stories that no one's ever seen before, that kind of stay with you for a while [after] watching them. But over the last few years, Pixar has really embraced stories, backgrounds, and people they don't usually tap: "Sanjay's Super Team," "Coco." One of the greatest sources of those types of stories is diverse people, diverse filmmakers, and diverse storytellers.
READ: Your Guide to the 2019 Oscar-Nominated Animated Films
We also saw a lot more Asian representation in 2018 film and television—"Crazy Rich Asians," "To All the Boys I've Loved Before," Sandra Oh in "Killing Eve."
I hope that this isn't just a blip in history. For research for "Bao" I watched a lot of live-action films. Ang Lee's "Eat Drink Man Woman" was an inspiration for me. And also "Joy Luck Club," which was an amazing [film] about being Asian-American, and mother-daughter relationships. It came out in the mid-'90s and everyone kind of thought that was going to be a huge thing but it didn't end up being like that. So I'm hopeful that now, change will stick and continue going forward. I think it will. It feels different now than before.
"Bao" is super relatable, but it also includes specific cultural details. How did you strike that balance?
I always have to identify and remind myself of what the theme is of the story and kind of use that as my compass throughout the whole crazy filmmaking process. Early on, I said, "OK, this is going to be a story about a parent that [struggles with] letting go of her kid." And even though it's a fairytale and food comes to life and really crazy things happen, at the heart of "Bao" is this universal truth: that if you love something you have to let it go. It's something that everyone in the world can relate to.
Because I identified that and kind of used that as our guiding star, that gave me confidence to really go a little bit more bold with the stylization of characters, the details of the world, and putting in those culturally specific details. Knowing that maybe not everybody in the world is familiar with what a Chinese household looks like—you know, the little props and the little tchotchkes. But everyone has had that feeling of loving something so much you can't bear to be without it.
On the more technical side, how hard was it to animate a cute little dumpling?
The hardest part was actually the whole opening shot where you see the mom's hands rolling the dough and making the dumpling and folding it and turning it into a bun. That took two effects artists two months to create that one shot. Food effects are just really difficult to do on the computer.
The little dumpling character himself was tricky because we really wanted to have a more cartoony approach with his movements and his expressions. We wanted his mouth to go really big and small, and we wanted him to be really squishy and stretchy. That was all the amazing work of our animators who really collaborated together just to get that dumpling to look super, super cute, but still edible. So in every shot, you could be like, "Oh, he's edible! He could be eaten up or squished or squashed at any moment." We wanted the audience to feel that protectiveness.
You're the first woman to direct a short at Pixar. What's next?
I'm excited for the future with Pixar's new experimental first program, SparkShorts. The first three shorts are going to be on YouTube—"Purl" was just released a week or two ago—and the rest are going to be on Disney Plus. But we really like giving the opportunity for new voices and all kinds of backgrounds, all kinds of perspectives, and giving them a platform. And I'm really happy to say that there are going to be more female directors that you're going to see coming from the studio. So I feel very excited. "Bao" was kind of the first of many.