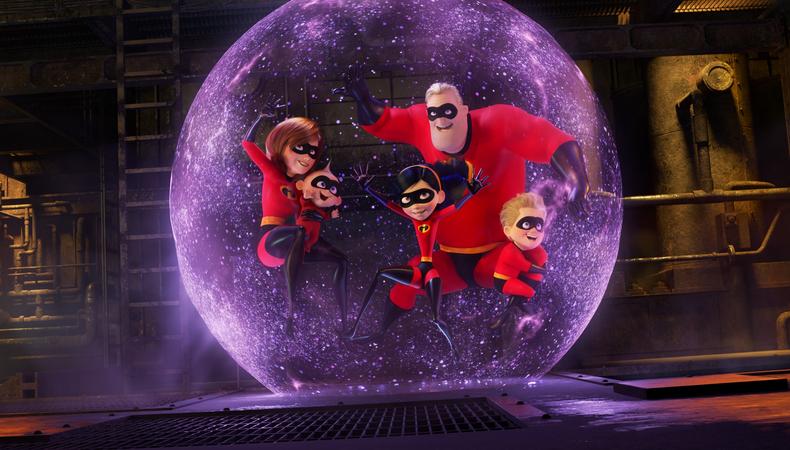 Once upon a time, animated films were just for kids. But that was then, and this is now. Today, these films cater to audiences both young and old—and the films nominated at the 91st Academy Awards are no exception. Looking for a refresher on this year's contenders? Here's a voting guide to this year's Oscar nominees for best animated feature. Tune in to the ceremony on Feb. 24 to see which of the below takes home the prize.
"Incredibles 2"
The much-anticipated follow-up to Disney-Pixar's 2004 hit, "Incredibles 2" reunited us with our favorite superfamily. And somehow, despite the many years that have passed, writer-director Brad Bird's sequel managed to exceed everyone's expectations. Mr. Incredible (Craig T. Nelson) and Elastigirl (Holly Hunter) are back and taking on traditional gender roles: Elastigirl is off working, proving superheroes are valuable, while Mr. Incredible is at home taking care of the brood—a super feat of its own. Toddler Jack-Jack stealthily steals the show with his array of newfound superpowers, which wreak havoc at home while helping defeat the baddies.
"Isle of Dogs"
Wes Anderson took his methodical visual flair all the way to Japan for Fox Searchlight Pictures' charming, critically adored film about a boy in search of his dog. Brought to life by some of the most ubiquitous voices in Hollywood—including Bryan Cranston, Jeff Goldblum, Frances McDormand, Greta Gerwig, Tilda Swinton, and Bill Murray—"Isle of Dogs" imagines a near future where all dogs have been deported from the fictional city of Megasaki to Trash Island after a bout of dog flu (referred to here as snout fever) gone haywire. It's up to 12-year-old Atari to find his old dog Spots and prove that dogs still deserve to be man's best friend. As its title suggests (say it out loud!), it's a love letter to furry friends.
"Mirai"
From Japanese director Mamoru Hosoda, "Mirai" is a delightful and imaginative tale about growing up. After the birth of his baby sister, Mirai (Japanese for "future"), 4-year-old Kun grows jealous and lashes out at his parents (voiced by John Cho and Rebecca Hall in the English dub). But when he discovers a magical garden, he's transported through time, where he meets members of his family from the past, present, and future—including, of course, a teenage Mirai herself. From Kun's perspective, both the magic and frustrations of childhood are inescapable. But the bond of family is, too.
"Ralph Breaks the Internet"
When it hit theaters in 2012, "Wreck-It Ralph" just about wrecked the box office, so a sequel was all but inevitable. Disney's latest hit follows our favorite video game–inspired characters from the first film—Ralph (John C. Reilly) and Vanellope (Sarah Silverman)—as they traverse the world wide web to find a replacement controller for Sugar Rush, the candy-themed kart racing game where Vanellope competes. It's entertaining, it's smart, and it makes you think twice about what internet culture has done to our real-world relationships.
"Spider-Man: Into the Spider-Verse"
There's been a plethora of movies about New York City's favorite arachnid superhero in the last decade or so, but there's a reason Sony's colorful "Spider-Man: Into the Spider-Verse" stands out. And it's not just because it stars the first Spider-Man of color, Miles Morales (Shameik Moore). The film brings together different incarnations of Spider-Man from alternate universes to stop a threat to all of their realities. There's divorced, after-his-prime Spider-Man (Jake Johnson), Spider-Man Noir (Nicolas Cage), and Spider-Woman (Hailee Steinfeld), among others. It's stylistically ambitious, innovative, and, most importantly, fun—especially if you consider John Mulaney's Spider-Ham, perhaps the best porcine character since "Babe."