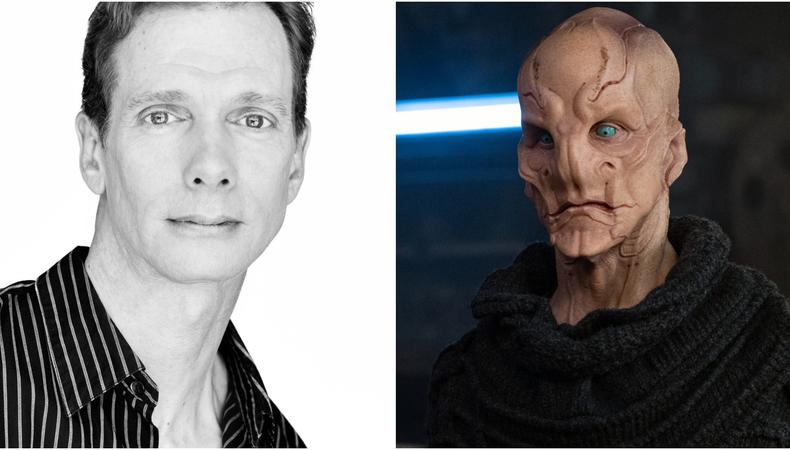 The following interview for Backstage's on-camera series The Slate was compiled in part by Backstage readers just like you! Follow us on Twitter (@Backstage) and Instagram (@backstagecast) to stay in the loop on upcoming interviews and to submit your questions.
No other actor in Hollywood does it like Doug Jones. There's no question he's one of the most acclaimed and versatile actors working today—but you may not even recognize him. That's because he's best known for his embodiment of non-human creatures, usually via heavy make-up and visual effects, like in "Pan's Labyrinth," "The Shape of Water," and now starring as Saru on CBS All Access' "Star Trek: Discovery." Sitting with Backstage in a recent Instagram Live interview, the actor dished on his reverence for the "Star Trek" fandom and what he does to make his non-verbal characters stand out. He also covers his best advice for aspiring actors, and how Backstage helped him get his start!
Jones was worried about taking on a new role in the "Star Trek" canon.
"I've been acting for almost 35 years now. I've been in the sci-fi genre, horror, fantasy, comic books. All those fandoms bring such excitement and such loyalty with them. The 'Star Trek' fans are a cut above all that. They feel a sense of ownership of the franchise that no other fandom does. I love that, it keeps us on our toes. Coming into this franchise, I wanted to get everything right. I owe it to these people who have devoted their lives to this fandom. Being able to create a new species of alien, too, I'm a Kelpien, which has never been seen anywhere in any of the other series or movies. That was another heavy responsibility. I want to make this another species that will carry on in the legacy that is 'Star Trek.' "
Jones' best advice? Keep good spirits and don't complain.
"Creature effects makers, the people who make the designs and the monsters and creatures that go on to me, they're the ones who really catapulted my career forward. Once they found me and built a couple things and worked with me on set, a couple things came into play: How do you wear their designs? Do you perform well in them? And are you easy enough to get along with and do not complain too much? As actors, we're all known as a bunch of divas who are like, 'Yeah, this is hot. Get it off me.' If you're not doing that, it's exceptional. They think you're the nicest guy in the world."
How Jones approaches his non-verbal characters.
"We as actors, we just have to remember that dialogue comes in many forms. It's not just verbal; visual dialogue is absolutely a part of our communication. We do it as people everyday. Facial expressions [and] gestures like a tilt of the head can say volumes, in the right setting with the right context. I use all that when I'm doing a non-verbal sort of character."
Backstage helped him land an agent after moving to L.A.
"I grew up a really odd-looking kid in Indiana. I think I was kind of drawn to the stage and drawn to performing as a way of escaping all the oddities that were me—or actually using those oddities…. So 1985, getting out to Hollywoodland from Indiana, was like, 'Oh! Here we are!' I moved out there to take a bank job—ugh! Square peg [round] hole. Horrible fit. The bank knew it was a horrible fit, so that's why they fired me after eight months. This is where you come in! Backstage used to be Drama-Logue way back in the day in Los Angeles. This is before the internet and before all you kids and those clickable things. It was once a week, our chance to look at casting notices and advertisements for photographers and acting classes and coaches and all that was once a week on Thursdays. That's where I found the advertisement for TV commercial acting workshops. I was advised that TV commercials might be a place where an unknown face can find its place. So I thought, I better take a workshop! So I looked at the ads for that and I called a bunch of them and said, 'Can you let me come audit one for free?' Five of them said, 'Yes, we'll do that for you.' So I went to look at five different classes for free and I went back to the one that really sang to me, and that instructor was a man named Philip Karr. He's the one who saw all the oddity and goofiness in me—he's the one who saw a goldmine in that. After my second class he said, 'Do you have an agent yet?' And I said, 'I don't even know what an agent is.' So he handed me his card and said, 'I'm one. Call me at the office' … It's because of you people that I got my first agent, and that's why."
Want to hear more from Jones? Watch our full interview below, and follow us on Instagram: @backstagecast.
Looking for remote work? Backstage has got you covered! Click here for auditions you can do from home!