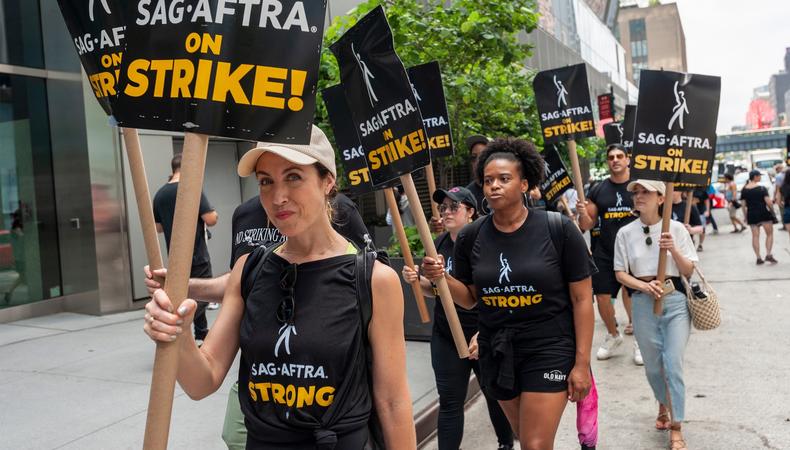 The state of the acting industry changed this summer. In July, SAG-AFTRA went on strike after failing to reach a deal with the Alliance of Motion Picture and Television Producers over residual compensation for work on streaming platforms, as well as regulations around the use of artificial intelligence in Hollywood.
What's more, theaters have been scaling back their operations in the wake of post-pandemic audience decline, leading many industry observers to conclude that the American stage is in crisis.
As the new school year begins, how are college acting programs responding?
"Part of preparation for entering the field has got to be looking truthfully, clearly, and critically at the field itself," says Annie G. Levy, the artistic director of Emerson Stage at Emerson College. "You've got to start with conversations."
The heads of America's biggest university acting programs are currently engaging in these dialogues—especially since altering curriculums and/or adding new classes isn't in the cards just yet. "The timelines of academia don't line up nicely with the timelines of the art form and the industry," Levy explains.
With film and television productions on hold indefinitely and theater jobs becoming more scarce, Ursula Meyer, head of the University of San Diego's graduate acting department, says that some actors are using this time to go back to school. In particular, they're looking to fully funded programs like the one at USD.
RELATED: What the WGA Deal Means for the SAG-AFTRA Strike
"A strong training program can be a safe haven in times of uncertainty," Meyer explains. "A school is a place to nurture idealism and big imaginations and the ability to think as a group to solve problems together."
Other academic leaders see this as a time to recalibrate industry standards from the bottom up. "These events are indicators that our field is in a period of transformation," says Tomi M. Tsunoda, chair of the drama department at NYU's Tisch School of the Arts. "While that can feel unnerving, periods of change are also periods of opportunity and possibility. [This] generation will be able to participate in the reshaping of the professional field in a significant way." Over the summer, she wrote to students regarding the strike and the downsizing of theaters.
Some department heads, like those at the David Geffen School of Drama at Yale and the Carnegie Mellon School of Drama, say it's too early in the school year to predict how the state of the industry will impact their teaching.
The School of Drama at the University of North Carolina School of the Arts, however, welcomed students by addressing the turbulent conditions in the field. "While this may not be the first thing they wanted to talk about at the beginning of the school year, this [is] the most important thing going on in our industry today," says Scott Zigler, the dean of UNC's School of Drama. (He plans to step down from the position after this academic year.)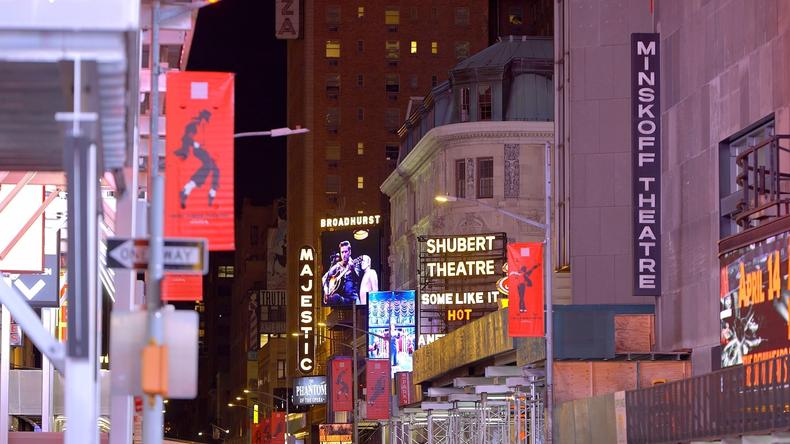 4kclips/Shutterstock
Zigler is using his remaining time as dean to encourage the renowned conservatory to reconsider its status quo. "Producing and content creation have got to become as much [a part] of the training as performance technique," he says. "Any leading acting program has to have a minimum of 50% camera training. Sooner or later, SAG will come back; I'm not certain that some regional theaters are going to come back."
But the prognosis for live theater isn't entirely bleak. In the wake of Broadway's COVID-19 shutdown, which lifted in September 2021, attendance has finally begun to return to pre-pandemic rates. Audience numbers for musicals, in particular, are holding steady.
"BFA musical theater programs are continuing to explode across the country," says Chase Bringardner, the immediate past president of the Association for Theatre in Higher Education; he's also a professor of theater and dance at Auburn University. "We've had record admissions [over] the past few years," he continues. "I don't know if anyone would think, Oh, their arts and performance programs are growing astronomically; but we welcomed a class that was twice the size of the class we welcomed a year before."
Many universities have shifted their focus to the holistic side of actor training in order to make sure graduates aren't as impacted by the ebbs and flows of the industry. "Students' best chance for success is to create work on their own while continuing to audition for whatever opportunities are out there," Zigler says.
With the industry becoming less financially viable and university humanities programs at risk nationwide, drama educators are adopting a new message: Acting training can be about more than a career in performance.
"The skills one learns with serious study of theater are transferable," says Levy. "Theatermakers have the ability to work effectively toward a shared goal, to put their all toward something that won't exist forever, and to look to the good of the group. All of these things are markers of a healthy society, and a good step [toward] becoming a thriving adult."
Carl Cofield, the chair of NYU's graduate acting program and the associate artistic director of the Classical Theatre of Harlem, says that his students have remained optimistic despite industry setbacks. He's currently putting together a forum for his pupils to discuss the strike and theater closures.
"Artists have that rare ability to press on in the face of challenging circumstances," he says. "Artists are always going to come. It's up to us in arts education to make sure that we have conversations—not to frighten anyone, but to prepare students with the tools they need."
This story originally appeared in the Oct. 5 issue of Backstage Magazine.