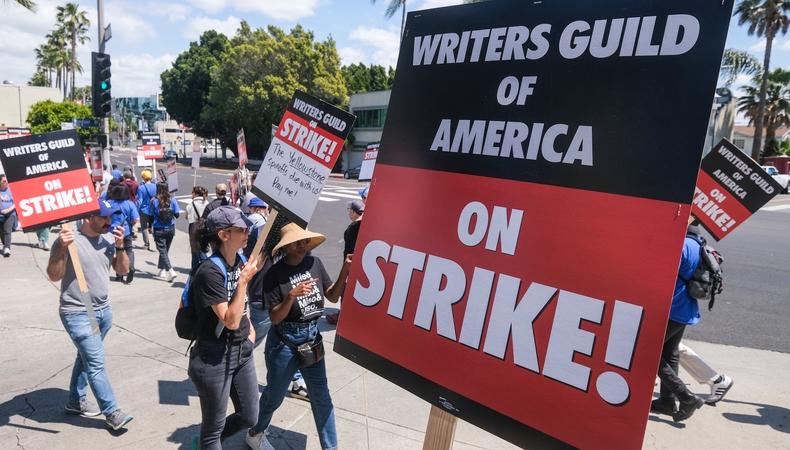 Following months of negotiations and a historic joint strike with SAG-AFTRA, the Writers Guild of America and the Alliance of Motion Picture and Television Producers reached a tentative deal earlier this week. The news has significant implications not only for writers, but also for actors. Here's everything you need to know about the WGA-AMPTP agreement and how it could affect the ongoing SAG strike and negotiations.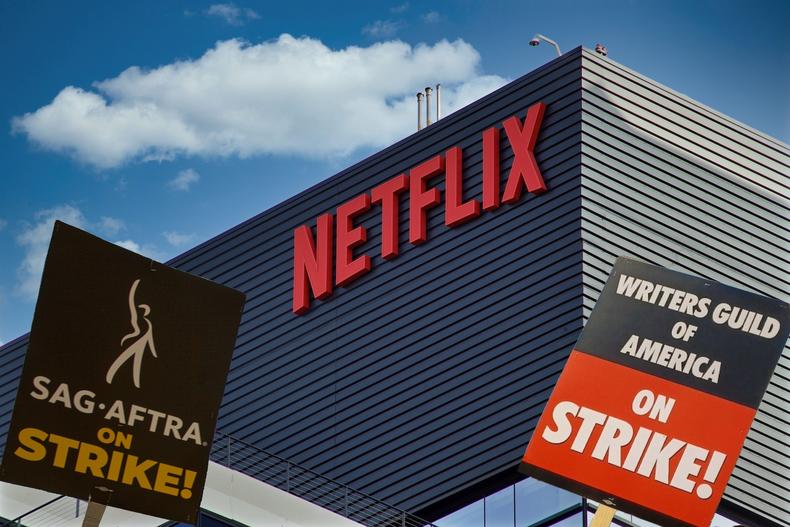 Elliott Cowand Jr/Shutterstock
The WGA began striking at midnight on May 1 after negotiations broke down with the AMPTP over a new collective bargaining agreement. Talks reached an impasse over issues such as streaming residuals, writers' room staffing requirements, and regulations around the use of artificial intelligence. Just over two months later, at midnight on July 14, SAG-AFTRA joined the WGA on the picket lines, effectively shutting down Hollywood. (The Directors Guild of America agreed to a deal with the studios without striking on June 4.)
After 146 days, the WGA finally reached a tentative agreement with the AMPTP and officially ended its strike on Sept. 27. The deal must be ratified by the union's members through a vote, which will take place from Oct. 2–9.
Meanwhile, all eyes are on SAG-AFTRA; with so many similarities between the writers' and actors' demands, what does this tentative deal mean for the last union remaining on the picket line?
Key provisions of the WGA-AMPTP deal that overlap with SAG's demands include:
Streaming compensation, residuals, and transparency
What the WGA got: Under the new agreement, writers will earn viewership-based streaming residuals, which the AMPTP originally rejected during the May negotiations. Per the new agreement, streaming projects "viewed by 20% or more of the service's domestic subscribers in the first 90 days of release, or in the first 90 days in any subsequent exhibition year, get a bonus equal to 50% of the fixed domestic and foreign residual, with views calculated as hours streamed domestically of the season or film divided by runtime." WGA members will also be granted access to aggregated streaming data, numbers that were previously kept under wraps.
What SAG is asking for: SAG members are also requesting increased streaming residuals—payments received when a project re-airs on a streaming service. Under the current contract, actors only receive one residual check per year for projects that go straight to streaming. The union's demands include improved residuals for projects that are aired and re-aired on streaming services, as well as transparency around streaming data, which the AMPTP rejected in its original negotiations with SAG but made concessions to in its WGA deal.
Wage minimums
What the WGA got: The deal sets structured yearly increases in minimum payment at 5%–4%–3.5% to try and match inflation. The WGA originally proposed 6%–5%–5% and the AMPTP countered with 4%–3%–2%, so the agreement is a true compromise.
What SAG is asking for: The actors' union proposed an 11% wage increase in the first year to compensate for inflation during the previous contract term. During initial negotiations, the AMPTP only offered a 5% increase.
Artificial intelligence guidelines
What the WGA got: Regulations protecting writers from the potential use of artificial intelligence to replace human labor include a ban on AI-generated source material. The AMPTP rejected the original proposal for regulations.
However, under the new agreement, AI "can't write or rewrite literary material," and a company cannot require that a writer use AI software. Companies "must disclose to the writer if any materials given to the writer have been generated by AI or incorporate AI-generated material." The WGA reserves the right to disallow human-generated writing to be used to train AI models.
What SAG-AFTRA is asking for: The union is asking for stipulations that protect actors from being replaced with AI, seeking to "establish a comprehensive set of provisions to protect human-created work and require informed consent and fair compensation when a 'digital replica' is made of a performer, or when their voice, likeness, or performance will be substantially changed using AI."
During original negotiations, the AMPTP rejected the provisions, meaning that producers could use a background performer's likeness for any purpose, in perpetuity, without explicit consent. It could also change a principal performer's appearance and dialogue without informed consent, and could use videos of actors to train generative AI without consent or compensation.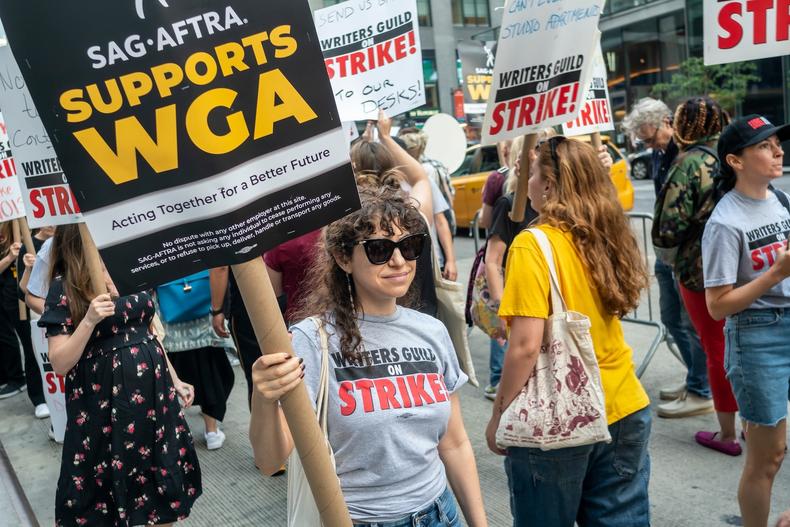 rblfmr/Shutterstock
SAG's demands differ from the WGA's in a few significant ways. These include regulations for self-taped auditions and specific provisions and benefits required for actors, such as qualified hair and makeup specialists for performers of color. This means that while the unions' overlapping demands bode well for SAG, there are still other factors at play.
A SAG executive told Casting Networks of the WGA-AMPTP agreement: "This is great news, and it gives me hope that we'll be able to settle this whole thing within the next few weeks. But that said, I'm already warning people not to expect it to just get wrapped up without any trouble. Our deal is way more complicated than the writers' deal; and while the residuals and AI stuff is a great template off which to work for our deal, there's still a ton of work to be done. I don't want people to lose sight of that."
The WGA deal has spurred the AMPTP to return to the negotiating table with SAG. Union leadership told members they would reopen talks with the studios on Oct. 2, and that "several executives from AMPTP member companies will be in attendance."
Historically, joint strikes don't necessarily end in rapid succession. The last time that writers and actors went on strike together was in 1960. SAG (which was not yet affiliated with AFTRA) made a deal on April 18, 1960; the WGA held out another two months until June 12, 1960. The wait ended up working out for the latter, however, as it culminated in a massively influential deal that included stipulations for the very first theatrical residuals.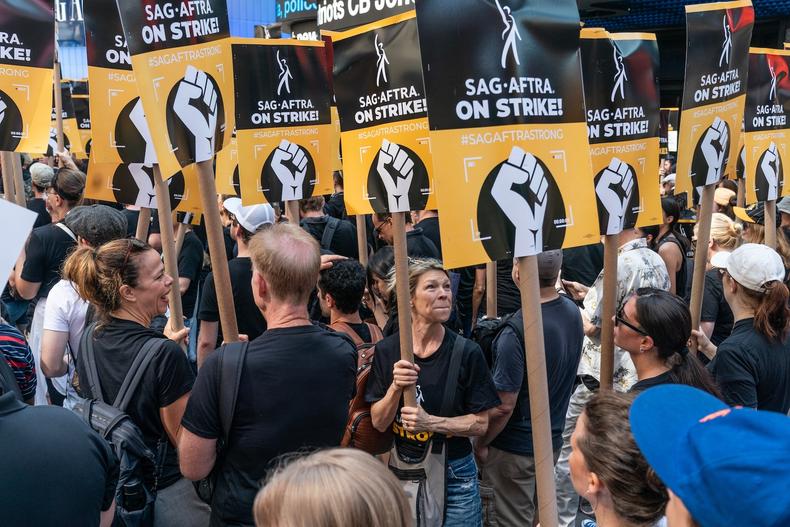 lev radin/Shutterstock
The deal sets a precedent that will likely give SAG more leverage in its negotiations, such as:
Increased bargaining power: The WGA called the Memorandum of Agreement an "exceptional deal, with gains and protections for members in every sector of the business."
Since the AMPTP addressed many of the writers' demands once negotiations resumed, it seems likely that SAG will have increased bargaining power, especially in areas that overlap with WGA negotiations.
"Knowing that at least one of us has gotten a good deal gives a lot of hope that we will also get a good deal," actor and SAG member Marissa Cuevas told the Associated Press.
Jacquie Corbelli, the co-founder and CEO of streaming ad service BrightLine, told us that the WGA-AMPTP agreement "is a historic deal covering all the most critical concerns that writers have. It's hard to find anything wrong with it. Netflix and Disney were forced to back down from their original opposition, and they were right to do so. It's a beautiful moment in history for writers—a day to celebrate."
Continued industry impact: While writers are now allowed to return to work, without actors, Hollywood remains at a standstill until the SAG strike is over. The joint strikes have already had a multibillion-dollar impact on California's economy.
"California's entertainment industry would not be what it is today without our world-class writers," wrote state governor Gavin Newsom in a statement about the WGA-AMPTP agreement. "For over 100 days, 11,000 writers went on strike over existential threats to their careers and livelihoods, expressing real concerns over the stress and anxiety workers are feeling. I am grateful that the two sides have come together to reach an agreement that benefits all parties involved, and can put a major piece of California's economy back to work."
Major productions have been put on hold during the strike, including TV shows like "Abbott Elementary," "Cobra Kai," "Severance," and "Stranger Things." The release dates for films including "Challengers," "Spider-Man: Beyond the Spider-Verse," and "They Listen" have been delayed. The Emmys were postponed, and the MTV Movie & TV Awards were canceled altogether. However, late-night talk shows and daytime talk shows could be returning as soon as early- to mid-October.
Even when SAG eventually strikes a deal, most large-scale projects won't be able to jump right back into production. Scheduling issues, location permits, and other logistical considerations are in flux because of the delays.
"You've got the entire industry starting up again. Everybody's going to be hitting the starting line with the same needs. There will be issues with cast [availability], crews, [and] getting stages [and] equipment," a studio executive told the Hollywood Reporter.
While the WGA deal is certainly cause for optimism, SAG members are still barred from working with or talking to struck companies until the union ends the strike. (Nonunion actors are advised to follow the same rules to avoid scabbing.) Gigs compliant with SAG strike rules include live theater, commercials, and audiobooks, as well as some indie productions.
Ongoing solidarity: The WGA and SAG have demonstrated mutual support throughout the strikes; since the day the WGA strike began, SAG members have stood alongside writers on the picket lines.
Immediately after announcing the tentative agreement, WGA leadership said in a statement to its members, "We encourage you to join the SAG-AFTRA picket lines this week."
In response to the writers' deal, SAG-AFTRA said in a statement that it "congratulates the WGA on reaching a tentative agreement with the AMPTP after 146 days of incredible strength, resiliency, and solidarity on the picket lines. While we look forward to reviewing the WGA and AMPTP's tentative agreement, we remain committed to achieving the necessary terms for our members.
"We remain on strike in our TV/Theatrical contract and continue to urge the studio and streamer CEOs and the AMPTP to return to the table and make the fair deal that our members deserve and demand," the statement continued.
Further negotiations: The WGA deal indicates that the AMPTP is willing to engage in negotiations despite its initial reluctance to compromise on certain provisions. Before the deal was reached, the AMPTP released a statement that said: "The AMPTP member companies are aligned and are negotiating together to reach a resolution."
"Studios must now engage constructively with SAG-AFTRA, as actors continue to advocate for their fair treatment and pay on the picket line," wrote NYC Comptroller Brad Lander. "Ignoring the needs and demands of these dedicated professionals is not only a financial and reputational risk, but also a failure to recognize and honor the invaluable contributions of those whose labor makes entertainment possible and generates long-term shareholder value."
On Sept. 25, SAG members voted to go on strike against video-game companies if negotiations for its Interactive Media Agreement aren't successful. Since there's some overlap between signatory video-game studios and AMPTP companies such as Disney and Warner Bros., the strike authorization could grant SAG even more leverage when negotiations resume.