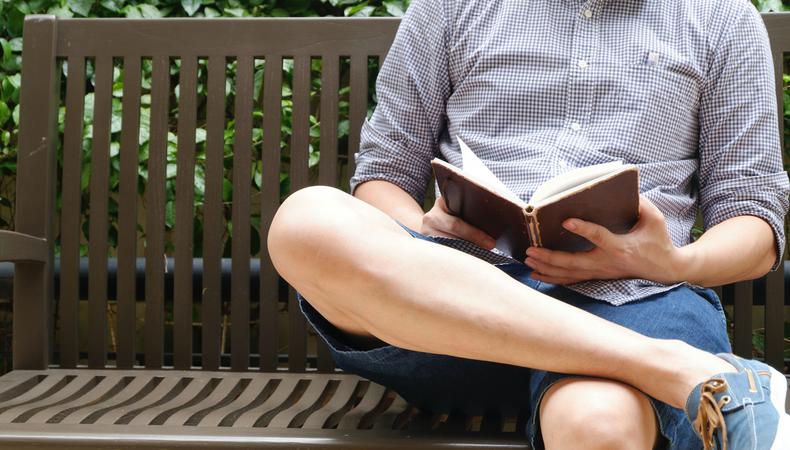 Monologues should showcase an actor's strengths and talents, and be chosen with an awareness of who the audience is that it'll be performed for. If a monologue is being done for an agent or manager, it's best to select a monologue that shows the unique quality of the actor—remaining close to the actor's personal identity.
If a monologue is being done for a theater company or group, it's best to select contrasting monologues that show the ability to play different genres. For example, contemporary and classical, and the ability to play different characters. If a monologue is being performed for a specific production, the tone and style of the monologue should be complementary to the production.
Where do you start if you're looking for a dramatic monologue? Here are five terrific dramatic monologues for men to consider.
1. "Danny and the Deep Blue Sea" by John Patrick Shanley
This is a deeply moving play about two outcasts who have suffered abuse and isolation. After meeting one unlikely night in a local neighborhood bar, this volatile pair is destined to discover love through mutual healing. Danny has a brilliant, funny, fresh monologue where he says he has always wanted to be a bride. It's a terrific dramatic monologue that is surprising and memorable.
2. "Our Lady Of 121st Street" by Stephen Adly Guirgis
"Our Lady Of 121st Street" is the story of a group of acquaintances who are reunited by the death of their old teacher, Sister Rose. It's edgy, surprisingly funny, spiritual, and touching. The character Edwin has a powerful monologue where he brutally chastises his brain-damaged brother, Pinky, for interfering with Edwin's tentative attempt to strike up a romance with a shy but lovely girl. Edwin profoundly regrets lashing out at his heartbroken brother and ends up calling a caretaker to ensure Pinky gets home safely.
3. "Death of a Salesman" by Arthur Miller
This tragedy set in New York in the 1940s is told through the montage of memories, dreams, and arguments of Willy Lohman, a traveling salesman who is disappointed with his life and slipping into senility. The play touches on the American Dream and the nature of truth and betrayal. Biff is the disillusioned, hapless son of Willy Lohman. He is unable to find self-worth or self-respect, being torn between his father's expectations and definition of success and Biff's own dream of a free life where money is not the key to happiness. Biff has a powerful, dramatic monologue confiding to his brother Happy. In it, he says he wants to be on a ranch outside with his shirt off but that he can't ever find happiness knowing his father will disapprove if he isn't a powerful and wealthy businessman.
4. "Ben Is Back" by Peter Hedges
This film follows 19-year-old Ben Burns who unexpectedly returns to his family's home on Christmas Eve. Ben's mom, Holly, is relieved and welcoming but wary of her son's drug addiction. Holly does everything possible to keep Ben clean in the next 24 hours. Ben has a powerful monologue where he tells his mother he's responsible for the death of his friend who overdosed. He is desperately but unsuccessfully trying to get her to reject and abandon him and to stop trying to save him.
5. "Lobby Hero" by Kenneth Lonergan
The play "Lobby Hero" follows a security guard in his late 20s, his strict supervisor, and an overbearing cop with his rookie female partner. The show is set in a foyer of a middle-income Manhattan apartment building in the middle of the night. William is the strict supervisor with a troubled brother who has been arrested for attempted robbery and a violent assault. William is suffering with the profound moral conflict of whether to protect his brother by giving a false alibi to the police, or to leave his brother's fate to a racist and unjust criminal system. William has a powerful monologue where he seeks advice from the clueless young security guard, Jeff.
Each of these dramatic monologues for men are memorable and affecting. They're sure to have an impact when brought to life!
Looking for remote work? Backstage has got you covered! Click here for auditions you can do from home!
The views expressed in this article are solely that of the individual(s) providing them,
and do not necessarily reflect the opinions of Backstage or its staff.