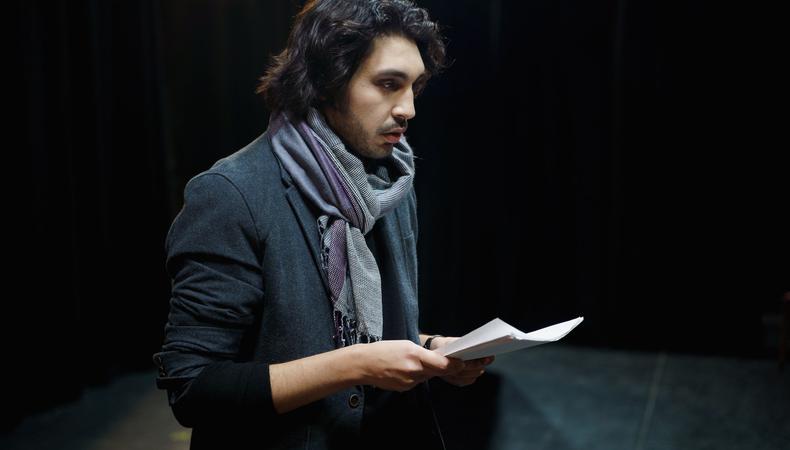 From hilarious to heartbreaking, contemporary monologues have a great range! If you're looking for a contemporary monologue, the first step toward giving the best performance you can give is figuring out which of them is right for you. If this seems daunting, you're not alone! There's no reason to fear though because our Backstage Experts and writers are here to help by suggesting some fantastic contemporary monologues for all ages!
According to Backstage Expert and acting coach Todd Etelson, "there are so many contemporary monologues a teen actor can choose from." This is great news, but it leaves an important question. How do you narrow your options down to the right choice? Here Etelson has rounded up some great contemporary monologues for teens to help get you started!
1. "Shadows of my Mind": Naomi
"This monologue will test you. Your focus should be on the person you're speaking to, but as you wrestle with these thoughts, we'd like to see the inner struggle you're experiencing, as you speak to yourself."
2. "Those Days are Over": Marsha
"This is an interesting dramatic monologue between rivaling sisters. Can you relate? Here, Marsha defends herself against her sister's outburst. This makes things erupt between them."
3. "Nowhere Near Happy": Ava
"Here Ava is talking to the audience. She discusses issues with her parents in the face of her success and how her success has made her relationship with them more difficult. But, the underlying issue here is feeling underappreciated by her parents."
4. "Agree to Disagree": Harpa
"A face-to-face friendly smackdown, Harpa is hearing the eye-opening truth from a close friend about their fake relationship and her need to be more real."
5. "Easy A": Brandon
"Brandon is a gay high school student who is bullied at school. Olive convinces him to lie and say he's been intimate with her, so he can be accepted and she can have a bad girl reputation. Initially a great idea, now not so much. He now needs to convince Olive to continue this façade. She's not having it."
6. "Almost 16"
"In this comedic monologue, a young actor is auditioning for her school and not quite old enough to drive to get to the audition. She tries to convince her father to allow her to drive, even though she's not quite 16 yet."
7. "One Way Conversation": Bella
"You have 30 seconds to say what you've wanted to say for a long time. It's been bottled up and needs to come out now. Here Bella confronts her mother about a seeming lack of encouragement and support to follow her dreams."
8. "Sly Statements": Melanie
"Here Melanie is having a discussion with her boyfriend. She says he makes her feel less than a person and she's fed up with his condescension. They can't be together anymore if he can't change."
You can learn more about these monologues here!
Etelson says "young personalities and a sense of imagination lend themselves naturally" to performing monologues. Of course, that all starts with picking the right speech! Here are some great contemporary monologues for kids.
1. "Adventures of Pippa Higgins": Pippa
"I love this monologue because it allows for a range of amazing young personalities to bring it to life. Play with your objective and see what follows."
2. "Nobody Bothers Me": Patrick
"Here Patrick responds to his uncle who asks him if he's still getting picked on by kids at school. For reasons of his own, this young boy is getting bullied in school but decides to make up a phony story to hide the truth from his uncle. He invents a fake story which makes him look stronger than he really is."
3. "Weird": Melvin
"Do you feel you have strange qualities about yourself? Maybe that's not so bad. Different can be good. Here, Melvin shares the many strange things he's done, which even he cannot explain. He enjoys his weirdness and sees it as a good quality to share with others."
4. "Little Sailfish": Ruby
"Here's a monologue you may be able to identify with. This dramatic monologue is about Ruby. Ruby is a swim champ, but she's not sure she actually enjoys swimming anymore, or if she just does it so as not to disappoint her dad."
5. "He Read My Poems": Sally
"Private thoughts are usually personal. They're not meant for other's ears. In this monologue, Sally angrily complains to her mother about how her brother read her most private poems and how humiliated she feels."
6. "Twelve Years Wise"
"This monologue is a case of role reversal. Here, it's the child who's acting like the grown-up and the dad who's acted like a child. She addresses her father, questioning the way he's treated her mother."
7. "Scout"
"This monologue allows you to feel great emotional depth. Take your time and don't rush the moments. Live this one in real-time. Take the time you need to feel something. You can't fake needing to feel something, so take that time."
8. "Gum Sculptures": Robbie
"In this monologue, a local news channel is interviewing Robbie as he talks to them about how he started making gum sculptures. It's fun and a great monologue to use some improvisational skills and personality."
You can learn more about these monologues here!
According to Backstage Expert and talent manager Corey Ralston, contemporary films are the perfect place to search for new monologue material! And Ralston has already done some of the searching for you. Here are a few great movie monologues for men!
1. "Moonlight": Mahershala Ali as Juan
"Choosing this monologue can give you a refreshing piece to show natural film acting style ability. It's a thoughtful moment that takes sensitivity and heart. A real treat to watch as it feels utterly truthful, warm, and accepting."
2. "Skyfall": Javier Bardem as Silva
"A villain is always good for a thought-provoking speech. In this James Bond movie, Javier Bardem plays Silva with command and eccentricity. This monologue can give an actor a vehicle to own the room with humor wrapped in confident evil manipulation."
3. "The Lighthouse": Willem Dafoe as Thomas Wake
"It'd be impossible to not be remembered for doing this piece. Willem Dafoe takes a trip on the crazy side. The classical crazy side even, reminiscent of the madness of King Lear."
4. "Da 5 Bloods": Chadwick Boseman as Stormin' Norman
"An actor who wants to show power in cultural identity will want to take a stab at this piece. There is plenty of opportunity to get undivided attention by taking advantage of motivational silence and strong intention with persuasive words. The piece is a beautiful display of camaraderie and power instilling encouragement."
5. "The Wolf of Wall Street": Leonardo DiCaprio as Jordan Belfort
"Why this monologue succeeds is how it exists under a limitless pretense—the more energy and motivation that can be infused than the higher the chance of success for this character. This is an opportunity for an actor to deliver a grandstand larger-than-life monologue that is still very connected to the moment and can not be overdone."
6. "The Joker": Joaquin Phoenix as the Joker
"Writing like this and a character as complex as the Joker is a jackpot for an actor. It requires some deep character work and empathy-building to play someone this atrocious. Remember a villain can never be judged by the actor. The actor must find the commonality and justifications for the actions, no matter how inherently heinous. This is a challenge and if delivered well, with your own spin, it will be a showcase for character development."
Learn more about these monologues here!
Backstage writer Laurence Cook has a few suggestions for contemporary alternative monologues for men that are "off the beaten track"! Nail your next audition with one of these options!
1. Charlie: "Pomona" by Alistair McDowall
"The ultimate overshare. On a first read, Charlie's monologue might sound childish and gratuitous but remember that it comes from a play that isn't what it appears and has encouraged contradictory interpretations."
2. Brian: "Narrative" by Anthony Neilson
"From the master of plays made in the rehearsal room, Narrative is a deceptive piece full of vignettes and strange goings-on. Here, Brian confronts his partner over their inability to love and realizes that there is no way forward for them as a couple."
3. Elliot: "On Love" by Mick Gordon
"Mick Gordon's brilliant play is a survey of love in all its guises, from the almost-parent in Elliot to a young girl in love with Elvis. Here, Elliot is speaking about his experience of his wife's pregnancy."
4. John: "Cock" by Mike Bartlett
"Short and sweet, this moment from 'Cock' sees John confronted by two people in his life, a long-time male partner and a woman he's fallen for. Exploring the "paralysing indecision that stems from not knowing who one really is," this speech sees John caught in exactly that trap. He's spent his whole life defined by other people, from the impressions of people on TV to what clothes he wears. Now he's confronted with making a decision no one else can help him with."
5. Mark: "Wink" by Phoebe Eclair-Powell
"The play is made up of monologues from Mark and a teacher, which cover connecting events. The choice here then is to either pick a character to deliver the speech towards, or to keep it in the form of a monologue."
Learn more about these monologues here!
Overused monologues might be tempting, but Backstage writer Laurence Cook has rounded up some great alternative contemporary speeches so that you can give casting directors something more original!
1. "My Heart's a Suitcase" by Clare McIntyre
"This is from a brilliantly odd play (with talking luggage) set in a rundown seaside flat. In this extract, a homeless man has just visited, and Hannah could either be railing at how men see her as an easy target for attention, or disguising the fact that she craves company by regaling the scene partner with stories of how she's always bothered by strange men."
2. "Chewing Gum Dreams" by Michaela Coel
"The understated brilliance of Michaela Coel's monologue play is that although it's all from Tracey's point of view, the audience gets to see her from multiple perspectives."
3. "Bull" by Mike Bartlett
"If you've seen any of Mike Bartlett's works for stage or TV, you'll know that he's the master of people being horrible to each other. Here, in this play about workplace bullying and competition, Isobel belittles a male character."
4. "Lungs" by Duncan Macmillan
"The speaker is one half of an educated, thoughtful (bordering on neurotic) couple who discuss having a baby throughout the play but come up against the moral dilemmas of having children."
5. "Good People" by David Lindsay-Abaire
"Margaret is on a cigarette break at work, talking to her younger boss...Margaret is gregarious, quick-witted, and often uses comedy to lighten how tough her life is...There's an opportunity to show your comic timing, movement skills, and explore different voices in telling the story."
You can learn more about these monologues here!
Looking for remote work? Backstage has got you covered! Click here for auditions you can do from home!
The views expressed in this article are solely that of the individual(s) providing them,
and do not necessarily reflect the opinions of Backstage or its staff.