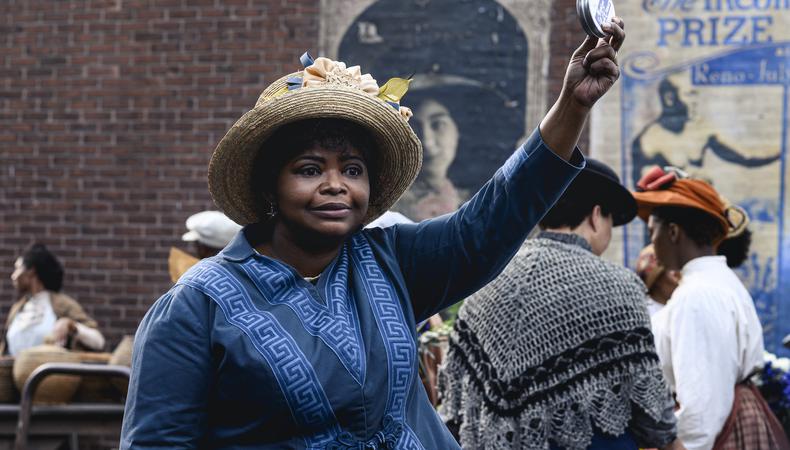 "Self Made: Inspired by the Life of Madam C.J. Walker" on Netflix is the product of a series of lucky breaks and a lot of hard work. Although the project came with Octavia Spencer attached as an executive producer and star, that was the only main detail in place when co-showrunner Elle Johnson signed on to bring the series to fruition with Janine Sherman Barrois. Both women were already working on other shows, so they'd spend their after-work hours plotting the four-episode miniseries they were adapting from the book of the life of America's first female self-made millionaire. Johnson then followed the production to set in Toronto to oversee the headaches and triumphs of a scrappy period shoot with a notable ensemble. After years on network police procedurals and an executive producer role on Amazon's "Bosch," Johnson was ready to take the top spot on a TV series, and she says years spent in the writers' room is the only way to know how to be in charge of it all.
How did you get attached to this show?
I was asked to co-showrun with Janine Sherman Barrois. I was already on "Bosch" as an executive producer, and Janine was also running a show called "Claws." In order for her to do "Madam C.J.," she needed somebody who could share the showrunning responsibilities with her. That's what I was brought on to do. I was thrilled to be brought on to this particular project. The idea that I would get to work on something that I could be that passionate about was thrilling to me. Equally as thrilling was the idea that I would get to write for Octavia Spencer, who was attached as an executive producer and was going to play Madam C.J. I just was thrilled by the idea of getting to write a character as complex as Madam C.J. for an Academy Award winner like Octavia Spencer.
3 showrunners share what it takes to run a show in today's TV landscape.
How did your collaboration with Janine work? What did showrunning look like when you signed on?
I was brought on right before they wanted to start a room. Janine was working on "Claws" and I was still on "Bosch." We had what we called the secret room, which would meet at 5:00 p.m. after both of us were done with our day job. We would meet with Nicole Jefferson Asher, who is a fantastic screenwriter. She had never worked in television, which was why Janine and I were brought on to shepherd the project through the television process. The three of us would meet from like 5:00 p.m. until 10:00 or 11:00 at night and just hash out what the character arcs were, what the stories that we wanted to tell were, how to take this epic life from 500-page book, and condense it down into themes that would work within four episodes. We did that for about three months before we actually started our official room.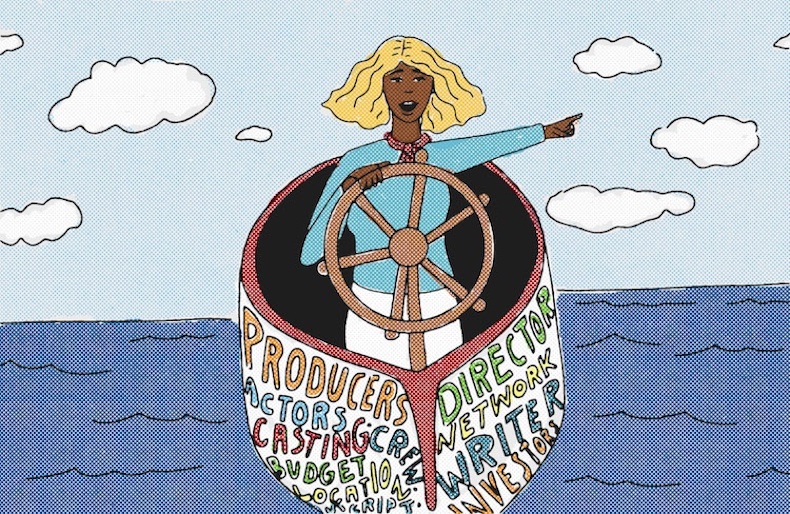 How to Become a Showrunner
What is an example of a day in the life while the show was in production?
I went to Toronto during filming and stayed there over the course of the summer. It was a really hard shoot and part of the reason it was hard was because it's a period piece about beauty. We had over 250 wigs in the show. As you can imagine, the time it takes to get people ready to get to set—we were trying to be really authentic and we had many discussions in trying to be realistic with the protocols of the time we had to take into consideration. Everything took much longer in terms of costuming because we had to take into account that we were dressing everyone for period. We shot 14 hour days. All the period stuff that we had to wrangle on a daily basis that that made the days kind of unpredictable.
What changes when you're in charge of a period piece instead of a story set in present-day?
There were so many details that we had to account for that were time consuming. In a street scene, having to cover the street with dirt so that you don't see a paved road, moving the period cars into place, which don't always start. There were so many things that we couldn't count on. We had to be strategic in the budget about when we could use big set pieces that weren't being used repeatedly. Those had to be for moments that would really showcase what she was saying. That's where we're going to put our money in terms of cars, location, background artists, wigs, and costumes. We used those for pivotal moments that were important to the arc of that character.
What actors need to understand about showrunners.
How did you get your start in television and how did that lead to you becoming a showrunner?
I started as a script coordinator and it was through that that I met a bunch of writers like Eric Overmeyer, who became a mentor to me. When the show that I was on went down, Eric went onto a show called "Homicide" and he offered me a freelance episode of "Homicide," which was an amazing show, right in my wheelhouse because my dad was a parole officer and I had an uncle who was a homicide detective, so I was really interested in cop shows. From there things just kind of took off. I moved out to Los Angeles and started working on shows as a staff writer, but it really came from Eric having worked with me as a script coordinator and giving me a chance. My trajectory really just came from coming up through the ranks and working with people who know my work and want to hire me again. It's great to work with people that you have a shorthand with. They know what you can do and like your work.
"Be a writer first. You want to learn the craft, to understand how to tell stories, to make sure that you can tell stories in the way that you want. Those skills are what I think young writers should be looking to; forget about being a showrunner. You will learn over time how to do that."
What are the differences between working on a network series and a streaming series?
On network shows you can do 26 episodes in a year, which is grueling and so hard. It's really tough to come up with 26 good episodes. Having said that, I love the TV formula and I love a well-crafted episode of network TV that can be satisfying in and of itself. You don't have to watch a whole season of it to get something from it. Streaming is so different. You don't have to write the commercial breaks. You write the scripts in a different way and look for your high and low moments in different places. It's all racing towards a binge-able moment at the end. It's great to have the freedom to write for a streaming service and take liberties that you can't really take when you are confined to a network format and have commercials and all these other kinds of markers that you have to hit. Sometimes having those boundaries really help as a craft person because you'd have to learn how to be creative within those rules. Sometimes episodes on streaming feel like they don't necessarily have that same thematic resonance. There's a trade-off.
What advice do you have for someone who wants to be a showrunner?
Be a writer first. You want to learn the craft, to understand how to tell stories, to make sure that you can tell stories in the way that you want. You have to learn how to get them down on the page in the way that you see in your head, but also in a way that translates to production. Forget about being a showrunner. You will learn over time how to do that. You are learning a craft; that has to be the thing that fuels you because all you really get is that one or two weeks when you're in your room by yourself getting it down on the page exactly the way you want it to be before you send it out into the world. Then you start getting studio notes, network notes, actor and producer notes, and you have to start changing things. If you focus on the craft, the other stuff will come, especially now because we're in a time where there are so many more opportunities and people are willing to take chances. They're not going to take a chance on you unless you're a good writer.
"People don't realize what a tremendous responsibility it is to run a show...it doesn't leave room for anything else. I never stopped thinking about the show. That's why it's important to be really passionate about what you're working on because it's too hard not to be."
What makes a great showrunner, in your opinion?
I think a great showrunner is somebody who has the vision for the show and really understands what it is they're trying to do so they can actually hear suggestions from other people instead of being dismissive. You've got to be able to hear and use your room and get everybody to be invested in the stories you're trying to tell. I think a good showrunner creates a room where people want to talk about their personal experiences, where they want to bring a part of themselves into the show. That's where the good writing happens, that's where the truth of these emotional stories comes from. People should feel like they want to bring their stories to it.
In your opinion, what makes great television?
Craft. It starts with an honest story that's well-crafted; you know that you can really take the audience on an experience that will leave them satisfied and think and see things in a way that they didn't see before. That's the point of people taking an hour or 10 hours to go on a journey with a character that they don't know and trust that the end is going to mean something.
What don't you think people know or realize about being a showrunner?
How all-encompassing being a showrunner is. You're responsible for everything. Every decision comes to you and not just production-wise, but in terms of the storytelling, you really have to think your decisions through down the line and the implications for them, not just for the story but for production, for what you're putting out in the world. I think people really don't realize what a tremendous responsibility it is to run a show and how it's wonderful because you're finally doing it, but it doesn't leave room for anything else. I never stopped thinking about the show. It's in your head all the time. That's why it's important to be really passionate about what you're working on because it's too hard not to be. It's your baby and you've got to treat it as such.