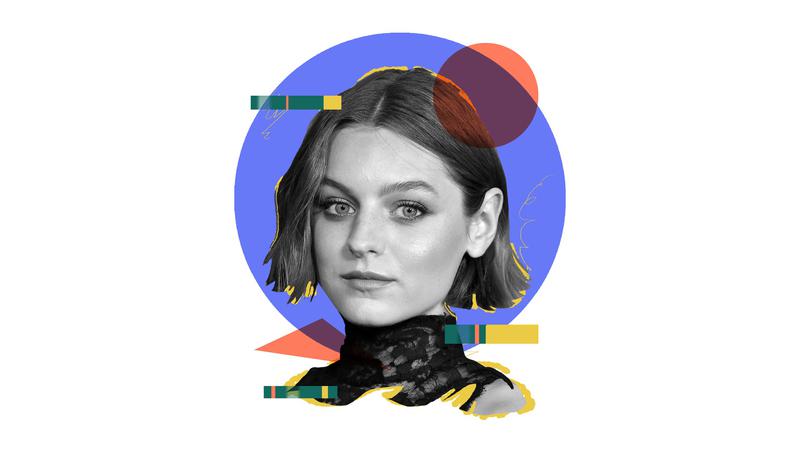 After graduating from Cambridge University, where she spent years balancing schoolwork and acting, Emma Corrin took a job as an audition reader for Netflix's "The Crown." She used the gig as an opportunity to unofficially audition for the role of Princess Diana—which she eventually landed, and for which she has now won a Golden Globe and is nominated for a 2021 Emmy Award.
You've acted since you were young in school plays, and then at university. Was there a moment for you when that passion changed to pursuing it as a career?
It was gradual. I was only ever interested in one thing, and then, when it got to when I was 15, 16, and we started having careers meetings, I was like, OK, well, this is the only thing I want to do, so I guess I have no choice. It didn't ever feel like a decision to do it; that was always what I was going to do. We used to have these days when we were 15 and 16 where we'd be given these careers questionnaires you'd have to fill out, and it would end up telling you which career you would get. I was so worried I wouldn't get actor that I'd really try to answer the questions to lean it toward that. I think I ended up getting something like: "You should work in entertainment or TV."
What advice would you give your younger self?
I enjoyed university so much, and the same with my first two jobs, but I was so strict with myself. I thought that becoming an actress professionally was going to be the hardest thing in my life. Now that I've left uni and started acting, finally, I can relax. I wish I could've told my younger self to actually enjoy stuff more. I wonder if it still would've happened if I hadn't sacrificed so much. But also, you don't get that time back.
What is your worst audition horror story?
So many people I know have such great stories, and I don't know if I have one! I know Josh [O'Connor, who plays Prince Charles on "The Crown,"] has so many. I think he once accidentally kissed a casting director on the top of the head because it was a miscommunication. I don't think I have one! It shows how much of a control freak I am.
"The biggest thing I remember learning [from playing Diana] is the power of not acting. It is so weird, the power that stillness has."
You've said you prepared to be a reader for Camilla Parker Bowles auditions as if you were auditioning for Diana Spencer. How do you typically prepare for an audition?
Research. I need to feel like I have a lot of foundation beneath the person I'm playing. If I have the whole script, I'll read the whole script. Then, if it's based on a book, I'll read the whole book. [I] learn the lines and get comfortable with it so I can play with it a bit and can try different things. I would normally build a story for myself—if I don't have the whole script—to try and give myself as much meat to get as much into it as possible. And then, remember to be flexible in the room. You tend to prepare so much and can get so bogged down in preparing stuff; and then in the room, when the director's like, "Can we do it this way?" you freak out. But I've always loved that. I've always loved letting go of what I'm doing and being like, "OK, cool. Let's try your thing." Remember to play with the possibilities.
What's the wildest thing you ever did to get a role?
[For] the second job I ever did, "Pennyworth," I got a chemistry read. And at the time, I was working part time at this tech company. My agent called me on my lunch break and was like, "You've got a chemistry read this afternoon. It's in two hours. You've got to go in full costume; you're playing a '60s dancer at a dodgy club… I'm going to go on the Topshop website and pick out dresses and put them on hold, and I need you to go to a department store in central London and tell them it's your birthday and you want to try out some '60s makeup looks for your party." So this girl just did my '60s makeup for me, and I went to Topshop and picked up these clothes my agent had put aside for me. I turned up to the audition and I got changed in a stairwell, and I felt like there must've been a film crew following me. It was so ridiculous.
What has playing Diana on "The Crown" added to your acting skills?
Working on a set of that caliber and at that high production value is so eye-opening. Also, everyone's so nice, so you really feel like you can learn a lot because everyone's so open. I made friends with all the crew, and I got to find out what they do and how it all fits together. In terms of acting, I learned so much. I played Diana in a huge, sweeping period of her life, from 16 to 28, and I was able to flex a lot of muscles in terms of playing her youthfulness and how she changed—grappling with motherhood and [the] pressures of the role. It was almost like playing an instrument; I had to tune it to get exactly what she was feeling. The biggest thing I remember learning is the power of not acting. I had one day where we were filming one of the episodes [directed by] Jessica Hobbs, who directed Episodes 9 and 10 [of Season 4]. It's a scene where Diana and Charles have a huge argument, where Charles is like, "I love Camilla." It was just a close-up of me, and we did a couple of takes, and Jess was like, "Emma, try doing nothing with your face." So I literally did nothing with my face, and she called cut, and she was like, "You want to come and look?" It is so weird, the power that stillness has. I think that's something that a lot of actors do so well. But also, specifically on "The Crown," that's what makes it so special. Claire Foy did that a lot—that power of stillness. You can weirdly tell exactly what the person's feeling; there's so much gravitas in that. It was an amazing thing to be taught. I've really held onto it.
I can imagine that skill would be hard to learn.
My friends tell me that, as Emma, they can read everything that's on my face. It's something I try really hard now, when I'm relaxing, to make sure that there is that subtlety; otherwise, I'm just moving my eyes a thousand times to express everything I want to express.
What performance should every actor see and why?
My favorite film I've watched in the past year is "Water Lilies" by Céline Sciamma. Onstage, one of the things that was foundational to everything is when I went to see Jez Butterworth's "Mojo" in the West End, in the theater I'm acting in now [in "Anna X"], which is wild. Then, when I was at university, me and my best friend Harry put it on as a group of actors who pitched it to the theater, and they let us put it on.
Tell us about your first day on a professional set.
The job was on "Grantchester," which is a program on ITV. I just felt like a sponge, soaking everything up. I remember being very quiet and watching how everything worked, because there were so many things to take in on a film set. I've got one of those minds where I want to know what every single person does and their role and why, and how that works.
Can you describe the feeling of being onstage, acting for an audience that is there with you, versus being on a set, acting for an audience that watches later?
It's so live. It sounds so stupid, but there are so many stakes when you're onstage in front of an audience. Every performance is different. Anything can go wrong at any time. It's so fascinating how the audience's energy also affects your energy. You have to be really adaptive as an actor. We just had a matinee, and matinee audiences are a bit less laughy, less excited. The play's really funny, and we have the audiences in stitches with it. And this afternoon, the audience didn't laugh. If you don't get that response, it doesn't mean they're not listening or they're not enjoying it. It's 2 p.m. on a really hot day in London. You have to really fight against it, and it felt like we were pushing against a wall. It's just so mad, and it can change instantly. Tonight, it might be completely different; people might be laughing completely through.
Was there any preparation you did to transition from your screen projects to a stage show?
A rehearsal room is a rehearsal room. It's so funny being in this theater. It reminds me so much of spending all my days at uni at the ADC, which was our theater that we used in Cambridge—even down to the smells and the color of the carpet. No matter what show, what company, it feels like you're a part of the same kind of family, which is wonderful.
This story originally appeared in the Aug. 5 issue of Backstage Magazine. Subscribe here.
Looking for remote work? Backstage has got you covered! Click here for auditions you can do from home!