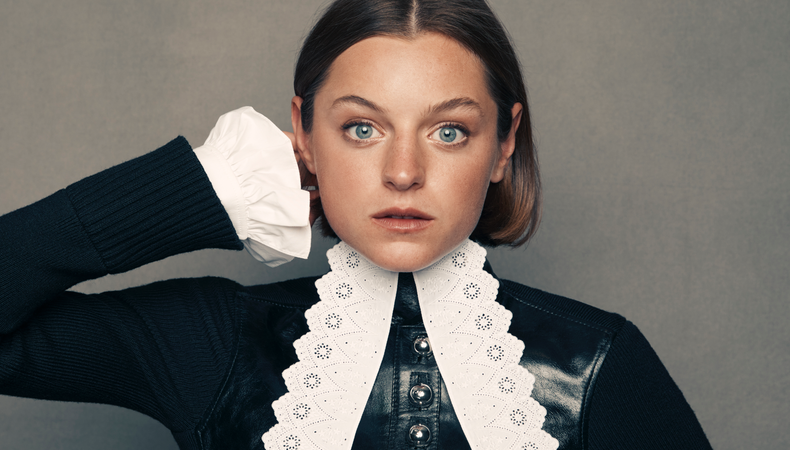 "In the Envelope: The Actor's Podcast" features in-depth conversations with today's most noteworthy actors and creators. Join host and Awards Editor Jack Smart for this guide on how to live the creative life from those who are doing it every day.
In Emma Corrin's first meeting with her agent, she was asked, "What's your dream role?" Her response: "A series like 'The Crown.' "
"We talked about how that might be a fit for me," the actor remembers. "But in a way that seemed very distant at the time and an unreachable goal." Now, as of this week in fact, Corrin is nominated at the 2021 Golden Globe and Screen Actors Guild Awards for her work on the British royal drama's fourth season. Cast by Netflix and creator Peter Morgan in the iconic—and, of course, daunting—role of the late Diana Spencer, Princess of Wales, Corrin has experienced the same kind of sudden scrutiny her real-life character experienced, and risen admirably to the challenge.
"I think that good acting is conviction and vulnerability," Corrin tells Backstage. "I know I'm seeing good acting when I feel completely and utterly convinced by someone's portrayal to the extent that I feel utterly vulnerable and exposed to their performance." Born in Kent, England, trained on stages all over the country including at the University of Cambridge, and appearing on the Epix drama "Pennyworth" and in last year's 20th Century Fox film "Misbehaviour," Corrin has been single-mindedly focused on upping her skills to that level of craftsmanship.
"I knew that I needed to have a very singular focus," she says. "I needed to have a drive in completely one direction. If I let myself contemplate doing anything else, I would maybe lose momentum."
Corrin takes "In the Envelope" listeners first through her arduous, years-in-the-making casting on "The Crown," then the intricacies of her approach to Spencer. When Morgan and other producers were shaping the new cast of Windsors for Season 3, Corrin served as a reader, playing Spencer opposite actors auditioning for Camilla Parker-Bowles (including eventual choice Emerald Fennell). "That whole process taught me a lot about seizing these little opportunities when you're starting out," she says. "If you're asked to read for something, if you're asked to help out, prepare! You might as well. You never know what's going to happen and the people you'll meet."
In this case, researching and prepping her portrayal of Spencer meant being asked to read and respond to notes on camera; then, when Season 4 was being cast, Corrin auditioned and met with Morgan, casting director Nina Gold, and directors including Benjamin Caron. At one point she was spontaneously asked to sing the "Phantom of the Opera" song that ended up on the series. "There's a balance you need to strike with auditions, and I have the tendency to over-prepare," she explains. But in discussions with Morgan, Corrin offered her objective observations about the character like any on-set collaborator would. "All I could go in there and do was share a bit of what I thought, and what I'd learned about her," she says. "It meant that everything was organic in the room."
What auditioning all comes down to, she adds, is the work. "If you show that you care about it, and you've thought about it, kind of completely separately from the role, then I think the people who are in the room would really respond to that."
In terms of playing Spencer, Corrin found the countless biographies and paparazzi materials less useful than hearing from the princess in her own words. "The most helpful thing was getting the scripts because then I was like, 'OK, this is kind of a blank slate. Peter's created the character, this is my character, I'm going to approach this how I would any other fictional character.' " That inside-out approach extended to costumes, makeup, and the all-important final ingredient, hair. "They are the last things, obviously, that you do. For me, they seal me up like if I'm putting on a onesie."
Corrin also reveals how self-taped auditions are the perfect opportunity to practice on-camera work, while also offering tips on execution. "The preparation has to come very much behind the scenes in the work you do on the script, what you've researched about the people who are on the production side of it." An audition for Luca Guadagnino and an audition for Taika Waititi, for example, constitute entirely different approaches. "And," she adds, "I was once told don't wear stripes."
Stay tuned after the interview for Christine McKenna-Tirella's reading recommendations, which include Backstage's many features on "The Crown." Her casting highlights of the week are a high-paying digital commercial, a series regular role on a major network pilot, and an e-commerce digital and social campaign seeking talent now.
Listen now on:
Looking for remote work? Backstage has got you covered! Click here for auditions you can do from home!