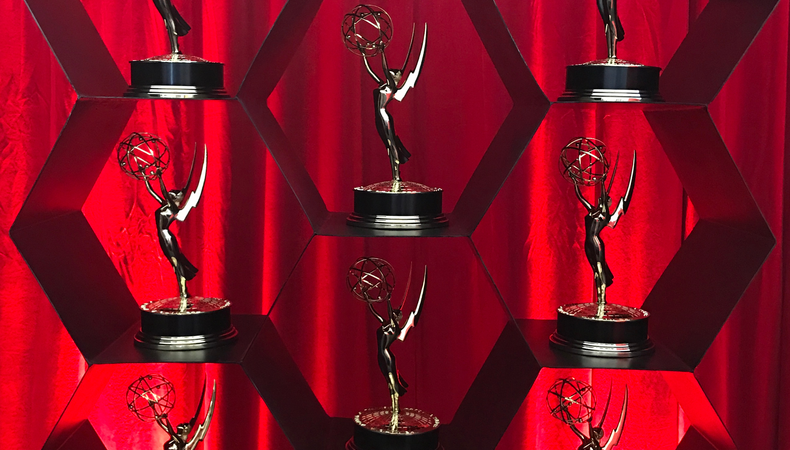 "In the Envelope: The Actor's Podcast" features intimate, in-depth conversations with today's most noteworthy film, television, and theater actors and creators. Full of both know-how and inspiration, "In the Envelope" airs weekly to cover everything from practical advice on navigating the industry, to how your favorite projects are made, to personal stories of success and failure alike. Join host and Awards Editor Jack Smart for this guide on how to live the creative life from those who are doing it every day.
This week's "In the Envelope" episode is extra special: Backstage is joining forces with awards prediction and news site Gold Derby to discuss the 2020 Primetime Emmy Awards!
Following the COVID-19-compliant, Jimmy Kimmel–hosted telecast Sept. 20, awards editor Jack Smart asks Chris Beachum and Tom O'Neil, both editors and experts, for their candid analysis of results, industry trends, and the ceremony itself. O'Neil is the author of books "Movie Awards," "The Grammys," and "The Emmys," and is Gold Derby's editor, founder, and president, creating the site in 2000 to give entertainment fanatics a platform to make their own award race predictions. Beachum is managing editor of Gold Derby, where he hosts interviews with contenders and advises studios and networks on award campaign strategy.
The three offer insights into the takeaways and telling trends of the 2020 Emmy Awards, from the "sophomore surprise" effect that gave HBO's "Succession" the top drama series prizes, to the voting format changes and Netflix distribution that led to the historic comedy sweep of Pop TV's "Schitt's Creek." They debate the existence of "category fraud," which Beachum asserts is merely a necessary part of awards analysts' strategy, and highlight "vote splitting" among nominees from the same project in one category—an effect that did not hinder impressive victories from limited series supporters Uzo Aduba of FX's "Mrs. America" and Yahya Abdul-Mateen II of HBO's Emmys champ "Watchmen." Plus, a look ahead at the content landscape of the near future: Is the line between film and TV blurring?
Smart, O'Neil, and Beachum conclude by weighing in on their favorite moment from the historically unusual ceremony, as well as the role awards shows play in the ecosystem of Hollywood. Winning an Emmy "could really help to put that show on the map and awards shows are supposed to do that sometimes—and they do," says O'Neil. Even if trophies must be presented to winners in hazmat suits, it seems award ceremonies are still essential to the fabric of the industry! Tune in for more in-depth analysis at any of the podcast listening platforms below.
Listen now on:
Looking for remote work? Backstage has got you covered! Click here for auditions you can do from home!