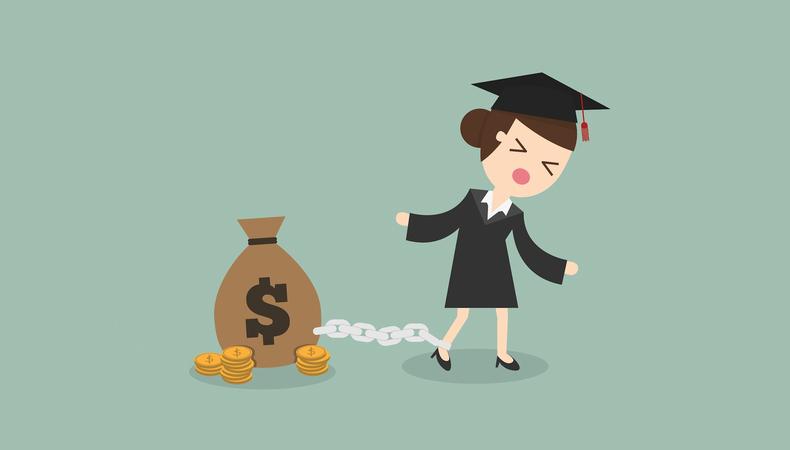 Student debt has become an essential talking point for United States politicians. That's because with Americans owing $1.5 trillion in student loan debt, many believe the country is in a newfound economic crisis. Actors' Equity, the nation's union for stage actors and stage managers, is offering a free workshop on student loans and budgeting for members Sept. 23.
Data from the National Center for Education Statistics indicates that tuition costs have dramatically increased year over year for decades. As degrees become more expensive and competitive, folks who want to train to be actors are saddled with debt before being sent into a harsh, gig-based industry.
"Universities and departments must recruit," wrote Harper Lee for the Educational Theatre Association. "The culture and hype around the college admissions process can be disorienting, especially when you add in the cloistered, high-stress experience of college auditions. Students and families often feel that it's a one-way street: If you gain acceptance to an elite place, you should take it."
Dan Pruksarnukul agrees. Once the casting director at Arena Stage in Washington, D.C., Pruksarnukul now works with high school actors at the prestigious New Orleans Center for Creative Arts. "Being on this end—as in, the end of trying to help counsel high school students into the field—I feel that the perspective is that you need to [go to a certain school] to be an actor," Pruksarnukul told Backstage. "It saddles an entire generation of artists with debt that they will never be able to pay back."
In Equity's 2016–2017 annual report, the union cited that out of 18,422 members who gigged that season, the median earnings for those actors were $7,730—totaling an all-time high. According to Pew Research, in 2016, the median borrower of student debt owed $17,000. Typically, elite acting programs leave students with a more massive debt bill.
In 2017, Harvard University's American Repertory Theater Institute program for graduate training halted admissions after the U.S. Department of Education criticized the school for being predatory. Students, the department stated, were paying back more debt than they could afford. The New York Times reported that actors graduating from the A.R.T. Institute entered the field with a median of $78,000 in debt. The program is still on hiatus.
Responding to increasing pressure about the ethics of student debt for actors, in 2018, Brown University announced that its graduate students in acting and directing would be fully funded. "You cannot take risks and choose your own path when hampered by debt, and I am hopeful that we will see riskier and more innovative work as a result of this change," said Patricia Ybarra, chair of Brown's theater arts and performance studies department. This summer, Ybarra led a session called "The Theatrical History of Debt" at Brown.
Ben Graney and Stephen Stocking will lead the two-hour workshop for Equity; both have MFAs in acting from New York University. NYU's Tisch School of the Arts can cost up to $35,665 per semester for a graduate degree. The acting program is three consecutive years with two semesters per year.
While the workshop will happen live in New York City from 6:30–8:30 p.m. ET, it will be streamed to Equity offices in Chicago and Los Angeles. Members around the country can also stream the workshop using the webinar software Zoom.
To register, union members can click here.