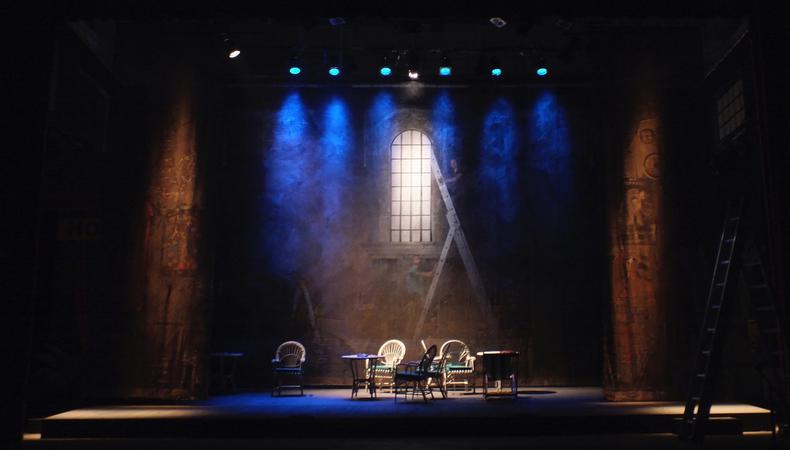 Actors' Equity has approved the opening of two theaters since stages across the nation shut down in mid-March to quell the spread of the coronavirus, COVID-19: Barrington Stage Company and Berkshire Theatre Group, both in Western Massachusetts.
Since theaters went dark, the union for stage actors and managers has been strict with its expectations for theaters. With a potentially deadly virus circulating uncontrolled in the country, stage actors have unique workplace hazards because of their close quarters, proximity to strangers, and projecting or singing—a common way for the virus to spread via respiratory droplets. For months, the only offerings from professional theaters in the United States were archival recordings of past productions and experimental online events.
"We have just one chance to get it right when it comes to reopening," said Equity's Executive Director Mary McColl in a late May press conference with Dr. David Michaels, an Obama-era epidemiologist who has overseen the union's COVID-19 health standards. During that press conference, Michaels emphasized that theaters would need to develop specific infrastructures like testing, reliable data, and venue modifications to hire actors safely.
Barrington Stage Company was the first professional theater in the nation to announce radical modifications to their theater to make summer productions possible, including removing seats from the house and reducing capacity from 500 to 163. Barrington has been given union approval to produce a one-person show, "Harry Clarke," with only one costume and no backstage crew. Berkshire Theatre Group will present the musical "Godspell" outdoors with a cast of 10. Both productions will hire union stage managers.
"These two productions have plans that meet our four core principles for safer theater," said McColl in a statement announcing the news. "Every production is different and will be evaluated on a case by case basis focusing on the safety of our members." Equity members will be tested for COVID-19, and audiences can expect temperature checks, hand sanitizer, and mandatory masks.
Not all employers hoping to reopen have received approval from the union. Recently, Equity rejected Disney's reopening plans for Disney World in Florida over concerns about a lack of testing and rising infection rates in the state whose governor, Ron DeSantis, has taken a passive approach to virus prevention measures.
"For weeks, we have made it clear to Disney that testing is a fundamental part of maintaining a safe and healthy environment for everyone, from the guests to the cast," said McColl in late June. "It is deeply disturbing that while coronavirus cases in Florida surge, Disney is refusing to provide regular testing to one of the few groups of workers in the park who by the very nature of their jobs, cannot use personal protective equipment."
Since shutdowns were mandated by municipal governments and labor rights organizations, Equity's membership of roughly 51,000 has been 100% unemployed; there are 14 Equity members with union approval to return to the stage. In response to the economic blow actors are experiencing nationwide, the union has granted leniency on membership dues payments.
In a paradoxical predicament, the union has more to do with fewer funds. Recently, union staff members became unemployed, too, with budget cuts necessitating the furlough of employees. "These staff cuts are painful, and we will need to rework everything we do," said McColl, describing the straits the union is experiencing. "But member services will be first and foremost in that rethinking."
Some nonunion theaters have reopened in recent weeks with drive-in performances, masked actors, and outdoor presentations. However, when it comes to workplace safety in nonunionized productions, like the nation's approach to preventing the spread of COVID-19 at-large, it's unpredictable. Equity has unveiled a centralized web page with a campaign to call out theaters who are producing shows without meeting the union's guidelines. Three of the four theaters reopening without Equity's approval are dinner theaters.
Looking for remote work? Backstage has got you covered! Click here for auditions you can do from home!