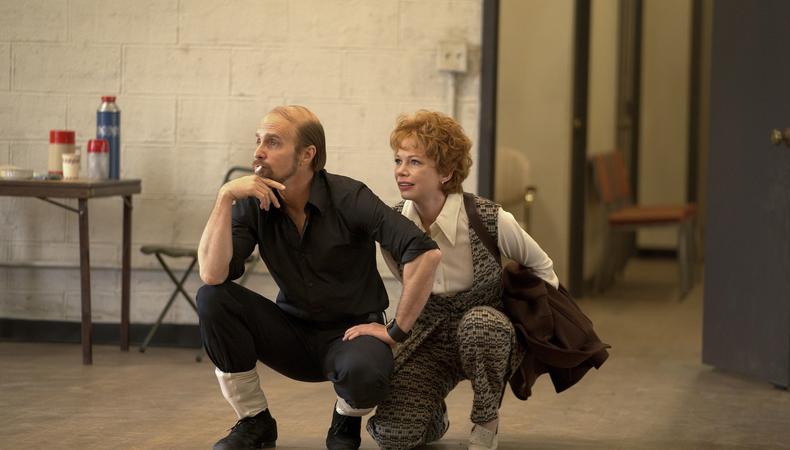 There's the age of Peak TV—and then there's a cable drama that devotes an entire hourlong episode to the development of the 1972 musical "Pippin."
Depicting the volatile working and romantic relationships between song-and-dance legends Bob Fosse (Sam Rockwell) and Gwen Verdon (Michelle Williams), FX's "Fosse/Verdon" was seemingly plucked from the sequined dreams of the drama-obsessed. However, if it's not as sparklingly antiseptic as television and film's typical displays of theater-making, rest assured: That's by design.
"We wanted this to feel real, because so many TV and movie portrayals of theater are just not real," says Steven Levenson, the miniseries' writer and executive producer, who won a Tony Award for writing the book of "Dear Evan Hansen." "Bob and Gwen's daughter found a letter from her mother to her father that mentioned the size of the cockroaches in the rehearsal room. These places are not always clean or ventilated; it's sweaty. We wanted to capture how hard it is to dance and sing like that and not smooth it over the way you can so easily do on film. It should look as gritty as it feels."
In addition to looking like theater, audiences will also notice this show sounds like theater—and not just in the songs. "A decision we made early on was not to explain theater terms as we use them, and to imagine it almost like a medical series," Levenson says. "They say all this medical stuff that you as an audience member don't understand, but it doesn't really matter. It's just the texture of these people's lives."
The series will also sound authentically like theater because it's brimming with actors who speak it fluently. "It's almost like we're looking for the same thing, but in different languages," Levenson says about casting actors for theater versus on-camera projects. Academy Award winner Rockwell and four-time nominee Williams were no-brainers, but when it came to fleshing out the series' real-life theatrical legends—including Liza Minnelli and Joel Grey—Levenson and the team looked within.
This story originally appeared in the May 9 issue of Backstage Magazine. Subscribe here!
"The fun part was getting to populate this world with people we adore from New York theater," he gushes of the series' stage actors, including Ethan Slater, Kelli Barrett, and Norbert Leo Butz. "We wanted authenticity and we wanted, as much as possible, for it to have the feeling of New York theater. We wanted people who knew what it was like to be in a rehearsal room and weren't just guessing or putting it on."
While much of the onscreen talent is Broadway-born, so, too, are those behind the scenes. In addition to Levenson, "Hamilton" creatives Andy Blankenbuehler, Tommy Kail, and Lin-Manuel Miranda joined the series as choreographer, director, and executive producer, respectively.
READ: 1 FX Showrunner on How to Get Cast in His Audition Room
And though realism was an utmost priority, the "Fosse/Verdon" team also embraced some narrative liberty for storytelling's sake. "Life is not as dramatic as an hour of television—it takes years to put together a musical, but you really just want to see the last three months of the process," Levenson says. "One thing that guided us was the principle of finding the truth in the story, even if it wasn't necessarily the facts of the story. Sometimes a list of facts feels less true than a fiction that somehow nails the emotional truth."
And in that search for truth—whether onstage or onscreen—Levenson insists it all comes back to the actor. "On camera, it can be such a small gesture or something in the eyes that can give that kind of emotional weight, while onstage it obviously has to be bigger and play to the house," he says. "But in both TV and film as well as onstage, you want people who are able to tap into something authentic and real, who can bring an emotional availability to the material. That is what I'm looking for."
With wide-eyed awareness that musical television shows have a turbulent track record, Levenson ultimately hopes that the authenticity of "Fosse/Verdon" ensures that this series, more than anything, does right by the community from which it comes.
"Theater is our home, and we wanted this to be something that the theater community could look to and be proud of, and it not feel like something alien about their lives," he says. "That was so important to us: that the theater community had a feeling of ownership over this show and could feel like it is a celebration of what we all do."