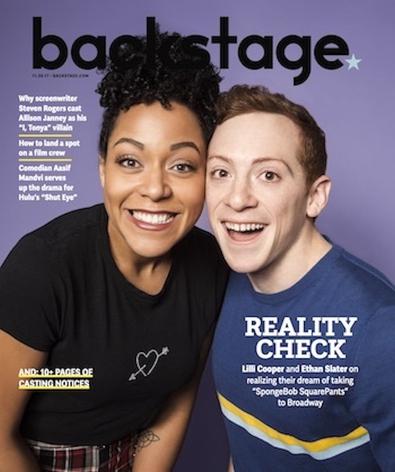 "Totally," Lilli Cooper insists, affirming the sentiment of Ethan Slater, her co-star in Broadway's new "SpongeBob SquarePants" musical. A moment later, Slater returns the favor, interjecting an emphatic "yes" when Cooper makes a statement he finds particularly striking.
To observe their wholehearted support and ease in communicating with one another is to see a snapshot of their friendship's depth, manifested.
The two attended Vassar College, where they performed together in a number of shows. Cooper also starred opposite Slater in his New York stage debut at the New York International Fringe Festival in 2012. Now, in what must register as the stuff their collegiate dreams were made of, they have teamed up to open a Broadway musical, bringing to life characters they grew up watching, in one of the season's most anticipated productions.
"We absolutely live in the moment [and acknowledge] how incredible this moment in our life is, and are really grateful and excited about it," Cooper says, speaking to the surreality of the duo's journey, prompting Slater to expound: "If I take a step back and look at the grander scheme of things, it's a little overwhelming."
On a damp Monday morning that marks the start of their second week of tech rehearsals, Cooper and Slater sit side by side, their backs against the window of an apartment on Manhattan's Upper East Side. They're as amiable and excited as any two actors would be on the cusp of debuting a tremendous Broadway show. Each speaks of their position—originating roles as millennial epochal characters, on New York's biggest stage—with an awareness of its gravity, as well as its inherent jubilance.
"There's a pressure to it, yes, but it's also amazing because it means something that's bringing us a whole lot of joy is also bringing joy to other people, and we're able to share that with them," says Slater, who is making his Broadway debut in the musical. "It really does feel like we're sharing it."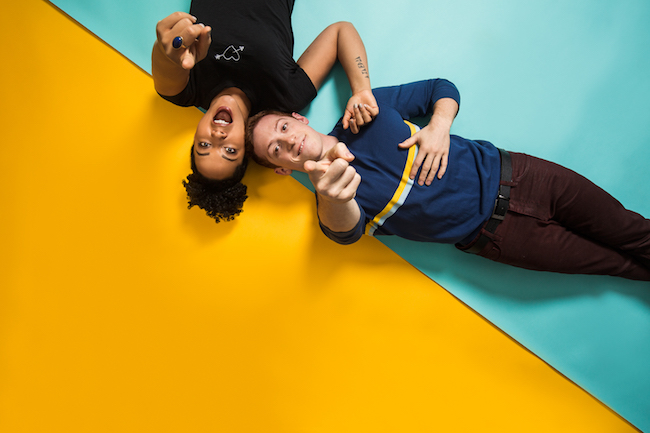 Shot on location at 340 East 64th Street Apt. 7D by Nick Gross of Triplemint in NYC
When "SpongeBob SquarePants" officially opens at the Palace Theatre on Dec. 4, there will be no outlandish costumes or prosthetics. Though of course adapted from the ubiquitous animated Nickelodeon series, audiences will see Slater as the pineapple-dwelling underwater sponge and Cooper as karate-chopping scientist-squirrel Sandy Cheeks developed and humanized in a manner entirely distinct from their cartoon counterparts.
"A lot of people ask what it's like recreating this iconic character, but when you're onstage, it feels more organic, like you're creating this from scratch," Cooper explains. "When you really think about the scope of what we're doing, it absolutely is scary because we want to represent the artists who voiced the characters originally, while also bringing something new to it. But actually executing it is not as scary."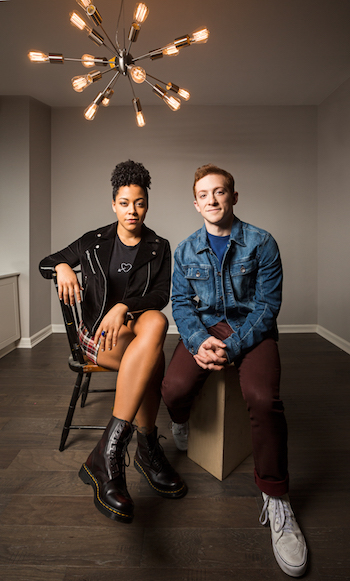 Accessing the work in that way, Slater confirms, has been paramount in subverting its implicit intimidation. "We approached the show the way you would approach any play—that's important," he says. "We have not approached it like the characters already exist. It's less like doing a revival [and] more like doing a new play based on the Greek gods. We all know Hercules, we all know these characters, and they mean a lot to the world. They're hegemonic; things are based on them."
Pivotal in differentiating these roles from their two-dimensional precedent has been that uncompromised devotion to full-fledged characterization, spearheaded by director Tina Landau. "Each character has dreams and motives and challenges," Cooper explains. "There were moments where I'd gone to Tina and I'd asked her legit character questions, like, 'Why would Sandy do this?' and 'Where is Sandy coming from in this moment?' These are genuine things that we have to explore and discover in order to express the full arc of each character."
Physically different though they are, the characters in "SpongeBob" the musical must still be recognizable as the same characters from "SpongeBob" the series, a challenge that hinges largely on executing their unmistakable speaking voices. "SpongeBob's voice is really pingy and forward and nasally," Slater says. "The problem is, if you live in the extreme of that for more than 10 minutes, it can be a little grating and it can be hard on your voice. Also, it gets in the way of the acting, to be forcing your voice into this place."
Slater tells of an epiphanous instance early in rehearsals in which Landau explained that his overzealous voice acting was impeding the heart of the show. Incited, Cooper discloses her own exploration to find Sandy's voice, literally and figuratively. "I brought my own interpretation of Sandy to the room, but there were days when Tina said, 'Let's pump up your Texan accent,' or, 'Let's make you a little more squirrel-sounding,' " she says. "It's very specific changes that we create throughout the rehearsal process. Even still, I am discovering who Sandy is."
Ultimately, their character development has been in service to the broader, collaborative balance of the piece's cohesion. "All of us want to be in the same play," Cooper continues. "I watch the [television] show a lot, but Sandy isn't in every episode. No matter what character I'm watching on the show, it's helpful to me because they're all in the same world, they're all in the same 'play.' It's finding a balance with your fellow actors, and that is a journey."
"Worth noting: From Day 1, Lilli has been awesome at finding that balance," Slater is lightning-quick to add. "I always feel like, 'Ethan, get in her play,' " he says, before pivoting back to her point. "Our main goal is to preserve the DNA of the show while bringing something new to it and bringing a heart and a grounded center and emotional relatability."
The two acknowledge that "grounded relatability" isn't necessarily a knee-jerk response to the subaquatic antics the television show is known for, and for that reason, they insist audiences will be surprised by this musical's insidious smartness, and likely caught off-guard by the viscerality of their reactions.
Thinking back to the show's out-of-town tryout in Chicago last summer (in which both Cooper and Slater participated), Slater remarks, "The number of [people] who came up to me after shows and said, 'I wasn't expecting it but I was crying at the end,' was astonishing. We have a really special story here that's not what you would expect—it's more than you expect."
"We start out laughing together and then there are moments where we hold each other and cry together," furthers Cooper. "It's an emotional journey and it's therapeutic and cathartic. It's a very powerful thing to experience."
As the two prepare to hop in a car that will usher them 30 blocks south to rehearsal, they take note of the sunshine that's managed to peek through the dense gloom.
"The sun just super came out!" Slater declares, evoking a gleefulness befitting SpongeBob himself. Cooper picks up his cue and, without missing a beat, borrows a line from the show: "I think this may be the best day ever."
Inspired? Check out Backstage's theater audition listings!
On Cooper: jacket, T-shirt, and skirt by Rag & Bone, shoes by Dr. Martens. On Slater: jacket and pants by William Rast, sweater by David Hart, shoes by Vans.