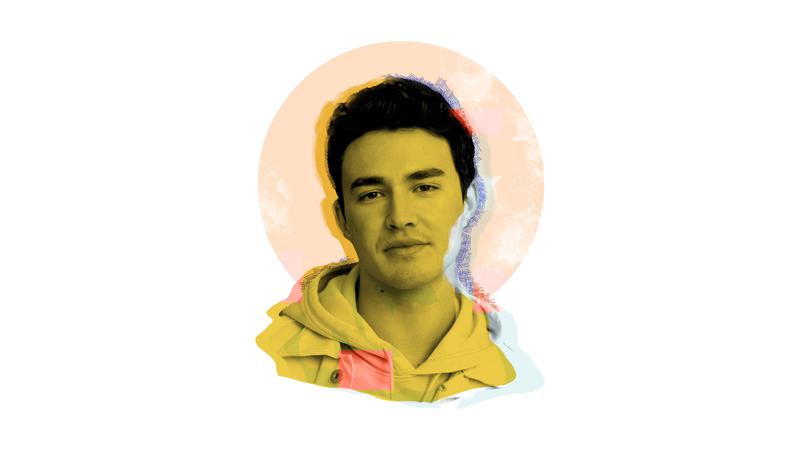 If you're a young actor who wants to be put on the map, you should already know the names Lyndsey Baldasare and David Rapaport. The casting directors behind the CW's various DC Universe series and "Riverdale" consistently spot the hottest Hollywood up-and-comers—and their "Chilling Adventures of Sabrina" breakout Gavin Leatherwood is just one. The 25-year-old actor recently sat with Backstage to discuss his audition for Netflix and the power of social media.
READ: What Every Actor Can Learn From Kiernan Shipka's Instagram
You have 3 million followers on Instagram. What are some practices you adhere to when posting on social media?
It's something that I didn't really expect or know what to do with at first. I feel like there was a lot of trial and error. Initially, I wanted to do "thoughts of the day," which are little blurbs about being your best self and all that stuff, but eventually, it kind of felt like it was creeping more into personal life, responsibility stuff, which, I don't know, it kind of got to be challenging. I feel like there was a lot of trial and error. The saving grace with me and social media and blending the two worlds of being an actor and having a following was realizing that it's a beautiful platform for marketing and advertising—to attach something personal that in some positive sense felt more beneficial to people than going in-depth or spreading [negativity] and complaining. It just felt better to promote what's going on, show bits of personal life, and attach a personal message to it.
When did you first realize people were paying attention to what you were doing online?
You know, it grows as a number, but you don't really realize, "Holy shit, there's a lot of people." To see that blow up was a really wild thing. But when you do the in-person sort of stuff like conventions or whatnot and you see a large amount of people rallying a show, that's the mind-blowing aspect of it all, seeing it firsthand. It still constantly blows my mind.
Has social media ever been a useful tool in your acting career?
As far as that advertising stuff goes, yeah, absolutely. I mean, creative things have popped up from it. I did a spot for Degree; the creatives of that [project] told me, "We saw a video of you being a goofball playing 'Blackbird' on your guitar and just belting it out," and they loved that goofy nature. I don't really keep track of, like, what's happening with it. I just want to create the thing and then share it. But if people are seeing that and then wanting to further capitalize on that part of it or just show that side of my personality, I think it's great that it kind of opens up other people's eyes that there's more to a person than just their character. It's an odd thing, like, before social media, people would get so wrapped up in people's characters and think that they were those people and attribute every sort of personality trait to that person that that character has. But social media has opened the door to showing all these other aspects of a person and a personality beyond just a character.
How did you first get your SAG-AFTRA card?
You know what? This. "Sabrina." I got my SAG card from doing this. I remember going to the building. I took a picture. It was a sunny day and there were, like, weird synchronistic signs that popped up. Like, the guy who helped me get the card was of a Native American tribe and his name meant Hawk, and mine means Whitehawk. So we bonded over that. It was a weird, trippy experience. I was like, "The signs! I'm exactly where I'm supposed to be!"
What was your audition for "Sabrina" like?
I feel like I had just been hitting audition after audition for a while, just doing the rounds and picking up my phone every day and harassing my manager and being like, "Send me out on everything and anything that I'm right for!" And it was just one of those , but I remember it feeling different than the other ones. I connected really strongly with the material. I was like, "I know this character for some reason." We had the first initial audition for David Rapaport, and in the notes he included, "Nick Scratch is the most confident guy in the room." So I tried to walk in with that sort of in mind. Head held high, make eye contact, the whole thing.
Then I had a callback for it, and I felt like they both went well, and then it was crickets for a week. I had just gone to a nonunion Walmart commercial, which I didn't book, I'm so sad to say. But I'd gone in and auditioned and then came out and sat in my car and it was the worst, weirdest audition I had ever had. And then my manager called me and I was like, "I'm not even an actor! What the hell was that in that room?" And he was like, "Hey, I have your agent on the phone. Is your passport current? Because you're going to Canada." So I cried and called my mom. We both got teary-eyed over it, and it's been a roller coaster ever since.
Well, we do want to hear about that audition horror story. Do you have one worse than Walmart?
It was probably that. Commercial auditions are always kind of odd, I feel. The nature of them just always feels so unnatural to some degree. At least with a scene, you're able to go back and forth using the dialogue as a vehicle for certain things, but commercial auditions in general—you're a sandwich delivery man: Deliver these sandwiches, but deliver them like you love everything about your job! You can only give people their sandwiches in so many joyous ways. I don't know if there have been any horror stories. I definitely have dropped lines in an audition out of sheer nerves, where I've drilled and gone through it several times and then got in the room and just blanked. Having to look at the page, it's an awful feeling to break eye contact when you're keeping an emotion flowing. Sometimes the prep almost ruins it in those moments, too, because you're so regimented and you have to be free.
How do you typically prepare for an audition?
Study the crap out of the lines so that that doesn't happen, for example. I try to just know as much as I can about who the character is; having that in mind, building on top of that, and then sort of allowing that to go, knowing that it's in you and understanding what's happening between the lines and between their lines and your lines. I find that more often than not, in the other people's lines, you learn more about your character than you do through your character's lines. So, studying what they're saying to you. We're all mirrors in some regard, right? If there are things that you do that upset me, then I will display some level of upset-ness at you or tension or frustration toward you. There are clues in that regard.
What is one screen performance that every actor should see, and why?
I'm so big on Joaquin Phoenix. I think he's the best actor of our generation. A lot of people have said it before, but I think that he is such an amazing study. And then if you go back a little bit, Robert De Niro in "Taxi Driver" and "Raging Bull" is such an incredible study. That's where my mind has always gone, because I look at these leading men and Robert De Niro's wonderful portrayal of masculinity back in those films, and then Joaquin Phoenix has a bit more of this eccentric, enigmatic performance that's equally riveting and magnetic. There's just this thing that they have in their eyes; it's hard to pull away from them.
What is one piece of advice that you would give your younger self?
Just be patient. I feel like I'm still learning that, too. It's a tough thing, because I was one of those kids who at a very early age would sit and think: How do I do this thing? [Acting] had been a lifelong dream since I was a kid in theater, where I was like, "I really wanna be an actor!" And I still am, you know what I mean? It's sort of this insatiable thing. There's no end to it. There's always this next performance or this next character that you want to be playing, and I feel like if you get too far ahead of yourself, it's only detrimental to your progress. So just sink in, relax, look at where you are, look at how far you've come, and continue learning and growing and progressing in all those ways.
This story originally appeared in the April 2 issue of Backstage Magazine. Subscribe here.