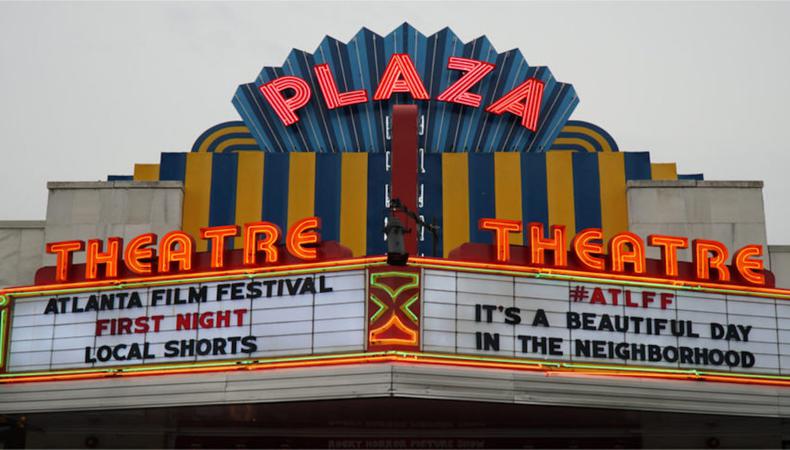 Atlanta has long been a popular filming location and the tax incentives in recent years have added to the appeal, making it an ideal spot for filmmakers to gather. So it is no surprise that the Academy Award qualifying Atlanta Film Festival (ATLFF) both educates and empowers filmmakers.
In addition to film screenings, the festival offers a variety of programming including panels, talks, and demos on topics like screenwriting, acting, producing, casting, funding, and distribution. Cameron McAllister, associate director of ATLFF, chatted with Backstage about festival offerings and shares tips for actors and filmmakers on how to get the most out of their festival experience.
Tell us a little about the Atlanta Film Festival.
The Atlanta Film Festival is a 44-year-old Academy Award–qualifying festival held every spring in Atlanta, Georgia. It is run by the Atlanta Film Society which, in addition to ATLFF, hosts film education opportunities, screenings, parties, and other film-related events year-round.
Why did you feel it was important to have the festival in Atlanta?
Atlanta has always been an independent, head-strong, culturally rich city. I think film was always destined to have a home here because the city is full of storytellers, creators, and imaginative individuals. In the 1970s, Georgia's film career took off with the success of "Deliverance" and the rise of Burt Reynolds. Then-governor Jimmy Carter opened the Georgia Film Office in the 1970s and the first heyday of Georgia film began. I think the festival and the organization (then known as IMAGE, now known as Atlanta Film Society) has been a constant through the ups and downs of our local film economy. We are seeing new heights now, and it reflects in ATLFF's programming each year.
What should actors know about the festival to get the most out of it?
We have a lot of opportunities for actors, both in terms of panels, masterclasses, workshops, film screenings, parties, etc. Don't be overzealous… filmmakers—especially the famous ones—get swarmed by actors all the time. Instead, choose your timing and make a cool, casual first impression. Make genuine connections with people—filmmakers, other actors, industry professionals. Connections are so much more valuable than business cards or headshots.
What other advice would you give someone who is just starting out in the industry?
Make connections, follow through with opportunities, get all the on-set experience you can, but it is important to watch, listen, and learn rather than just make friends and connections. Pay attention and look out for opportunities. Express gratitude when people give you a chance. Say please and thank you (Southern hospitality goes a long way!) Walk fast, take notes if that helps you, set multiple alarms if you need that, and be early everywhere! On-time is late. Early is on time.
Also, go to free film networking events. You'll meet great people and learn about cool projects. Start small, don't neglect a nonpaying PA gig on a short film if you need the experience. Also, go to film festivals. Don't be shy—getting out there is the biggest step.
Why was the Atlanta Festival founded?
In 1976, a group of indie filmmakers and film lovers founded IMAGE (Independent Media Artists of Georgia, Etc.) to serve a need in the community for film education and appreciation. The next year, they launched the first annual Atlanta Independent Film & Video Festival to fill a hole left when the Atlanta International Film Festival dissolved a few years earlier. The AIFF ran from the mid-1960s to the early 1970s but fell apart. IMAGE saw that there was still an interest in the community and started the first incarnation of ATLFF.
What do you look for in submissions? What makes one stand out from another?
We look for individuality. We got over 7,600 works (roughly 6,600 films and 1,000 screenplays) submitted to us this year. So many submissions cover the same themes, stories, dialogue, visual styles, etc. When something shows us something we haven't seen before, we know it is special.
What's one thing you wish people knew that most people don't know about festivals like this?
Most people don't realize how much hard work, time, and money goes into a film festival. It is a labor of love from a lot of dedicated volunteers, staff, and community members, but because it is an event (albeit a monstrous 11-day event each year), people maybe just see it as a brief annual operation. In reality, we start working on the next year's film festival even before the upcoming festival! We are a 501(c)(3) nonprofit and it takes a lot of support from sponsors, patrons, members, and volunteers to keep our ship afloat and we are so grateful for the outpouring of support we receive. That said, we are always looking to grow, improve, and serve the filmmaking and film-loving community better and we always need more help to do so.
Why did you feel it was important to have a screenplay competition in addition to categories for completed films?
We think Atlanta is not just the next production hub (as it has become), but also the next creation hub. As I said earlier, this city is full of storytellers and creators. We want to enrich the screenwriting community here so that we can grow some organic Atlanta content-creators. By hosting a screenplay competition, which is far beyond our local borders, we are positioning our festival and city as a place that cultivates screenwriters.
Any major success stories to come out of the Atlanta Film Festival?
Absolutely! Spike Lee was at Clark Atlanta when he made a short film project for class and submitted it to the 1979 Atlanta Film Festival. After it won an award at ATLFF, it was then that Spike Lee decided he wanted to be a filmmaker. Ray McKinnon, well-known character actor and creator of "Rectify," won an Academy Award for his short film "The Accountant" after it qualified by winning the Narrative Short Jury Prize at the Atlanta Film Festival. James Ponsoldt, who has directed "The Spectacular Now," "End of the Tour," and "The Circle," won the first ATLFF Screenplay Competition back in 2008. Stella Meghie, who last year directed "Everything, Everything," won our Screenplay Competition back in 2013 with a script titled "Jean of the Joneses." It was eventually picked up and she directed the feature film and we played it at the 2016 film festival.
NEXT STEP: Hear from the Backstage Community about how to make the most of your time at a film festival!