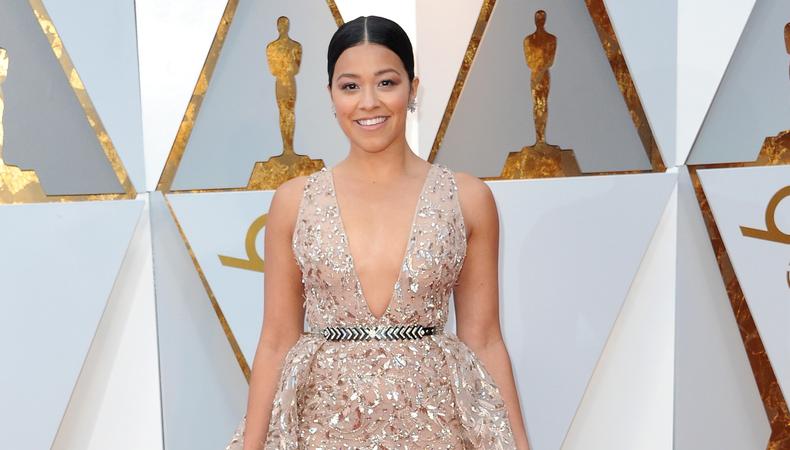 Actor, director, producer, activist, and Golden Globe-winning "Jane the Virgin" star Gina Rodriguez has been breaking barriers in Hollywood—and shows no signs of stopping. Not only does her leading role as Jane in The CW's telenovela-inspired dramedy make her one of the few Latina women headlining a TV series, but she's also worked on an animated "Carmen Sandiego," confirmed a Netflix deal to adapt a live-action film as well, and starred as a queer paramedic in Paramount Pictures' sci-fi horror film "Annihilation." She sat down for an unforgettable interview with Backstage's "In the Envelope" podcast to talk about the industry's newfound interest in diverse representation and how to empower yourself and navigate it.
"It is a very difficult thing to do in the early stages of your career, to be aware of your power and to be kind with it," says Rodriguez, "but at the same time understand that you do have a say in this journey." She points out that working actors looking for power over their careers do not need to accept every role. "What's good for one person is good for them and maybe not good for the rest of us, and so we have to choose our journeys and do it with integrity." When deciding whether or not a role is right, she has to think about how committed she is. "Don't see every opportunity as your last, and have a sense of self-worth. My self-worth—what I am capable of doing when I am committed—is next level. When I'm not, I shouldn't give myself to you."
Of course, that process can entail waiting for a dream role that is worth your highest level of commitment. "I didn't get Jane until I was 29," recalls Rodriguez. "Talk about patience!"
She reminds listeners, too, that with Hollywood's increased awareness about including diverse faces and voices in the industry comes more roles, so artists should support each other. "Especially in the way the current climate of our culture is progressing, individuality is finally being recognized, uplifted, and admired.... There's a lot of room for all of us, so help the people around you and you too will get help. Because the people you see on your way up are the same people you'll see on your way down! So be nice."
Lastly, she encourages artists to be unapologetic for who they are. "We are given this idea of what the industry is and how we have to change in order to fit inside of it. That is a myth. That is 100 percent myth and I want to just debunk that right now. You do not have to change the phenomenal being that makes you shine and glow and grow, to fit into something else that is actually just dying to have that. The industry really wants authentic, beautiful, artistic voices. As much as it seems like it doesn't, it does."
To hear more fantastic life and career advice from Rodriguez, listen to her interview here.