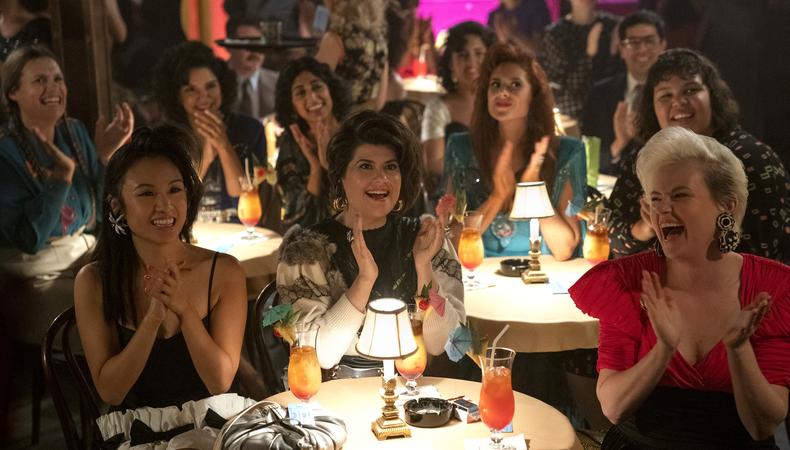 With this Year in Review, we at Backstage have picked through the weeds and found 2019's true gems of the best big- and small-screen ensemble work. And don't worry: We've got you covered with everything else you need to know this awards season right here.
Distributed by: Netflix
Created by: Liz Flahive, Carly Mensch
Casting by: Elizabeth Barnes, Jennifer Euston
Cast: Shakira Barrera, Alison Brie, Kimmy Gatewood, Betty Gilpin, Rebekka Johnson, Chris Lowell, Sunita Mani, Marc Maron, Kate Nash, Sydelle Noel, Marianna Palka, Gayle Rankin, Kia Stevens, Jackie Tohn, Ellen Wong, Britney Young
A group of leotard-clad women play-acting inside a wrestling ring isn't exactly a conventional setup for an inspired feminist series, but it's exactly that unexpected juxtaposition that continues to make Liz Flahive and Carly Mensch's "GLOW" such a treat three seasons in. Inspired by the Gorgeous Ladies of Wrestling circuit of the 1980s (yes, this was a real thing), the Netflix comedy features a diverse ensemble of strong, kickass women as they navigate the camp of performative wrestling and the truths, flaws, and camaraderie behind it.
READ: For 'GLOW' Star Betty Gilpin, It Pays to Stay Weird
Television stalwarts Alison Brie and Betty Gilpin take top billing as former best friends-turned-enemies-turned-kept at arms'-length co-stars-turned-maybe friends again Ruth Wilder and Debbie Eagan, respectively. But to forget the rest of the SAG Award–nominated ensemble would be flagrant misconduct (wrestling terminology!). Unlike their wrestling characters—often purposefully cheap stereotypes and caricatures—the women who share the ring with Brie and Gilpin make up one of the most fun casts of the year.
Season 3 finds the group in Las Vegas, headlining a nightly show at the Fan-Tan Hotel & Casino (run by a truly glorious Geena Davis). It would have been easy to lean heavily on the glitz, schmaltz, and grit of '80s-era Vegas, but for a season set in an over-the-top period in the most over-the-top place in the world, it's remarkably restrained. The cast leans on the tackiness, sure, but it's the smallest exchanges that have the biggest impact.
While "GLOW" certainly isn't the first show to weave gender inequality, double standards, sexual identity, racism, class discrimination, and homophobia into its episodes, the smart writing allows the talented ensemble to make those themes feel fresh, relevant, and unique. It's obvious the actors take pride in telling these stories, even if they're doing it in metallic spandex and sky-high hair.
In a true testament to just how watchable and dynamic they are, much of Season 3 doesn't involve any wrestling at all. These characters have become vivid and magnetic enough that while you certainly enjoy their utterly ridiculous brawls, you're also fine watching them do just about anything. Like wait in line for a breakfast buffet. Or chase a toddler down a casino hallway. Or get a haircut. Or face the realities of aging. Or discuss a miscarriage. Or question what it means to be an LQBTQ+ woman of color. Or have a conversation about the Holocaust, Cambodian genocide, and shared trauma. In less talented hands, these plotlines would be just that: flat words on a page. But thanks to Brie, Gilpin, Sydelle Noel, Kate Nash, Britney Young, Gayle Rankin, Kia Stevens, Jackie Tohn, Kimmy Gatewood, Sunita Mani, Rebekka Johnson, Ellen Wong, Marianna Palka, and Shakira Barrera, they come to life in ways that are so multidimensional, you'll raise your standards for authentic stories showcasing complicated women. And Marc Maron, Chris Lowell, Kevin Cahoon, and a handful of other men add their own dramas to the proceedings without ever stealing focus from these gorgeous ladies of wrestling.
What started as the tale of two estranged friends signing on for a budget women's wrestling show directed by a flailing B-movie director quickly became a showcase for a truly great TV ensemble. The fourth (and, unfortunately, final) season can't come soon enough.
This story originally appeared in the Nov. 13 issue of Backstage Magazine. Subscribe here.
Want more? Stay in the loop with everything you need to know this awards season right here!