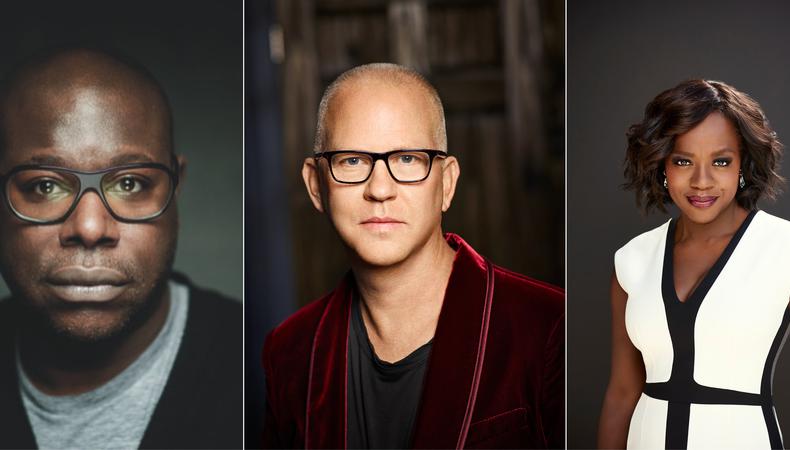 As the Gotham Independent Film Awards celebrate their 30th anniversary this week, the non-profit organization previously known as Independent Filmmaker Project (IFP) has announced a rebranding to create a more cohesive vision for their future: The Gotham Film & Media Institute.
Continuing its focus on providing resources to burgeoning independent filmmakers finding their voice, The Gotham aims to widen its lens of focus to accommodate an ever-changing media landscape, especially in the wake of COVID-19's disruption of the industry. Year-round educational programs continue, of course, along with The Gotham's annual awards ceremony honoring the best of independent filmmaking, this year taking place virtually Jan. 11. The show will pay tribute to Viola Davis, Steve McQueen, Ryan Murphy, and the late Chadwick Boseman with a posthumous Actor Tribute. As a kickoff to this year's awards season, the Gotham Awards will crown Best Feature among five 2021 nominees, all directed by women—a historic first.
Backstage spoke with Executive Director Jeffrey Sharp about the rebrand pegged to the Gotham Awards' 30-year anniversary, and how young filmmakers can get the most out of the resources the non-profit provides.
Tell us about the beginning of IFP and how its work has led to this rebranding to The Gotham Film & Media Institute.
IFP was always a community hub, a creative core to the industry here in New York. But also because New York was so much a part and center of the independent film ecosystem, it really played a central role in shaping the industry as a whole. That goes back to 1979, and it was really interesting in exploring the rebrand. There was a conversation about how we clarify who we are, what we do, and open up and provide accessibility to those who don't know who we are. Independent film still forms the core, in many ways the pinnacle, of what we do here as an organization. But the world has changed. It has opened up and it has diversified in ways that bring more complexity and more fluidity between those different media streams—a podcast can be used as a basis for a film or a TV show and vice versa.
What should aspiring filmmakers and industry folks know about the resources The Gotham provides?
The other program that we have established is called Gotham EDU. Those are our educational programs, and that's specifically for undergraduate and graduate students interested in film. We have an eight-week career development program where every week they have a different focus of interest, whether it be post-production or directing, writing, and at the end of the eight weeks, they create an independent project that they present to the group. It's a wide range of students from different backgrounds, but predominantly they've never written a screenplay or made a movie. They just discover their own voice. And there's something really thrilling about participating in those conversations and those workshops and watching these young students really start to hone their storytelling skills.
The focus of it is, of course, New York. A lot of east coast schools have built satellite campuses in Los Angeles, like NYU and Emerson and Syracuse, but no one really has done anything like that in New York. So we felt that The Gotham could be a real hub for schools and students that were interested in establishing a career or looking at opportunities in New York across the media landscape.
It's a long way of saying that the EDU program bumps up right against our labs, and the labs are programs developed to help aspiring screenwriters and filmmakers really nail down the development skills that it takes to get to the next level, whether it's financing, production, or sometimes in our more advanced labs, getting to a festival and getting the film out there into the world and learning how to market and distribute it. You imagine those students going from the educational programs to the labs and then participating in the week, and then some of those films go on to win Gotham Awards. That's what happened to "Moonlight," "The Last Black Man in San Francisco," and "Mudbound."
NOW CASTING: Check out opportunities in New York City here!
What do you see as the future of The Gotham?
It's to embrace today's visual world, where we live now. While we want to honor our past and our founding mission, we continue to do so in the programs that we move forward and continue to develop, we also don't want to be constrained by them. What I see happening is a continuing widening of the aperture, really expanding the lens in terms of what we're offering in this new storytelling landscape.
With the rebrand, the goal is to continue to expand beyond the community that we currently serve into a more diverse and representative group of communities. And that's through collaboration; it's looking to other festivals or organizations that have distinctive voices and belong in the larger conversation. We have to find ways to work together with everyone now and really lean into those things that make us distinctive and unique. It's where we are as an industry; the pandemic has really brought about this blistering change that we're all living through right now. So we want to be here for the next 40 years and in order to do so, we have to continue to adapt and be very cognitive of what our younger members need.
What advice would you give early-career filmmakers on networking and making the most of The Gotham's resources?
We have a program called IFPC, so it's specifically tailored to Gen-Z filmmakers and the membership fee is nominal, very, very inexpensive. There's Expanding Communities, which is a program that is about really bringing in other organizations with diverse and expansive membership to collaborate and meet with our Gotham membership. Those programs are just super, they're either free or very inexpensive and they provide that early connection with the industry. I think we have a real responsibility to not only fill our members and storytellers full of dreams, but also provide them with real tools to navigate through this industry—to find meaningful but also financially remunerative careers in each industry. We're not just a dream factory, we're also a place where I think members can really get practical, useful information that they can put to work in their everyday lives.