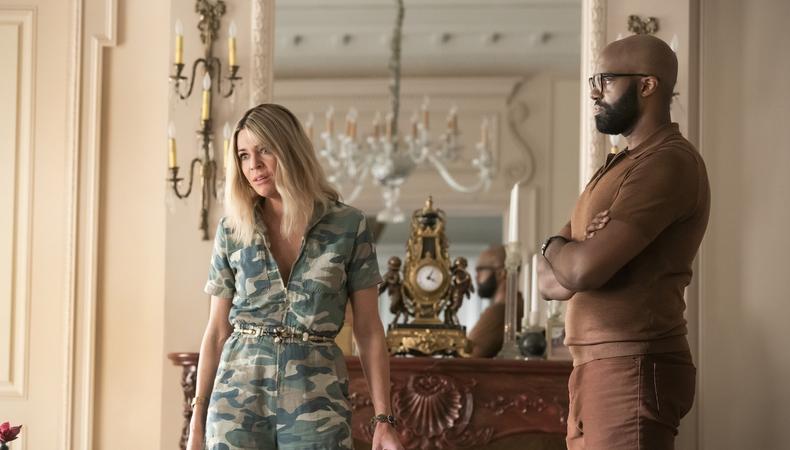 As we prepare for the 28th Screen Actors Guild Awards, Backstage is breaking down this year's film and television ensemble work for your consideration. For more voting guides and roundups, we've got you covered here.
Main cast: Rose Abdoo, Carl Clemons-Hopkins, Paul W. Downs, Hannah Einbinder, Mark Indelicato, Poppy Liu, Christopher McDonald, Jean Smart, Megan Stalter
Casting by: Nicole Abellera and Jeanne McCarthy
Created by: Lucia Aniello, Paul W. Downs, and Jen Statsky
Distributed by: HBO Max
After many long decades, the TV goddesses answered our prayers: Jean Smart finally got the chance to step up and lead a series. And what a series it is. "Hacks," created by "Broad City" alums Lucia Aniello, Paul W. Downs, and Jen Statsky, is the kind of smart, bittersweet (and just plain bitter) comedy that only comes around once in a blue moon.
Longtime character actor Smart stars as Deborah Vance, a Joan Rivers–esque standup comedian whose star is on the wane. After years of performing on a Las Vegas stage, Deborah is skirting the edges of irrelevance. Enter Ava Daniels (Hannah Einbinder), a young comedy writer who, in the middle of her own career crisis, is sent to the City of Sin to help Deborah modernize her act. What follows is a season-long dance of mutual loathing and respect between the two—a boomer and a millennial meeting in the no-man's-land between generations. The title "Hacks" refers both to how the world at large views these ambitious, difficult women and also to the thousand little scars they leave on each other.
As Deborah, Smart is funny and acerbic in equal measure. It's a pose she honed on "Watchmen," her previous HBO series, as ex-superhero Laurie Blake. She makes an absolute feast of Deborah, a woman whose confidence, authority, and occasional cruelty form the hard outer shell around a core of bone-deep insecurity. She's also, vitally, hilarious. We challenge you to find a funnier scene on 2021 TV than when "Hacks" devotes a full minute to Deborah changing the CO2 tank on her in-home soda machine. It's a feat of physical comedy that's made all the funnier by how absolutely straight Smart plays it. It's no wonder the actor took home her fourth Emmy for the role.
It's no easy task to play opposite Smart, but Einbinder gives as good as she gets—in her screen debut, no less. She's an unlikely but perfect foil as Ava, a woman who's got as much to lose as her elder does, if not more. The actor is adept at conveying both Ava's pride and desperation; she's at the end of her rope financially and professionally, but she can't help being anyone but herself. The chemistry she shares with Smart is electric, and together, these two turn "Hacks" into a surprisingly touching love story.
There's also much to be said for the supporting cast of top-notch comedians and character actors. Following her yearslong run on "It's Always Sunny in Philadelphia," Kaitlin Olson brings pitch-black humor to DJ, Deborah's screwed-up daughter; she expresses the agony and resignation of an adult child who can't help but take what scraps she can of her mother's distant love. In a show full of revelatory performances, perhaps the one that stands out most is Carl Clemons-Hopkins as Marcus, the endlessly patient CEO of Deborah's empire. They're the voice of reason in a world of giant egos, and it's riveting to watch their composure wear thin over the course of Season 1.
And then there's the show's other dynamic duo: co-creator Downs as Deborah and Ava's shared manager, Jimmy, and cult comedian Megan Stalter as his hapless assistant Kayla. They're an old-school comedy team—Downs as the put-upon straight man, and Stalter chewing the scenery; she's so absurd that you can't help but love her. Oozing manic energy, Jeff Ward makes a lasting impression on his one-episode turn as George, Ava's disastrous one-night stand. And we're hoping to see more of Poppy Liu's Kiki, Deborah's personal blackjack dealer and Ava's confidante, on Season 2.
Want more? Stay in the loop with everything you need to know this awards season right here!