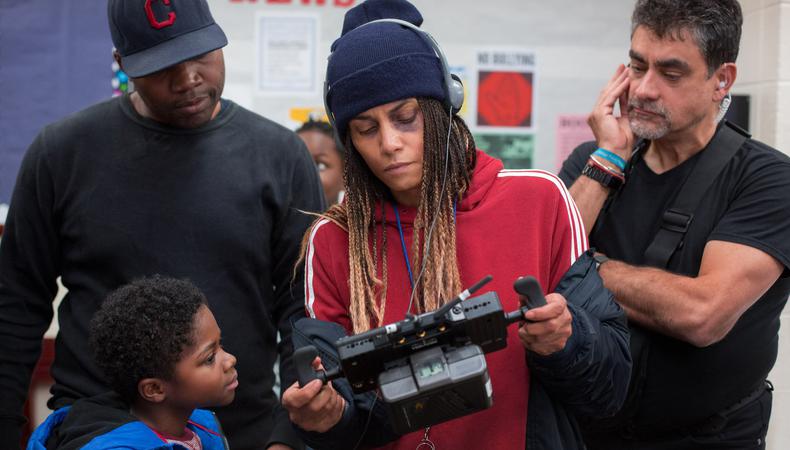 Halle Berry doesn't sugarcoat it: "Bruised" is the hardest thing she's ever done. From the physical demands of playing an aging MMA fighter who gets back in the ring (she trained in boxing, wrestling, and four forms of martial arts to prepare), to the hurdle of directing her first feature film (on an indie budget, no less), she admits that she doesn't know if she'd be able to do it all over again. "I think I might be one and done, directing myself," she says.
Thankfully, that doesn't mean we're done seeing "Directed by Halle Berry" in film credits. "I have many stories I want to tell in my head, and I'm going to advocate for that, and I'm going to fight to do that," she says. Last month, she signed a multipicture deal with Netflix to star in and produce a number of projects going forward.
Berry is best known as a history-making Oscar winner (for 2001's "Monster's Ball"), a Bond girl, an original fan-favorite member of the X-Men, and a bankable movie star in an era when there are few left. Still, "Bruised" feels like the work of a seasoned artist taking control of a career that, in recent years, seemed to have veered slightly off course. Her character, Jackie Justice, is a woman fighting to do the same in the ring, and the parallels are not lost on Berry.
"I've always been a fighter," she says. "From childhood into my early adulthood, and even when I entered into this business, I've always had to fight to make a way out of no way for a performer like myself—be it Black, be it a woman—and to prove I'm something other than what I was perceived to be."
Once she was given the opportunity to bring Michelle Rosenfarb's "Bruised" script to the screen, Berry knew she needed to surround herself with a team of experienced creators who knew the technical ropes better than she did. In the early days of preproduction, she sought the advice of other filmmakers and held onto one tip: Carefully consider every head of department, "and then trust them and trust the process. Don't micromanage. Hire whoever you think is best for the job, and let them bring to you the best of themselves." Following that advice, however, led to a hiring process that took "longer than normal."
"I just sat down with people I wildly respected, and throughout the course of interviewing and meeting, the people who were like-minded and supportive of what I wanted to do very quickly rose to the top for me," she says. "They ignited me with their own ideas and their own creativity, and that, I felt, was additive to what I was trying to do."
Aside from taking a collaborative approach, the advice the multihyphenate has for actors who hope to follow in her footsteps is, simply put, "not a mystery: You just have to decide to do it and then do it.
"If you want to be seen in a certain light and there's no role for you, create it," she adds. "That requires being focused, being tenacious, not taking no for an answer, and really having a desire to do something that you love. It's about believing in yourself, believing that you can do it. That's half the battle. I know when I wasn't so sure, someone said to me, 'You have to do this. Of course you can do this!' They gassed me up—but through [them] gassing me up, look what I did! I got to the other side of it. So that's what I say to every young artist out there: Just make up your mind and decide to do it."
This story originally appeared in the Dec. 30 issue of Backstage Magazine. Subscribe here.
Looking for remote work? Backstage has got you covered! Click here for auditions you can do from home!