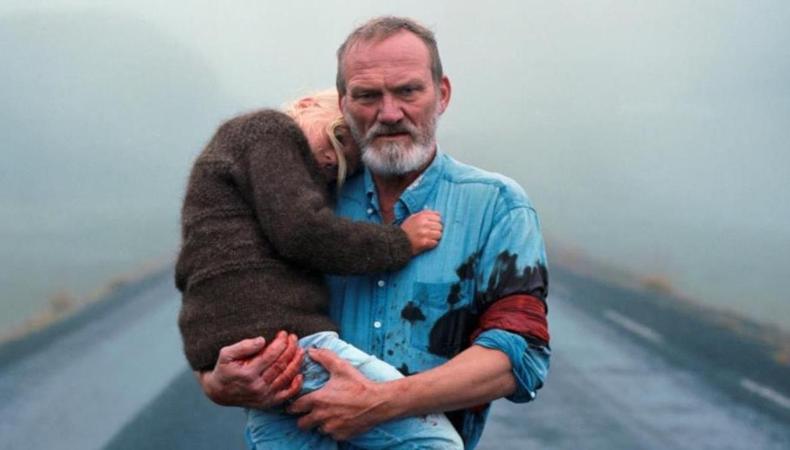 This year's Hamptons International Film Festival came to a close Oct. 14 after a weekend of celebrating film in New York's glitziest coastal enclave.
Though the festival is no stranger to celebrity sightings and A-list events, this weekend was especially shiny as stars and filmgoers descended on the Hamptons for the 27th year of the festival, co-chaired by Alec Baldwin and Randy Mastro. And most significantly, HIFF has a long-running connection with the Academy Awards; for nine years and counting, the festival has screened the film that went on to win Best Picture, most recently with last year's "Green Book."
Top 2019 honors went to "A White, White Day" from Icelandic director Hlynur Pálmason, who won the award for Best Narrative Feature. The film, which follows a police officer investigating his wife's death, debuted earlier this year at Cannes, and also screened at the Toronto International Film Festival before winning in the Hamptons. Sung-a Yoon's "Overseas" took home the award for Best Documentary Feature, while "Just Me and You," directed by Sandrine Brodeur-Desrosiers, won for Best Narrative Short; "Ghosts of Sugar Land" by Bassam Tariq won for Best Documentary Short Film, with both short films qualifying for upcoming Oscar consideration.
READ: Your Official 2019–20 Film Awards Calendar
HIFF also honored several actors with special jury mentions for their performances: Ída Mekkín Hlynsdóttir for "A White, White Day," Mama Sane for "Atlantics," Corinna Harfouch for "Lara," Kim Snauwaert for "The Best of Dorien B," and Sierra McCormick for "The Vast of Night." This year's jury also bestowed the Special Cinematography Award on the latter film, and director Anke Blondé won a Breakthrough Achievement in Filmmaking Award for "The Best of Dorien B."
Hamptons Film Artistic Director David Nugent said of this year's winners: "As we close out the 27th edition of the festival, we are thrilled to announce this year's awardees. We are in awe of these films and the talented filmmakers behind each of them. This year brought an abundance of captivating films with wide ranging topics and engaging conversations."
Co-chair Alec Baldwin presented director Brian De Palma, best known for legendary films like "Carrie" and "Scarface," with a Lifetime Achievement Award. Baldwin was also on hand to award co-founder and founding Chairman of the Board Toni Ross with the Dick Cavett Artistic Champion Award. That same night, the festival kicked off with a screening of Warner Brothers Pictures' "Just Mercy," directed by Destin Daniel Cretton, a legal drama starring Michael B. Jordan, Brie Larson, and Jamie Foxx. Director Trey Edward Shultz's "Waves" closed out the festival Monday evening; the A24 film debuted earlier this year at the Telluride Film Festival and features an ensemble cast including Kelvin Harrison Jr., Lucas Hedges, Taylor Russell, Alexa Demie, Renée Elise Goldsberry, and Sterling K. Brown.
Anne Chaisson, Hamptons Film executive director, said in a statement, "We are proud of all the incredible premieres, screenings and events over the past five days for the 27th Hamptons International Film Festival. We are thankful to all of the filmmakers for sharing their extraordinary films and talents with our audience, and also wish to extend sincere gratitude to our staff, sponsors and film loving community, without whom the festival would not be possible."
Check out the full list of HIFF winners here. And stay tuned with Backstage for full film festival coverage!