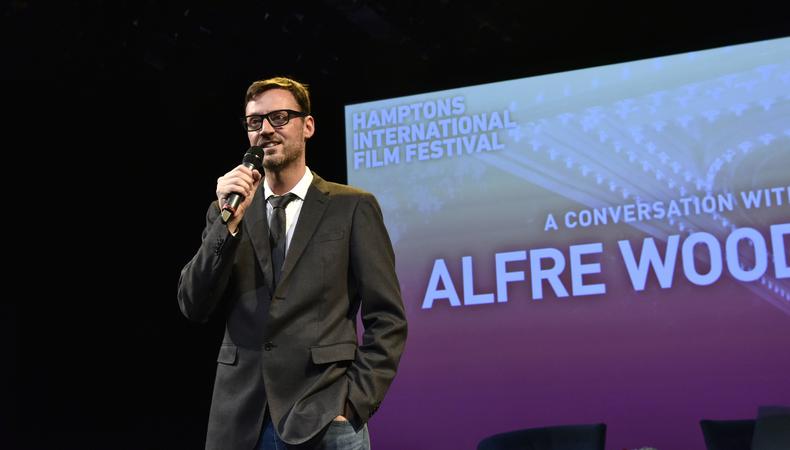 Welcome to Behind the Fest, Backstage's questionnaire series with film festival figures looking for that next big festival hit. Featuring behind-the-scenes insight from the organizers and programmers at Sundance, TIFF, Cannes, and more fests from around the globe, these tips might just hold the key to your indie film success story!
Presented by HamptonsFilm, the 28th annual Hamptons International Film Festival is keeping the spirit of intimate conversations with great filmmakers even with its shift to virtual. "It's a different year in terms of engagement," says HIFF programmer David Nugent. "A lot of stuff is going to have to take place in the social media sphere."
One of the legacies of HIFF is its status as the only festival to screen the title that would go on to win the Oscar for best picture for the last 10 years running. Among the 2020 premieres are the world premiere of "Harry Chapin: When In Doubt, Do Something" and screenings of "The Father," "Nine Days," and "Stray."
Backstage spoke with Nugent about this year's festival, running Oct. 8-14 in East Hampton, New York, and why it's important for early-career filmmakers to find their film family and grow together.
What is the outlook and mission of the Hamptons International Film Festival?
There's a real intimacy around the festival. This area has long had a devotion to the arts and a lot of great artists that are here. In our very first year, when there was a surprise conversation between Steven Spielberg and Martin Scorsese, there was a real wealth of talented artists that are out here and passionate audience members that want to hear from them. Unlike other festivals that have really big houses—which is also very nice, like Toronto—we don't have a house that's bigger than 350 feet. So, when these events take place, they're typically in smaller theaters, which I think is really, really nice and lets lesser audience members feel a little more up and close with the directors and actors and producers that come to the festival. Another thing that sets us apart is we're the only festival in the world to have screened the film that would go on to win best picture for the last 10 years. No other festival has done that.
This year has been so different in both putting it together and what it's going to look like. One thing that is the same is, I think we have a really strong lineup this year. It's just going to be very different the way people get a chance to see it.
What advice do you have for audience and industry professionals attending HIFF?
In terms of this year, that chapter is still yet to be written in some ways. We are going to still do some of our panels, our Winick Talks, this year. I encourage people to check those out. Social media is also a great way to kind of keep conversations going. I'm hoping that people will get active on that and talk about various films that they like or talks that they're excited about.
I mean, there's not a lot of interaction that can take place at the drive-ins. We do have some drive-ins and some in-person stuff, but obviously, for safety reasons, we need people to socially distance. We need people to stay in their cars. But you can text your neighboring car if you want, or talk to your friend, or do something like that.
READ: COVID-19 Resources for Actors, Performers, and Creators
What kind of year-round educational efforts does HIFF offer filmmakers?
HamptonsFilm does year round programming. This is our biggest event. It's typically a five-day festival. This year it's a seven-day festival. But that's the biggest thing we do all year. The second biggest thing we do is we just, this past April, had the 20th edition of our screenwriters lab. So once the festival winds down, we start getting ready for that. And that's a really wonderful event. It's very different from the festival. It's more intimate and we bring out up-and-coming screenwriters, we pair them with established writers, directors, occasionally creative producers, and then spend—again, in the old world we would spend the weekend together in the Hamptons, all working on their projects and then doing networking events in the evening. We had to pivot last year because the pandemic hit basically right when it was getting ready to start, so we did it virtually.
And then in addition to that, Alec Baldwin, who's our co-chairman, he and I have been hosting a summer documentary program called SummerDocs in the summer for 12 years now, that he and I curate together and then host together. And we bring out filmmakers, again, in regular years, screen their films, have an event, have an extended Q&A. We did it virtually this year.
Any advice for early-career filmmakers?
See as many great films as you can, sure, by the masters of cinema. But also see as many other films by your contemporaries that you can.... If you happen to be at a festival and you have a film playing there, if it's a short film, go see all the other films in the short film program. If it's in the competition program, go see the other competition films. And really try to engage with the other artists who have made films. I think there's a great way that filmmakers and artists can collaborate and [get] to know one another.
My advice is, the people who you're emerging with will always be people that are important to you in your career. I always think back to that famous photograph, Martin Scorsese and Steven Spielberg and Francis Ford Coppola and Brian De Palma...sitting at a table somewhere 40 years ago. George Lucas maybe. And you see things like that and you realize, Wow, this is a group of young filmmakers at the time, probably in their thirties, who all got together and supported one another in getting their films made.
What's a favorite film, or favorite film you've seen recently?
Favorite film ever, I guess I would say a few. I've always loved "McCabe & Mrs. Miller" by Robert Altman. It's always been a film that I've been drawn to and Alec and I actually did a screening of it a couple of years ago. I have always loved the film "Out of the Past," by Jacques Tourneur, with Robert Mitchum and Kirk Douglas. And I've always loved the film "Nostalgia for the Light" by Patricio Guzmán, which was in Cannes about six or seven years ago.
"Gunda," the film that we have in the festival this year, which is a silent black and white film by a Russian filmmaker—filmed in Norway, with no dialogue, about a pig—is certainly a unique film, that world premiered at the Berlin Film Festival to great, great acclaim and is such a wonderful film.