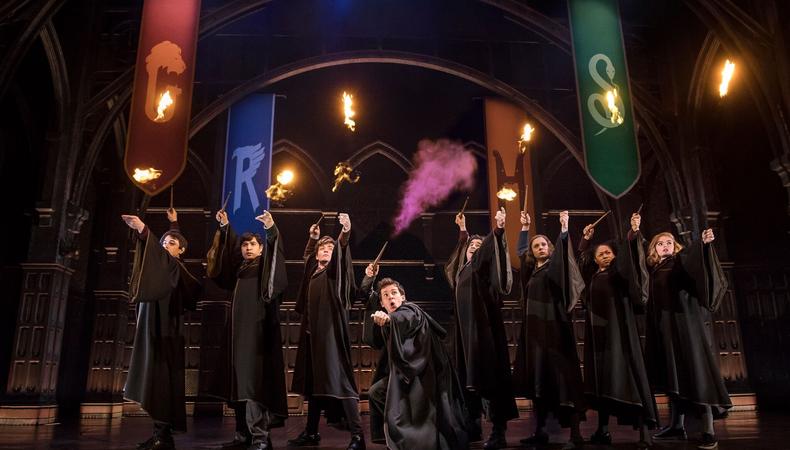 It's a tale worthy of its own Broadway play: two actors going from ushering "Harry Potter and the Cursed Child" on Broadway to actually starring in that very play in its current sit-down production in San Francisco. And they did it without any spells or potions.
Sarita Amani Nash and Jon Steiger were both ushers at Broadway's Lyric Theatre, home of the two-part Tony-winning epic, during the first year of its run. At the time, both were already experienced ushers, having returned to the trade as a survival job between acting gigs. Ushering the show meant seeing it night after night after night—and naturally, inspiration struck.
How to Get Cast in 'Harry Potter' on Broadway
"Once I had seen the show in its entirety, I was hooked," Steiger tells TheaterMania. And Nash was similarly compelled, explaining, "Seeing how they were casting it was really exciting. There were opportunities that I didn't expect. I realized I could do it."
But just because they were already affiliated with the show, didn't mean they could just wave their magic wands and join the cast. Like most working actors, they booked the gigs through auditioning.
For Steiger, who plays Scorpius Malfoy, the casting process was long and arduous: "Two months and seven rounds of auditions," to be exact. Nash, who was cast as a swing and covers a number of roles, meanwhile had her process streamlined into a few weeks. But their results were the same: They booked it, and in turn, have discovered things about the show they never knew in their former gigs.
See it for yourself! Get tickets for "Harry Potter and the Cursed Child" here.
"It's so fun, but it's a lot," Nash says. "Two parts, so many capes, lots of running around. I especially have fun because I'm a swing. I get to dip my toe in a lot of different parts in the show, which is really exciting." Steiger has had his own revelations, saying, "I've seen the show so many times, but I'm not tired of it. I thought I knew what it was going to be and was quick to learn that I didn't know. It was like coming in with a clean slate."
That's theater magic every bit as powerful as Harry Potter's own.
Disclosure: This post is brought to you by the Backstage team. If you purchase tickets through these links, we get a small share of the revenue from the sale from our commerce partner but that does not influence our decision to highlight a production.